Mac users can now receive airfare information directly on their desktops, thanks to a new Mac-compatible program available from Southwest Airlines. The free application, Ding, makes its Mac debut a year after it first became available for Windows users.
"It's been our desire from the first discussion of this product to have a Mac version of [Ding]," said Anne Murray, senior director of Internet market for Southwest Airlines.
The Ding application, which runs on Mac OS X 10.3.9 or later, resides in the Dock. Much like an RSS News reader, Ding accumulates messages from Southwest whenever the airline announces fare information such as sales and specials. Users are notified of new messages by either an audio alert—an airplane-like ding—or a envelope logo that appears over the Ding icon in the Dock.
Ding made its debut on the Window side last spring, a decision that Murray says was driven by the number of Windows users. "That was the majority of the market, and we had to make a decision on what to go with first," she said. Upon release the Windows version of Ding, Murray added, "we immediately heard from Mac users." The airline began developing the Mac version six months ago.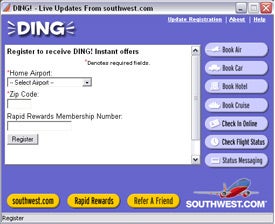 The introduction of Mac compatibility also brings several other changes to Ding. Southwest has simplified registration for the program; users simply have to select a home airport and supply their zip code. (Entering your Rapid Rewards frequent flyer program membership info is optional.) Previously, Ding users need to copy and paste a registration ID from the Southwest Airlines Web site; now registration takes place entirely from within the application. Other changes to the application include a simplified Refer a Friend feature.
Mac users can download the latest version of Ding from Southwest's Web site. Mac users who also belong to Southwest's Rapid Rewards frequent flyer program will get two bonus credits if they download Ding by April 3, 2006, and run the application for a minimum of 30 days.