EDITOR'S NOTE : The following is a series documenting Macworld Senior Editor Rob Griffiths' first week with an Intel Mac mini. You can view each individual series installment:
After last week's overdose of mini-related topics, here's one final wrap-up, addressing a few open questions that were posted in the forum discussions.
Display rotation
Someone inquired about how well the mini worked with the display rotated—there's a button in the Displays preferences panel that lets you rotate the image 90, 180, or 270 degrees. On some previous Macs, there was apparently a performance penalty when using a rotated display. I set the rotation to 90 degrees, rotated my head a similar amount, and spent a few minutes working. Things seemed just as peppy as before, including repeating my large-document Word scrolling test, which took basically the same amount of time. Typing in Word and Excel produced no slowdowns, acting just as they did when viewed with no rotation.
AirPort reception
There have been some complaints about AirPort reception range in the new mini. I hadn't experience any issues, mainly because the mini's been sitting about six feet from the Base Station this whole time. But when I hooked the mini up to our HDTV (see below), it was then about 20 feet from the Base Station. I also had my 12-inch PowerBook there, too, so I was able to compare the two machines.
My results were inconclusive—both machines usually had three out of four bars showing, though the PowerBook more often went to four bars than did the mini. I didn't move the mini to other spots in the house, though, so I can't make any general conclusion beyond "it doesn't seem much worse than my PowerBook at the same location in the living room."
HD playback at high resolutions
Someone asked how well the HD video clips played back at native, not scaled, resolutions. In order to answer that question, I had to get the mini connected to my 23-inch Apple LCD. Unfortunately, this is a first-generation Apple 23-inch model, which means it uses an ADC connector, not the DVI connector found on current models. To get the mini talking to the display, I needed a DVI to ADC adapter. While I was at CompUSA on another mission on Friday, I noticed they had exactly one such unit left on their shelves (with a 2002 copyright date on the box!). I brought it home, plugged everything together, and amazingly, it worked great. These things are still sold in the online store, too.
The mini drove the 23-inch LCD without any issues at all; the picture was crisp and clear at 1920×1200 resolution. I then fired off the same three HD clips that I'd been using before, and they all played perfectly at full size—frame rates didn't vary, except for a bit in Warren Miller, just as when playing back scaled. They also looked amazingly nice, of course!
(As long as I had the big monitor connected, I took a minute to re-run the Jedi Knight II Universal benchmark demo at 1600×1200 resolution. The game pushed a still-respectable 53fps at these settings; not bad at all for a 64MB on-board graphics chip!)
HDTV connectivity
One of the questions about the mini was "how well will it work with my high definition TV?" Apple has a KnowledgeBase entry that covers this very issue, making it sound amazingly simple. In my testing, though, I found that the answer will vary from "easily and perfectly" to "fairly well, but only with lots of tweaking." Which answer applies to you depends on which high defintion TV model you own.
If you've recently purchased an HDTV set (within the last couple of years), you probably get the "easy and perfect" solution. Newer sets include some form of connector (DVI or HDMI ) that make it a breeze to connect the mini. As discussed in Jonathan Seff's review, you just need a couple of cables for audio and video connections, and you're set. According to this post at hdbeat.com, that's really all there is to it, everything "just works."
Ah, if only I were so fortunate. Our HDTV is an older three-tube CRT rear projector, the Pioneer SD-582HD5. It's nearly five years old, and the only way to connect the mini to it is via an RGB cable. The problem with this connection method is that the television conveys absolutely no information about what resolutions it supports via the RGB cable. So when you power up the mini, you will, more than likely, wind up with a completely scrambled image on the televsion. That's what happened to me on the first try. You're also working quite blindly, as the mini supports only one monitor, so if you can't see anything on the television, well, you can't see anything at all.
After way too many hours on Google, talking with friends, and experimenting with more hardware in the living room than I care to think about, I did manage to get it working to the limits of my television's capabilities. High definition video playback looked incredible, and the desktop was ugly but usable (my television can only display 1080 interlaced, which leads to a very flickery destkop, but that problem vanishes when watching video content). If you're wondering why go through the efforts to get the mini playing through the HD set, here's a quick example. Below is a split-screen image of the same frame from of the newest Harry Potter movie. On the left is the frame from the high definition trailer from the movie; on the right is the same frame as seen on the DVD (click on the image for a huge 1643×691 version):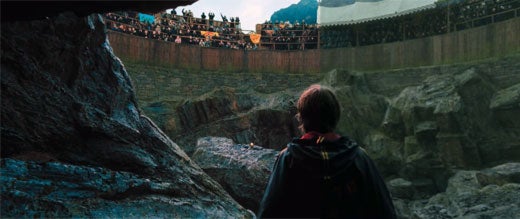 Note that these are actual screen grabs directly from the mini, and I haven't done any post processing on the images, beyond a bit of scaling work to make the two sides identical—I had to slightly reduce the size of the HD frame to match the DVD frame. So the colors may not exactly be correct, but the essence of the picture is the difference in the level of detail provided in each format.
I also made a couple of short movies ( 836×354, 548KB, 1673×709, 1.7MB ) showing a transition from the full DVD frame to the full HD trailer frame; these demonstrate even more clearly the visual differences between the two formats. Having the mini set up so that it can play HD content, such as that seen on Apple's HD Gallery site, on a large HD television is clearly worth the effort.
If you have an older HDTV with RGB inputs and you're interested in making it work with the new mini (or most likely any Mac capable of playing HD video), I've detailed the process in this hint over on macosxhints.com. You'll need to use a third-party program called DisplayConfigX ($12 shareware), and the process is a bit time consuming… but the results are worth the work if you enjoy high-quality video on a big-screen HD television.
Overall wrap-up
I think the new Core Duo mini is an impressive machine. It's not a bargain when you factor in the cost of additional RAM, but it performs well beyond its price point—even besting my Dual G5 in a number of areas. While there are concerns over the onboard graphics chip, in my testing it seemed more than up to whatever task I asked it to perform. Yes, it's not going to be a great solution for playing today's games. But as the Jedi Knight II tests showed, it will be capable of playing some nearly-new and still very fun games at good resolutions and frame rates.
I was even more encouraged by the HD test results. HD played back great on the Core Duo mini, and just as well on the big screen (after figuring out the configuration for my older set). When the machine is pushed, the fan kicks up a notch or two, but never gets truly annoying. In my living room, sitting about eight feet away, I couldn't ever hear it if there was any sound at all from the TV.
And now that I've got the mini set up and working perfectly in my home, I'm going to completely destroy it and try something completely different… but you'll have to stay tuned to find out what that's all about!