Austin's South by Southwest Interactive/Film/Music conference recently wrapped up. If you missed it (or made it, but were unable to check out every one of the 1,400 bands performing in the area) you still have a chance to tune into some of the bands that appeared there.
The means for doing so is the SXSW Music page and—right over there along the right side of the page—the SXSW Music Player V.06 link. When you click the link, up pops the player that offers a continuous stream of music featured at SXSW. Within the player window you'll see the name and picture of the currently playing band, the genre of music they play, their home town, and links to the band's website and SXSW showcase info. The player requires the QuickTime plug-in to play.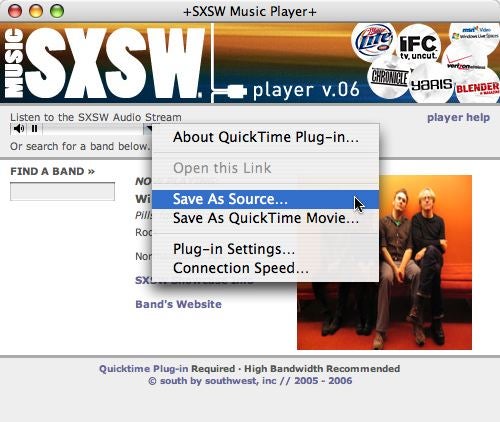 What's that, you'd prefer to listen from within iTunes? No problem. Near the top of the window you'll see the QuickTime plug-in controls. Click and hold the downward-pointing triangle and choose Save as Source. You'll be prompted to save a local.pls file. Do so.
Now open iTunes and drag that .pls file to the iTunes icon and the music stream will be added to your iTunes library and begin playing. The band's name and track name will appear in the iTunes information pane, where you'd expect it.
After listening for just 15 minutes I've already purchased one album (the Winterpills' debut album ) and just about ready to grab a couple more. Consider that fair warning to your wallet.