Apple is often accused of charging too much money for its products, but some of the company's most momentous releases are free. Such as the annual major software updates for the iPhone, Mac, iPad, and Apple Watch, which unlock a raft of new features at no extra expense.
This year, in fact, the watchOS 10 software update (cost: $0) is considerably more significant than what is expected from this year's hardware. The Apple Watch Series 9 (likely cost: $399 and upwards) has been labeled "anything but major," whereas the new OS was expected to bring "bigger enhancements, including an updated interface." We now know what those enhancements entail, and this is indeed a blockbuster of an update.
This article is our watchOS 10 deep dive, sifting through what Apple announced at WWDC 2023 to bring you the best available information about its release schedule, hardware compatibility, and range of interface changes and new features.
watchOS 10 release date: When will watchOS 10 arrive?
watchOS 10 was announced at WWDC 2023 on June 5 and is in the midst of a lengthy beta testing process.
Users will be able to download the final version of watchOS 10 on September 18, 2023, about a week after Apple's iPhone Event on September 12.
watchOS 10 will be accompanied by four other operating system updates including iOS 17 for the iPhone and macOS 14 for the Mac and iPadOS 17 for the iPad.
watchOS 10: How to install watchOS
Installing watchOS 10, and subsequent updates, on your Apple Watch should be easy, but if you encounter any issues we address them here: How to install watchOS 10 on Apple Watch.
To install watchOS you should be able to either open Settings > General > Software Update.
The Watch will then check for updates and will offer to install it.
You will need the Watch to be connected to power and on Wi-Fi.
You can also update via the iPhone – which we recommend.
Open the Watch app on the companion iPhone.
Make sure you're in the My Watch tab, then go to General > Software Update and follow the onscreen instructions.
You may need to update the iPhone first. It requires iOS 17.
watchOS 10 beta: Latest version
In the run-up to the full release, Apple has been testing beta versions of watchOS, and those on the Apple Beta Software program have been able to install it on their Apple Watches. A developer beta and a public beta are available.
Even after watchOS arrives Apple will continue development of watchOS 10, adding new features as time progresses. The company will start work on watchOS 10.1 soon after releasing the full version.
The current developer beta is the Release Candidate, which arrived on September 12.
June 5: watchOS 10 unveiled at the WWDC keynote presentation.
June 5: First developer beta is released.
July 13: First public beta is released.
June-September: A series of betas are released, gradually getting closer to the final product.
September 18: watchOS 10.0 is rolled out to the public.
watchOS 10: How to install watchOS beta
If you want to run the beta of watchOS, you'll need to join Apple's beta program and understand that some features on your watch might break. Apple has streamlined the beta process, so you'll only need to sign into your Apple ID to get betas on all of your devices, and you can easily switch them off if you want to stop receiving them.
In the same Software Update tab, you'll see a watchOS 10 Beta tab, tap on this and turn on beta updates.
Once your watch and iPhone are set to receive Beta updates you will see them here.
watchOS 10 compatibility: Which Apple Watches can run watchOS 10?
As expected, watchOS 10 runs on the same devices as watchOS 9. That means the Apple Watch Series 4 and later.
The recent pattern had been for Apple to trim its list of compatible models every other year. In 2018, watchOS 5 dropped support for the first-gen Apple Watch; in 2020, watchOS 7 dropped the Series 1 and 2; and in 2022, watchOS 9 dropped the Series 3. That's why it is no real surprise that watchOS 10 refrains from swinging the axe, and the Series 4 will live for one more year–although it may not get access to the full range of new features.
Compatible Watches include:
Apple Watch Series 4
Apple Watch Series 5
Apple Watch SE
Apple Watch Series 6
Apple Watch Series 7
Apple Watch Series 8
Apple Watch Ultra
Apple Watch Series 9
Apple Watch Ultra 2
Of course, each version of watchOS also has a list of compatible iPhones, and watchOS 10 requires a companion iPhone XS, iPhone XR or later running iOS 17. This means that the iPhones X, 8 and 8 Plus have been dropped–none of these phones can run iOS 17, and this means they can't be used with watchOS 10 watches.
watchOS 10: New features
At WWDC Apple announced a number of new features coming to Apple Watch later this year, including a new simplified way to navigate the interface and quickly access content, redesigned apps, more focus on Widgets via the Smart Stack, and new cycling and hiking features.
Smart Stack
The new Smart Stack is accessible from any watch face with a turn of the Digital Crown. It's a context-sensitive collection of widgets that watchOS has determined are relevant to your needs right now, based on the location and time of day, and your habits. (The Weather widget might appear prominently at the beginning of the day, for example, while the Timer widget will be visible when you've set a timer). This means, in theory, that widgets can be shown when they're needed and hidden when they're not.
You can long press to add a widget to the Smart Stack. Widgets appear overlaid on the watch face so it's still visible in the background.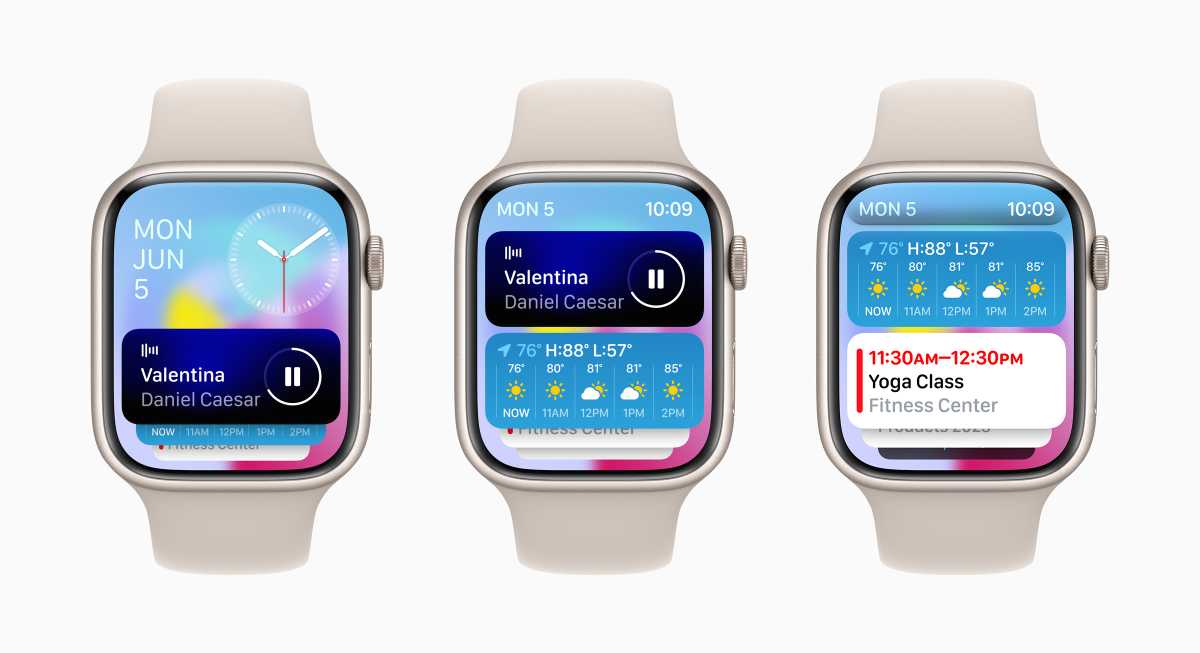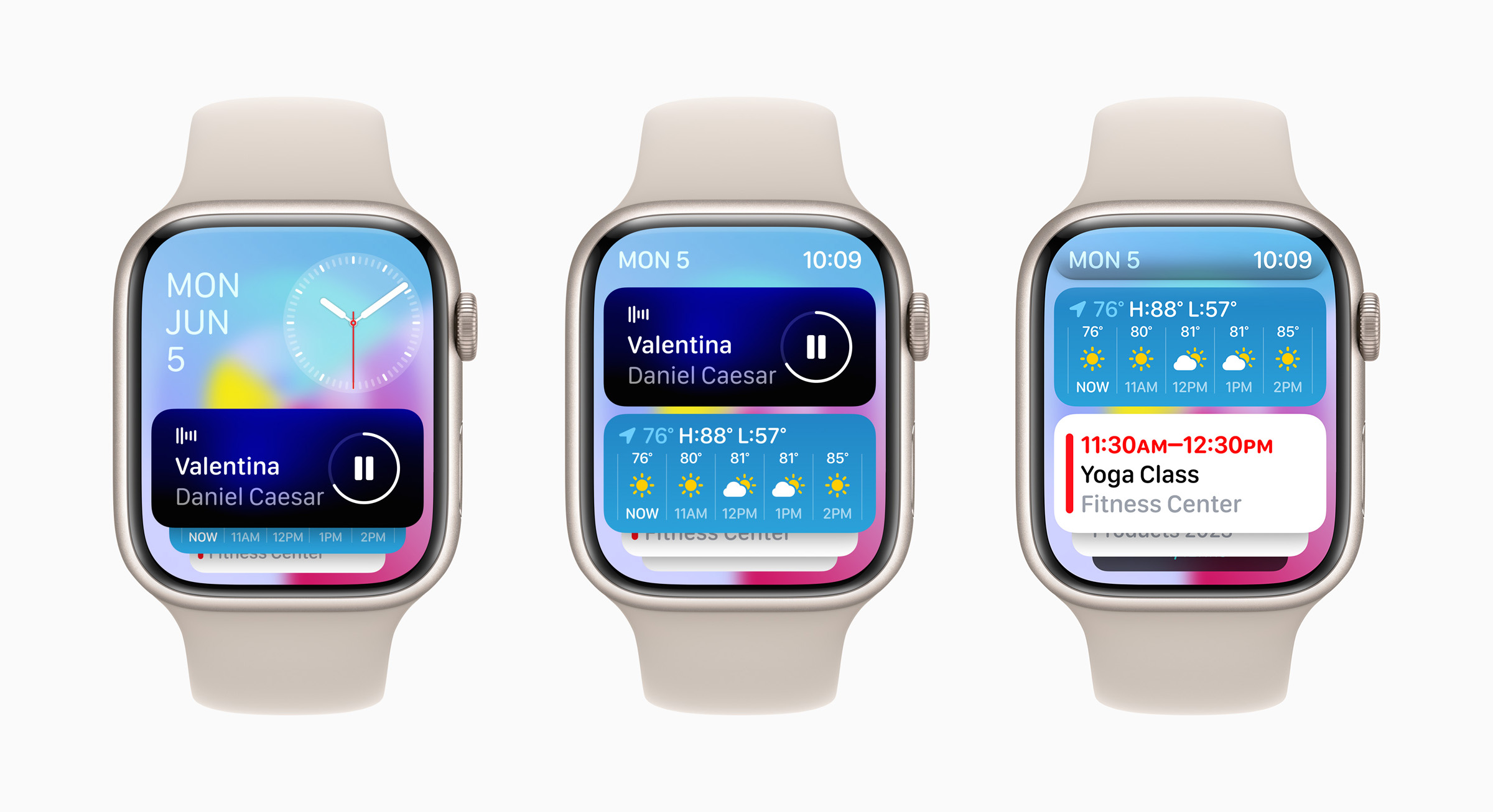 Apple
Control Center
The Apple Watch's quick-access page of toggles and settings is going to be available from the side button as of the launch of watchOS 10. This should be a little easier than the current method (swiping up from the bottom of the screen), which sometimes goes wrong, especially when done from within an app. The dock, which in watchOS 9 is triggered by pressing the side button, is now accessed by double-tapping the Digital Crown from any watch face.
You can also double-press the Digital Crown to go back to the last used app from Control Center.
New watch faces
There are two new watch faces coming in watchOS 10: Palette and Snoopy. With Palette a variety of colors and overlapping layers change and shift throughout the day. It's a relaxing, minimal face.
The Snoopy watch face, a similar idea to the Mickey/Minnie Mouse and Toy Story faces that have proved popular in the past, brings Snoopy and Woodstock from Peanuts to the Apple Watch. They can join in with your workout, interact with the clock hands and react to the weather.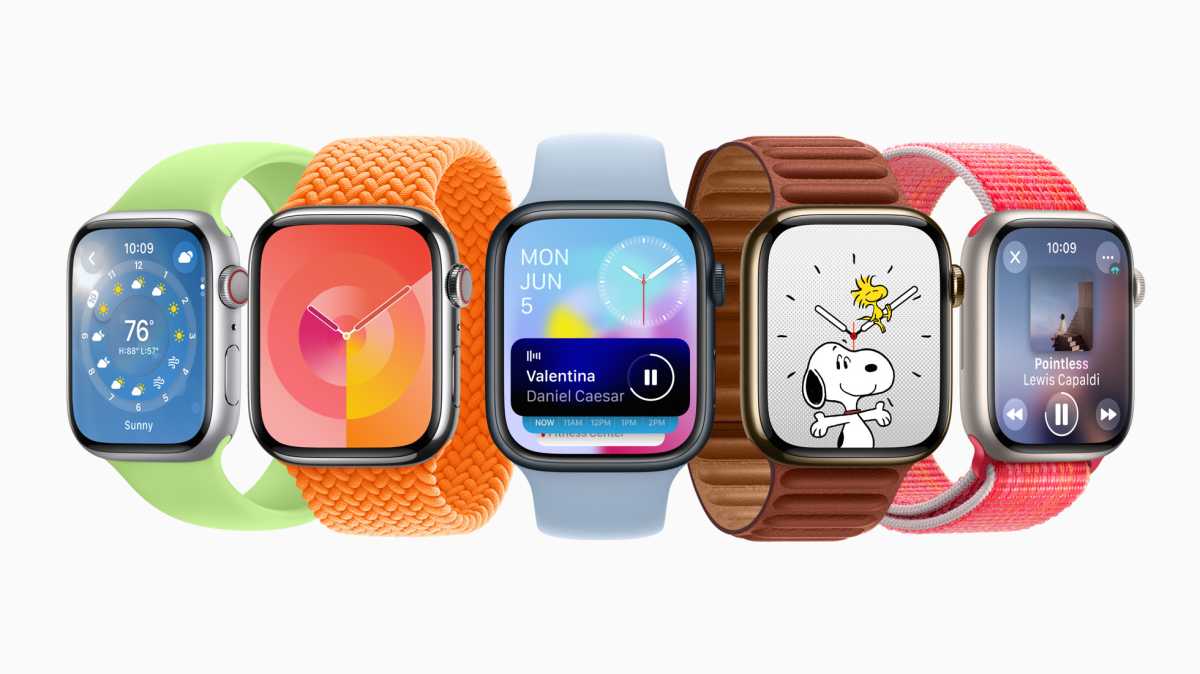 Apple
Fitness
There are changes coming to the Activity app that are designed to make it easier to track daily movement and view more details. There are also sharing improvements and a redesigned trophy case coming.
Apple Fitness+ will get new trainer tips.
Cycling
WatchOS 10 is adding new features specific to cyclists. Cyclists will see a Live Activity on their iPhone once the cycling workout is triggered on the Watch, and if tapped, this will expand to take up the whole screen. This way, if your iPhone is mounted on the bike, you can utilize the space of the iPhone's larger screen to view workout data.
There will also be new Workout views, including Heart Rate Zones, Elevation, Race Route, Custom Workouts, and a new Cycling Speed view. And new algorithms will be able to estimate Functional Threshold Power (FTP) and calculate personalized Power Zones for cyclists to help them improve performance.
There is also more support for Bluetooth-enabled cycling accessories, such as power meters, speed sensors, and cadence sensors. In other words, cyclists have no excuse for slacking off. On your bike.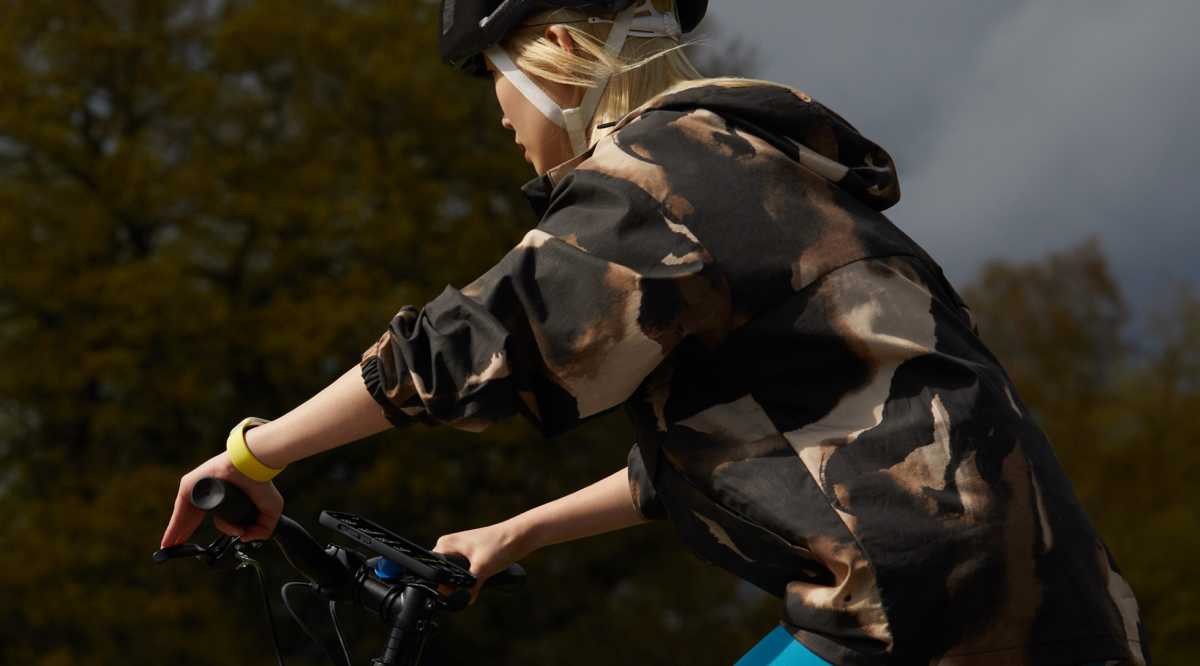 Apple
Hiking
There are improvements coming to the Compass app in watchOS 10. The Compass app will store Waypoints that might be useful to hikers, such as the last time they had a cellular connection. There is also a Last Emergency Call Waypoint so you know where you need to get to in order to make an emergency call.
An Elevation view uses altimeter data to produce a 3D reproduction of saved Waypoints. And Maps will display a topographic map with contour lines and elevation details.
Users will be able to search for trails and see details such as length, type, and difficulty (this will be U.S. only initially).
Health
The Mindfulness app will gain some features to support mental health with users able to log their emotions and daily moods, and the Health app will provide resources to help users identify their risk level for depression and anxiety, including assessments available in the app itself. The Medications app, meanwhile, gains the ability to chase up users with follow-up notifications if they fail to log a scheduled medicine.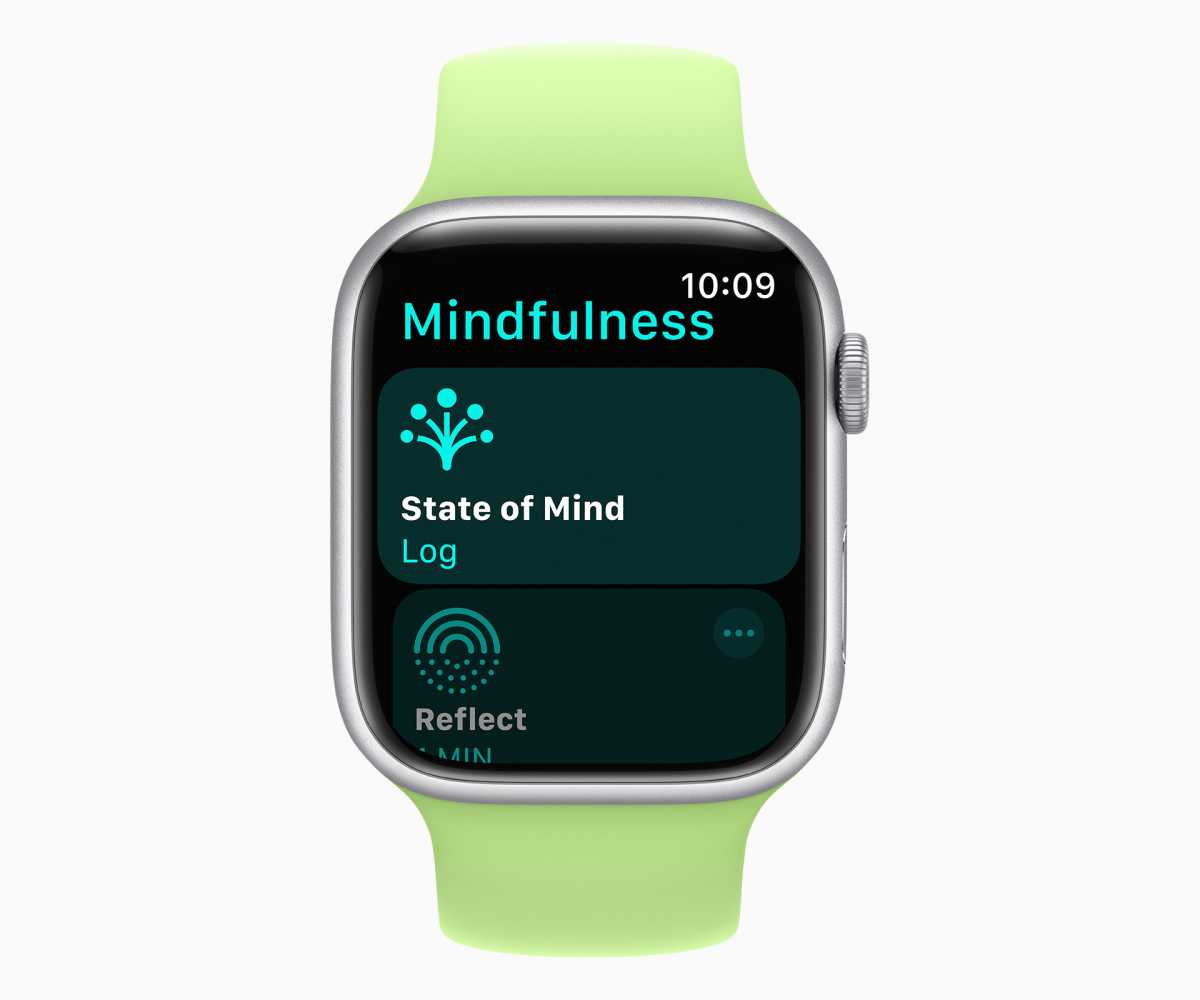 Apple
There is also a focus on vision health, especially for children. An Apple Watch will be able to measure the amount of time its owner spends in daylight during the day, using its ambient light sensor. Apparently, we should aim for 80-120 minutes a day outdoors.
Redesigned apps
Apple has redesigned and "rethought" many of its own Apple Watch apps, including Weather, Stocks, Home, Maps, Messages, and World Clock, to "provide more information at a glance". Apple has focused on utilising more of the Apple Watch display for more "glanceable information."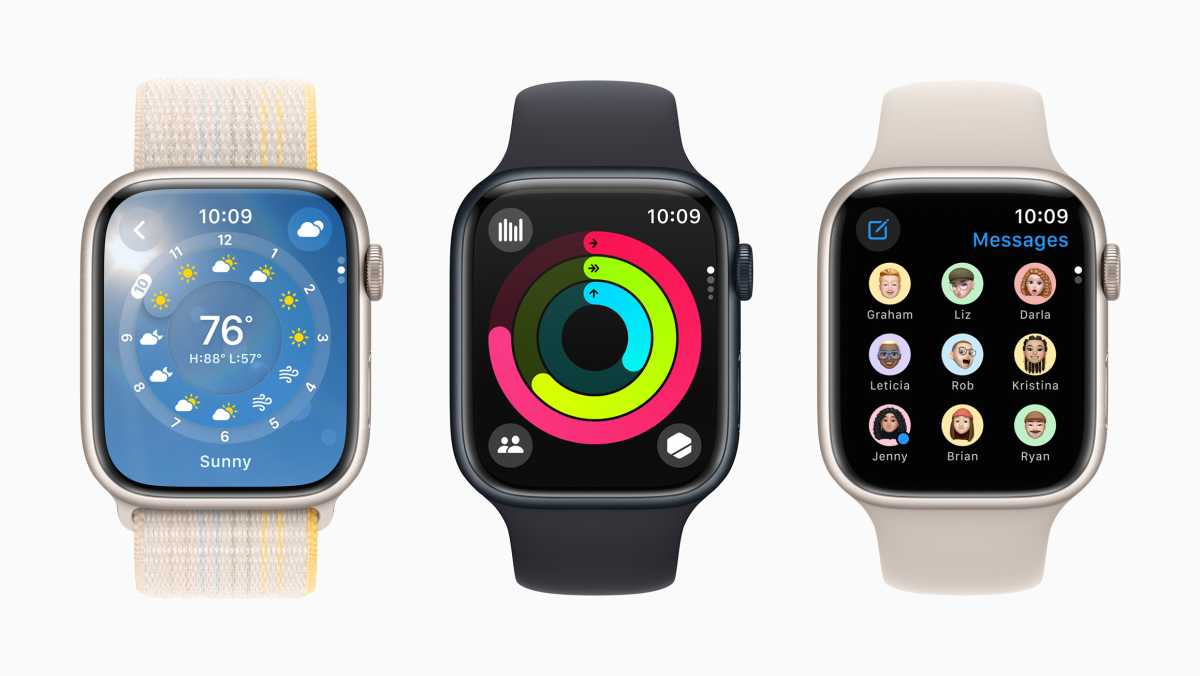 Apple
Stocks, Weather, and Music, for example, all now feature full-screen background images to match the company, conditions, or artist. Activity has buttons around the outside of the rings. The call incoming screen shows a full-screen contact image for the person ringing. It's all about making the most of the space so that information is easier to see.
NameDrop
This intriguing feature is also coming to the iPhone as of the launch of iOS 17. NameDrop makes it easy to share contact information by bringing Apple devices close together–but you still need to tap Share to agree to the transfer.
(The main use cases appear to be iPhone to iPhone, or iPhone to Apple Watch, but Apple says you can NameDrop from Apple Watch to Apple Watch if you first take the extra step of tapping the Share button in the Contacts app.)
Apple
watchOS 10: The new feature we didn't get
That's everything Apple announced at WWDC, but one other feature we were hoping for didn't make an appearance. Of course, it's possible this could still be added during the beta testing process.
Multiple device pairing
According to Analyst941 (prior to his Twitter account being closed after Apple discovered his source at Apple), Apple is looking to relax one of the strictest Apple Watch limitations: device syncing. As it stands, Apple Watches need to be paired to one iPhone and only one iPhone at a time. Analyst941, who did leak accurate Apple information in the past, said the feature would allow Apple Watches to "sync across multiple iOS/iPadOS/Mac devices" and that they "will no longer be tied to one single iPhone."
In fairness, the ex-leaker said he was uncertain whether this was a watchOS 10 feature or planned for a future release, and it may have been pushed back to next year's watchOS 11.