While we're all wondering when a chip update is coming to the current iMac, Apple is working on potential new features we could see down the road. Patently Apple reports that Apple has been granted a new patent for a feature that would allow the iMac to project an image to a wall, desktop, or other surface.
Patent US-11630485-B2 is titled, "Housing structures and input-output devices for electronic devices" and Paul X. Wang and Joshua P. Song are listed as the inventors. The patent's abstract describes a "rear housing wall [that] may have a glass portion or other transparent structure through which projectors project images onto nearby surfaces" and that there could also be sensors that receive light, feasibly for wireless connections.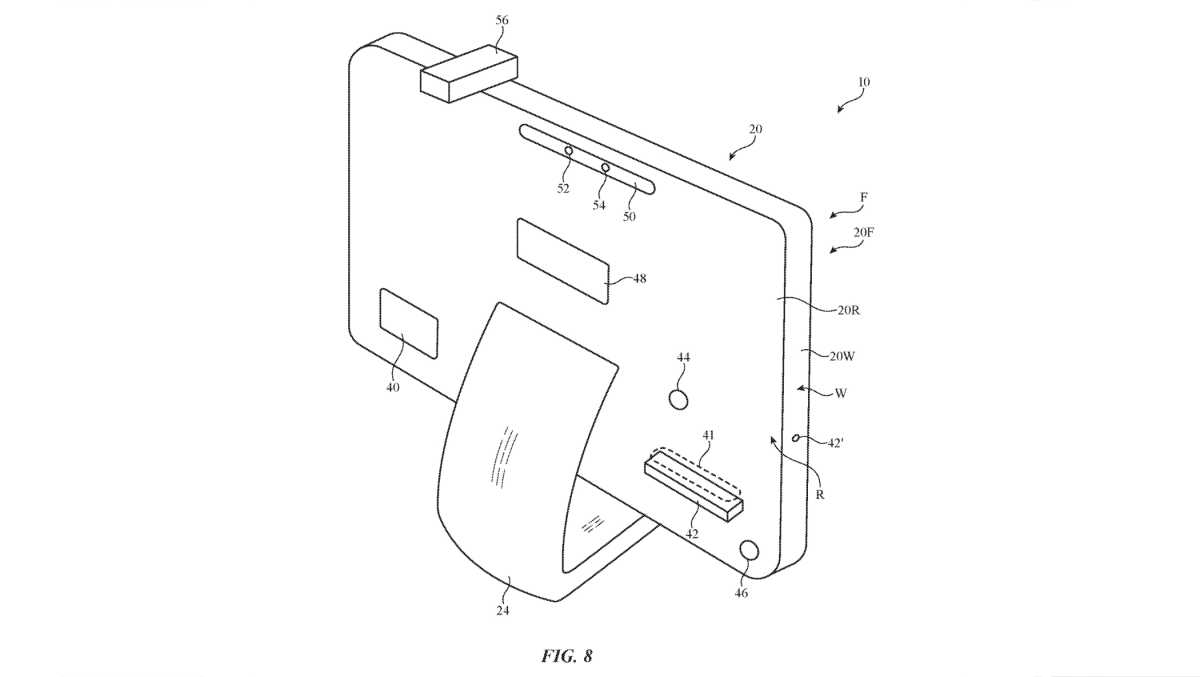 USPTO/Apple
The patent also states that the iMac would include "gaze detection sensors, three-dimensional image sensors, cameras, and other components," which sounds like the sensors necessary for Face ID.
Another component described in the patent filing is the stand, which would have a "glass planner portion" and it would house "a pixel array, a wireless communications circuit, and a wireless power circuit."
Though the patent doesn't explicitly state that the described features are for an iMac, the diagrams and descriptions seem to fit, and the patent refers to a "computer" in its summary. Feasibly, an Apple display can be outfitted with the described features.
Say that Apple does release an iMac that can project an image. What for? It can be used for online meetings and FaceTime calls. The iMac is often used as a TV in small rooms, so it can be used in an entertainment center in a larger room. Apple could also promote it as a gaming feature, though gamers would argue that GPU performance and the available library are the issues, not the display.
Apple files patents frequently and many of the products and features Apple files never get released to the general public–anyone remember Apple's patent for self-lacing shoes? The iMac projector patent does seem more feasible than the shoes, and if it does happen, it may be a couple of years.