The last 30 years have been interesting ones for Apple Computer, with the company moving from a Los Altos, Calif., bedroom to a spacious campus in Cupertino. How did the company get from there to here? Here are three decade's worth of events that helped shape Apple, turning it into the company we know today.
Which of these events were the most critical ones in Apple's history? Apple Confidential 2.0 author Owen W. Linzmayer lists his choices for the 30 most pivotal events of the past 30 years in this Macworld UK article.
1976
January: Steve Wozniak, 26, works at Hewlett-Packard while future Apple cofounder Steve Jobs, 21, labors at Atari.
March: Wozniak and Jobs create the Apple I—a computer circuit board without a keyboard, a case, sound, or graphics.
April Wozniak and Jobs form Apple Computer Company on April Fools' Day. The Apple I debuts in Palo Alto, California, at the Homebrew Computer Club.
In Other News: The United States celebrates its bicentennial; Jimmy Carter defeats Gerald Ford in the U.S. presidential election; Viking I lands on Mars.
1977
February: Michael Scott becomes Apple's president.
April Apple unveils the Apple II—the first PC with color graphics—at the first West Coast Computer Faire. It includes a keyboard, a power supply, and a snazzy case.
April: Rob Janov, an art director at Regis McKenna, Apple's public-relations agency, designs the company's new logo: a silhouette of a bitten apple with six color stripes.
June The Apple II becomes available to the public. It includes 4K of standard memory, two game paddles, and a demo cassette (price: $1,298).
In Other News: Elvis Presley dies; the TV miniseries Roots draws an audience of 130 million; the New York Yankees win the first of two consecutive World Series championships over the Los Angeles Dodgers.
1978
March: Apple introduces interface cards for connecting its computers to most printers.
June The Apple Disk II, a miniature floppy-disk drive, debuts at the Consumer Electronics Show (price: $595).
In Other News: Sony introduces the Walkman; the comic strip "Garfield" debuts; The Star Wars Christmas Special airs on TV for the first—and only—time.
1979
May Software Arts unveils VisiCalc, an electronic spreadsheet. One of the first "killer apps," it helped spur sales of the Apple II.
May: Apple employee Jef Raskin proposes a new project: an all-in-one computer aimed at the average person.
September: Apple's board approves a formal research project for Raskin's proposal.
November: Steve Jobs and software engineer Bill Atkinson visit the Xerox PARC lab in Palo Alto, California. More Apple employees will visit a month later. The visits will inspire development of both the Lisa and the Macintosh.
In Other News: Susan B. Anthony dollar debuts; Voyager I photographs Jupiter's rings; ESPN begins broadcasting.
1980
March: Apple FORTRAN is introduced. It becomes a catalyst for high-level technical and educational applications.
May At the National Computer Conference, Apple announces the Apple III, which features a new operating system, a built-in disk controller, and four peripheral slots. Rushed production and poor direction from Steve Jobs lead to missed ship dates, performance problems, and disappointing sales (price: $4,300-$7,800).
December: Apple goes public. Morgan Stanley and Hambrecht & Quist underwrite an IPO of 4.6 million shares of Apple common stock priced at $22 per share. It's the largest initial public offering since Ford's, in 1956.
In Other News: Ronald Reagan is elected president; Ted Turner launches CNN; the United States defeats the Soviet Union in the "Miracle on Ice" game at the Winter Olympics in Lake Placid.
1981
January: Steve Jobs joins Raskin's Macintosh project.
February: Chiat/Day gets Apple's advertising account after it buys Regis McKenna's ad operations.
March: Mike Markkula replaces Mike Scott as president; Jobs succeeds Markkula as chairman. Scott becomes vice chairman.
July: Apple launches a TV ad campaign with talk-show host Dick Cavett as its spokesman.
September: Apple's first mass storage system, the 5MB ProFile hard disk, is introduced (price: $3,499).
In Other News: U.S. hostages are freed from Iran; Walter Cronkite signs off as CBS Evening News anchor; MTV debuts.
1982
July: Apple rolls out the Apple Dot Matrix printer (price: $2,195).
September: Steve Wozniak sponsors a weekend-long outdoor rock concert—the US Festival—near San Bernardino, California.
December: Apple becomes the first PC maker to reach $1 billion in annual sales.
In Other News: An artificial heart is transplanted into a human for the first time; the space shuttle Columbia completes its first mission; Joe Montana leads the San Francisco 49ers to their first Super Bowl title.
1983
January: Apple introduces the Lisa (price: $9,995).
April: Apple hires John Sculley, former president of Pepsi-Cola, as its new president and CEO.
May: Apple joins the Fortune 500.
November: AppleWorks, an integrated package containing word processing, spreadsheet, and database applications, hits the market.
December: Apple releases the ImageWriter printer (price: $675).
In Other News: Sally Ride becomes the first U.S. woman astronaut in space; the compact disc is introduced; Tokyo Disneyland, the first Disney theme park outside the U.S., opens.
1984
January: The landmark "1984" commercial introduces the Macintosh during Super Bowl XVIII (won by the Los Angeles Raiders).
January: The Mac makes its debut at Apple's annual shareholder meeting (price: $2,495).
January: The first issue of Macworld, featuring Steve Jobs on the cover, hits newsstands (price: $4).
January: Microsoft releases Word 1.0 for Mac.
September: Apple ships the Macintosh 512K (price: $3,195).
In Other News: Federal regulators break up Bell System; President Reagan is re-elected, defeating Walter Mondale; the Supreme Court rules that taping TV shows on VCRs is not a violation of copyright law.
1985
January: The first Macworld Expo is held at San Francisco's Moscone Center.
January: Following the previous year's Super Bowl success, Apple-embossed seat cushions cover Stanford Stadium, site of Super Bowl XIX. The game features a commercial titled "Lemmings"—which bombs.
January: Apple releases the Apple LaserWriter (price: $7,000).
April: Apple introduces the ImageWriter II, the HD-20 hard disk, and the Apple Personal Modem.
April: FileMaker 1.0, developed by Nashoba Systems and published by Forethought, makes its Mac debut.
April: Apple releases System 2.0.
April: Apple officially discontinues the Lisa, now named the Macintosh XL.
July: Aldus releases PageMaker, a page-layout application that ushers in the desktop-publishing era.
September: Following clashes with John Sculley, Steve Jobs resigns from Apple. He forms a new computer company, Next.
September: Microsoft introduces Excel for Mac.
In Other News: Microsoft ships Windows 1.0; Coca-Cola changes the formula of its soft drink, releasing "New Coke"; the price of a first-class postage stamp rise 2 cents to 22 cents.
1986
January: Apple releases System 3.0.
January: Apple releases the Macintosh Plus. The first Mac to include a SCSI port, it was aimed at answering complaints that the original Mac wasn't expandable (price: $2,600).
In Other News: Steve Jobs invests $10 million in a Lucasfilm division named Pixar; a Mac Plus makes a memorable cameo in Star Trek IV: The Voyage Home ; the first Nintendo video games arrive in the U.S.
1987
January: New desktop communications products include the AppleShare file-server application (price: $799) and the AppleTalk PC Card (price: $399).
March: The Macintosh II—which is both the first color Mac and the first NuBus Mac—debuts (price: $3,989-$5,498).
March: Apple releases System 4.0.
April: QuarkXPress debuts.
July Microsoft releases PowerPoint 1.0. The Mac version of the presentation software appears some three years before its Windows counterpart.
October: Apple releases System 4.2 and Finder 6.0, combining both in System 5.0.
In Other News: The Dow Jones Industrial Average plummets nearly 23 percent in a single day on Black Monday; 93,173 people attend WrestleMania III at the Pontiac Silverdome, the largest indoor gathering in U.S. history; the world population tops 5 billion.
1988
January: Microsoft launches Windows 2.03, featuring Mac-like icons and overlapping windows.
March: Apple files a federal lawsuit against Microsoft claiming copyright infringement.
June: Apple releases System 6.0.
In Other News: George Bush defeats Michael Dukakis in the U.S. presidential election; Canadian sprinter Ben Johnson is stripped of his 100-meter-dash gold medal after testing positive for steroids; U2 wins an Album of the Year Grammy for "The Joshua Tree."
1989
February: The Beatles' Apple Corps recording company sues Apple Computer for marketing products with music-synthesizing capabilities, claiming a violation of a 1981 trademark-coexistence pact. It won't be the last legal dispute between the two Apples.
June: Microsoft releases Office 1.0.
September: Apple releases the Macintosh Portable (price: $6,500).
In Other News: The Berlin Wall falls; Seinfeld debuts, as does The Simpsons ; "Dilbert" begins appearing in syndication.
1990
February: Adobe introduces Photoshop.
March: The Macintosh IIfx debuts (price: $10,000-$12,000).
November: Michael Spindler becomes Apple's president.
In Other News: The first known Web page is written; Buster Douglas knocks out Mike Tyson to win the heavyweight boxing title; the first McDonald's in Moscow opens.
1991
March: Low-cost printers, including the StyleWriter and the Personal LaserWriter LS, debut.
May: Apple announces QuickTime, a new system-software architecture for the integration of dynamic media.
May: System 7.0 ships.
October The PowerBook 100 debuts (price: $2,500).
Powerbook 100
In Other News: The Soviet Union breaks up; Nirvana releases its"Nevermind" album; Gopher, a user-friendly Internet Interface, debuts at the University of Minnesota.
1992
April: Microsoft releases Windows 3.1; it became one of the first widely used PC GUI operating systems.
May: IBM, Motorola, and Apple team up to make the PowerPC family of single-chip, reduced instruction set computer (RISC) microprocessors.
In Other News: Bill Clinton defeats President Bush; the Toronto Blue Jays become the first Canadian team to win a World Series title; Johnny Carson steps down as Tonight Show host.
1993
June: Michael Spindler becomes CEO. John Sculley continues as Apple chairman.
August: Apple launches the Newton MessagePad handheld.
August: A federal judge dismisses Apple's Windows 2.03 suit against Microsoft. The decision is upheld on appeal.
October: John Sculley resigns. Mike Markkula is elected chairman.
In Other News: Mosaic, a program for browsing the World Wide Web, is released; Michael Jordan begins a year-and-a-half-long "retirement" from professional basketball; Dominos Pizza abolishes its 30-minutes-or-your-pizza-is-free guarantee.
1994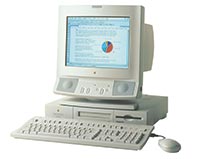 Power Mac 6100
March: PowerPC processors make their Mac debut, with the release of the Power Mac 6100 (price: $1,700).
March: Apple announces that Copland, its next-generation operating system, will ship in 1995 and be followed by another OS, code-named Gershwin, in 1996. It doesn't and it won't.
September Apple announces its intent to support Mac clones, licensing Radius, Power Computing, and Umax.
November: The Mac tops the 100MHz mark, with the PowerPC 601-powered Power Mac 8100.
In Other News: Figure skater Nancy Kerrigan is attacked before the Olympic trials; Major League Baseball players go on strike, canceling the World Series; ER and Friends premiere on NBC.
1995
February: The Supreme Court declines to review Apple's copyright-infringement case against Microsoft, ending the seven-year legal dispute.
May: The Power Mac 9500 ships (price: $5,300).
June: Apple launches eWorld, an online service. After failing to catch on, eWorld shuts down in March 1996.
September: Apple's 1995 fiscal-year sales top $11 billion.
October: The first multiprocessor Mac ships—but not from Apple. DayStar Digital's DayStar Genesis MP 528 features four 132MHz PowerPC 604 processors (price: $10,000).
In Other News: Microsoft releases Windows 95; Toy Story hits theaters; Pixar goes public, with Steve Jobs' shares worth an estimated $1.17 billion;
1996
February: Gil Amelio becomes the chairman and CEO of Apple, replacing Michael Spindler.
February: Apple attempts to enter the high-end server market with the Network Server 500 and 700 .
May: Internet Explorer 2.0—the first Mac version of Microsoft's Web browser—ships.
August: Apple gets into the multiprocessor game with the dual-180MHz Power Mac 9500. Apple won't release another dual-processor machine for four years.
August: Apple ends development of Copland and Gershwin.
December: Apple buys Next and its OS, NextStep.
In Other News: Bill Clinton wins a second term, defeating Bob Dole; Jeff Goldblum saves the day with the help of a PowerBook 5300 in Independence Day ; broadcasters and electronics makers agree on a high-definition TV standard.
1997
January: Steve Jobs returns to Apple as an advisor.
January: Apple unveils plans for a new OS that incorporates NextStep; it's code-named Rhapsody.
May: To mark its 20th anniversary as a company, Apple releases the 20th Anniversary Macintosh (price: $10,000).
The 20th Anniversary Mac
May: Apple announces plans to spin off Newton as a wholly owned subsidiary.
July: Gil Amelio resigns from Apple.
August: The satellite-beamed image of Bill Gates shares the Macworld Expo stage with Jobs, as Microsoft and Apple announce a five-year technology alliance.
August: Mac OS 8 ships.
August: Macworld and MacUser merge into a single magazine.
September: Jobs becomes Apple's interim CEO.
September: In a move that kills off the Mac clone market, Apple buys Power Computing for $100 million.
In Other News: The first "Harry Potter" book is published in the U.K.; the Pathfinder space probe lands Mars; the television ratings system debuts on broadcast and cable networks.
1998
February Apple reorganizes Claris into a standalone subsidiary called FileMaker. It also ends Newton development.
May Apple unveils a revised OS strategy, changing the name of its next-generation OS to OS X.
June: Umax pulls out of the Mac-clone market.
August: Apple ships the first iMac (price: $1,299).
In Other News: Microsoft releases Windows 98; the New York Yankees win the first of three consecutive World Series titles; Titanic wins a record-tying 11 Academy Awards.
1999
January: The Power Mac G3 comes out (price: $1,599-$4,999).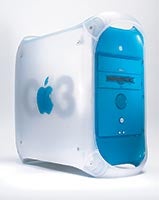 Power Mac G3
January: The iMac adds new flavors—blueberry, tangerine, grape, lime, and strawberry, to be exact. In the next few years, Apple's consumer line will go through numerous color shifts, including indigo, sage, ruby, snow, and (inexplicably) Blue Dalmatian.
April: Apple releases Final Cut Pro.
September: The iBook hits the market (price $1,599).
September: The G4 chip becomes the processor for Power Macs (price: $1,599-$3,499).
October: OS 9 ships.
In Other News: Noah Wyle stars as Steve Jobs in the TV movie Pirates of Silicon Valley ; Napster debuts; Wayne Gretzky retires.
2000
January: Steve Jobs drops the "interim" tag from his CEO title and shows off OS X's Aqua interface in public for the first time.
July: The Power Mac G4 Cube debuts (price: $1,799-$2,299).
September: The public gets its hands on a beta version of OS X.
In Other News: George W. Bush (eventually) wins the U.S. presidential election; America Online buys Time Warner for $165 billion; a judge rules that Microsoft violated the Sherman Antitrust Act.
2001
January: The PowerBook G4 ushers in Apple's shiny-metal look (price: $2,599-$3,499).
March: OS X debuts.
July: The G4 Cube becomes Apple's best-looking failure: the company discontinues production.
September: The new operating system gets a badly needed update with OS X 10.1.
October: Apple enters the portable-music business, unveiling the first iPod music player.
In Other News: Wikipedia goes online; Microsoft releases Windows XP; The first of three Lord of the Rings movies hits theaters.
2002
January: The flat-panel G4 iMac debuts; Apple pronounces the CRT officially dead (price: $1,299-$1,799).
January: OS X becomes the default operating system for all new Macs.
April: To appeal to education customers, Apple announces the eMac, an all-in-one system with a flat CRT monitor.
May: With the release of the Xserve, Apple makes its first push into the server market since its Network Server product line. The Xserve is the first Apple machine to include Double Data Rate (DDR) RAM (price: $2,999-$3,999).
May: Jobs kicks off the annual Worldwide Developers' Conference by holding a mock funeral for OS 9. The point: Apple had stopped all development of the old Mac OS to focus entirely on Mac OS X.
August: The Power Mac G4 hits the gigahertz mark.
August: Apple releases its next major OS X update—OS X 10.2, code-named Jaguar.
In Other News: The New England Patriots upset the St. Louis Rams in the Super Bowl—the Pats will win two more Super Bowls in the next three years; Canada wins its first Olympic gold medal in hockey in 50 years; WorldCom files for bankruptcy.
2003
January: iLife—a suite that includes iPhoto, iDVD, iMovie, and iTunes—debuts, along with Safari, an Apple-built Web browser.
April: Apple makes a splash in the music world, with the iTunes Music Store, an online music service where users legally can legally download more than 200,000 songs for as little as 99 cents each.
August: The G5 processor debuts in the Power Mac line, topped by the dual-2GHz Power Mac G5 (price: $2,999).
October: The latest update to OS X—code-named Panther—brings 150 new features and enhancements to the operating system.
October: The transition from the G3 chip is complete, as the iBook adds G4 processors.
October: Windows users learn the thrill of downloading 99-cent music tracks, as Apple releases a Windows version of iTunes.
In Other News: The project to sequence the human genome is completed; Arnold Schwarzenegger becomes governor of California; two Matrix sequels grace the silver screen.
2004
January: Apple expands its iPod offers to include the slender—and colorful—iPod mini (price: $249).
January: Music creation comes to the iLife suite, as GarageBand is introduced into iLife '04.
January: Hewlett-Packard joins forces with Apple to sell HP-branded iPods.
April: Apple expands its professional digital-video offerings with Motion, a motion-graphics program, and an updated version of Final Cut Pro that supports high-definition.
June: The iTunes Music Store goes international, launching versions in France, Germany, and the U.K.
July: After a six-year absence, the East Coast edition of Macworld Expo returns to Boston; large crowds, unfortunately, do not.
August: The iMac gets a G5 processor and a new design—a flat-panel case that looks more like an LCD than a computer.
October: Apple releases the first color-screen iPod (the iPod photo) and a black-and-red iPod dedicated to the rock band U2.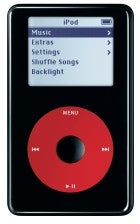 The U2 iPod
In Other News: George W. Bush wins re-election; Pixar's Finding Nemo wins a Best Animated Feature Oscar; the Boston Red Sox end their 86-year World Series drought with a sweep of the St. Louis Cardinals.
2005
January: The Keynote presentation software gets a long-awaited updated as part of the iWork '05 suite that also introduces Pages.
January: Apple goes small, introducing both a slimmed-down desktop—the Mac mini—and a flash-based music player—the iPod shuffle.
April: Mac OS X undergoes its first major overhaul since late 2003, with the release of OS X 10.4—otherwise known as "Tiger."
June: At the Worldwide Developers' Conference, Jobs announces Apple's intention to switch to Intel for its processor needs, starting in 2006.
June: iTunes 4.9 adds support for podcasts, which are now offered via the iTunes Music Store.
August: After years of single-button mousing, Apple releases the multi-button Mighty Mouse.
September: The popular iPod mini makes way for an even slimmer music player—the flash-based iPod nano.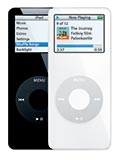 The iPod nano
October: The fifth-generation iPod adds the ability to play videos—which, coincidentally, are now available for download from the iTunes Music Store via iTunes 6.
October: An update to the iMac line marks the debut of Front Row multimedia management software for controlling music, video, and slideshow playback.
October: The Power Mac line gets a processing boost with the introduction of dual-core chips—two processing engines on a single sliver of silicon.
In Other News: In the midst of a labor lockout, the National Hockey League cancels its entire 2004-05 season; With Star Trek: Enterprise signing off, it's the first time since 1987 that a Star Trek TV series isn't in production; the identity of Watergate source Deep Throat is revealed.
2006
January: The first Intel-based Macs—a flat-panel iMac and the portable MacBook Pro—arrive.
January: The iLife suite adds another component with the arrival of the Web site-creation tool, iWeb.
February: The iTunes Music Store sells its 1 billionth song.
February: With the addition of an Intel processor to the Mac mini line, half of Apple's hardware offerings have made completed the Intel transition.
In Other News: Disney purchases Pixar, with Steve Jobs becoming the largest individual shareholder of Disney stock.