With the release of last year's PodShave and PodShave Lady we thought we'd reached the limit of common household appliances retrofit to take advantage of the iPod's runaway popularity.
We were wrong.
Gear4 is back with its latest musical appliance, the £104.06 iRon —an iPod-powered portable iron. Although not yet available in the U.S., Gear4's representatives were kind enough to send us a European model for testing. Our full review will follow when we've received a shipping version of the American iRon.
Concept and controls
Smaller than the Black & Decker D2030 Auto-Off Digital Advantage Iron we use for sprucing up before an Apple event (or making a quick grilled-cheese sandwich), the iRon lacks the dangling power cord found on traditional irons. Instead, the back of the sleek and stylish appliance sports a sled for holding a dock connector iPod (the sled can be adjusted forward or back to accommodate different-sized iPods).
On either side of the iRon's base are two 3 watt speakers about the size of an American quarter along with two tiny "tweeters" that handle the top end. While the iRon includes no dedicated bass speaker, the mostly-hollow insides of the device help offer enough resonance to deliver reasonable bass performance. For the most part we found the sound even across frequencies but necessarily "left speaker heavy," as we iron with our right hands. A balance control would help in this regard.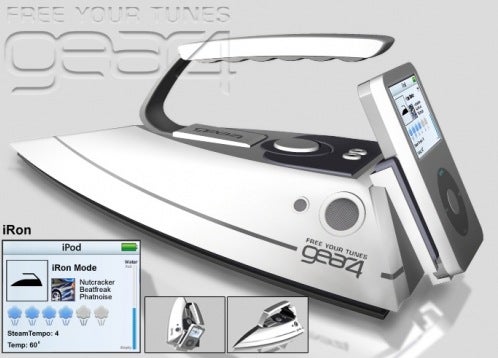 Beneath the aluminum handle you find a temperature dial as well as controls for switching the steam and spray features on and off. A thin clear window along either side of the iRon allows you to view the water level.
Incorporating the iPod
So far it sounds pretty much like a standard iron, right? Here's the kicker: The iRon includes a unique "SteamTempo" technology that not only synchronizes the frequency of its steam jets to the tempo of the currently playing track but it also delivers a greater volume of steam based on the presence of bass frequencies—bass-heavy tracks (house-music tracks, for example) produce lots of steam whereas lighter fare (a Sarah McLachlan track, for instance), produces bare wisps of steam.
Thanks to a special software plug-in, color iPods can display the iRon's water level, temperature, and remaining battery life. Those without color iPods must trust the temperature dial (and, of course, the sensitivity of a wet finger).
We're steamed
We'll save our final judgments for a shipping review unit, but it's fair to say that we weren't completely happy with the iRon.
Puny power
To begin with, Gear4 might consider adding some kind of backup battery to the iRon or, at least, offer a corded option. We plugged a fully-charged 60GB 5G iPod into the iRon, set the temperature control to Cotton, loaded a speed metal playlist sure to deliver rapid and powerful jets of steam, and prepared to press a week's worth of collared shirts plus two sets of Queen-sized sheets. We switched off the iPod's EQ so as to not deliver more bass than was inherent in the music but left backlighting on so we could track the iPod's battery as we ironed. Although we usually apply a light coating of starch to our shirts, we dispensed with the starch to replicate common ironing practices.
Working at a speed of approximately 12 SPH (shirts per hour), we managed to get through only four shirts and one bottom sheet before the iRon began to, quite literally, lose steam. The iRon continued to play at its original volume, but we found we had to go over some spots time and again before we were able to banish wrinkles that were dealt with easily when we started our tests.
If the results of these test hold up in the American version of the iRon, we'll suggest that while the device is fine for those times when you quickly need to press a single shirt—when you're traveling, for example—until it offers a cord, it's definitely not ready to serve as your everyday iron.
Luke-warm performance
Our second complaint has to do with the the amount of heat generated by the iRon. In an A/B test we placed our Black & Decker iron next to the iRon, cranked both devices to their highest limit, and pressed a thumb against each for five full seconds. A trip to our local Urgent Care unit revealed that the thumb applied to the iRon received only a second-degree burn while the Black & Decker burn was clearly of a third-degree variety.
We contacted Gear4 about this issue and were told that the American units would be free from this problem. According to Gear4, the iRon sold in Europe must conform to a "temperature cap" imposed by the French government. This cap requires that personal cleaning and pressing appliances not exceed temperatures of 98 degrees Celsius. Two degrees shy of water's boiling point, we now understand why so many Europeans favor wrinkle-free garments.
More to come
Priced at under $200, we were told to expect an American production unit of the iRon no later than April 31st. When that day rolls around, we'll press the iRon into service. Stay tuned.
Note: When you purchase something after clicking links in our articles, we may earn a small commission. Read our affiliate link policy for more details.