I don't have cable television. Heck, I don't even own a television. And yet, I hardly ever miss an episode of The Daily Show with Jon Stewart, even before it was added to the iTunes Music Store's roster of shows.
How is that possible? Well, let's just say that my Daily Show viewings occurred in a time-delayed Internet-pirated sort-of way—namely, that within 24 hours of its broadcast, I could find the most recent episode of The Daily Show at various BitTorrent Web sites. It usually took 20 minutes to download an episode; the quality was always good, and rarely were there any encoding glitches.
It was convenient, sure. But was it legal? Not in the slightest.
So when Apple announced Multi-Pass pricing option—which lets me buy 16 Daily Show episodes for $9.99—I thought I'd give it a try. It's certainly a better option for me than television or cable, since I'm not interested in the vast majority of what's on television. Besides the Daily Show , I enjoy The Colbert Report and Lost (both of which are also available via iTunes), and that's about it. So it's not worth it to me to spend money on a television set, let alone the $600 per year (assuming a $50 monthly charge from my cable provider) that it would cost me to get basic cable.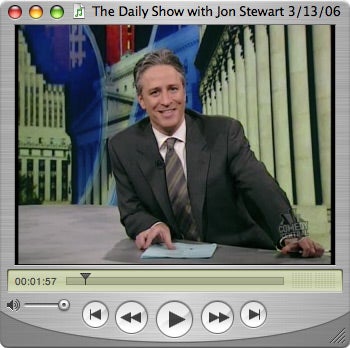 By my math, The Daily Show is on about 40 weeks a year—which translates to 160 episodes which I could buy, via Multi-Pass, for $100. Let's say I also add on a year's worth of Colbert Report episodes for another $100 as well as a $35 for an entire season of Lost . (iTunes makes Lost —and other shows including Scrubs , Desperate Housewives , and the assorted Law & Order spinoffs— available through a Multi-Pass-like option called Season Pass. A Season Pass entitles you to download all the episodes from a particular season that have already aired plus future episodes from that season as they become available.)
That gives me a grand total of $235, or less than half the price of what my cable television bill would be. I get exactly what I want, with no commercials. Not only that, watching shows on my computer gives me my very own personal video recorder, with the ability to watch, pause, and rewind programs at will. Plus, I can archive the shows on DVD-ROM or transfer them to a fifth-generation iPod. I wouldn't be able to do that with basic cable, at least not very easily.
My month-long experiment with Multi-Pass found that the service works as advertised. Pay your $9.99, and each day, iTunes sends an e-mail alerting you when a new episode becomes available. (You can turn off the alert if you choose.) So each day, once I fire up iTunes, I select Check for Purchases under the application's Advanced menu, and my download begins. On a high-speed connection, a 100MB, 22-minute episode finishes downloading in less than 10 minutes. Once the 16-episode Multi-Pass runs out, iTunes sends another e-mail alerting you to buy another episode.
I encountered some things that I would like to see changed—namely, that Multi-Pass only works from the moment that you activate it. You can buy future shows, but you can't go back and apply your Multi-Pass downloads to episodes that have already aired; those can only be bought individually. Contrast that with the Season Pass option that includes future and past episodes. It would be nice to see some of that flexibility in Multi-Pass.
Like other Music Store content, Apple copy-protects Multi-Pass TV shows with its FairPlay digital-rights management technology. That restricts you to playing the files on five computers; more crucially for me, it prevents me from playing back video on anything other than a video-capable iPod—which I don't own. I would love to watch iTunes purchases on my Treo (which plays BitTorrent files without a problem). It's also worth noting that the files you download from iTunes are designed for the iPod, meaning picture quality degrades if you expand them to a large monitor.
It's too bad, because otherwise Multi-Pass compared pretty favorably to my old method of obtaining episodes of my favorite shows.
Daily Show Options Compared
| | File Size | Resolution | Codec | Cost | Legal? |
| --- | --- | --- | --- | --- | --- |
| BitTorrent | 170MB | 512 x 384 | DivX | Free | No |
| iTunes Music Store | 100MB | 320 x 240 | MPEG-4 | $1.99 per episode* | Yes |
* $9.99 for a 16-episode Multi-Pass
I would gladly turn to Multi-Pass if I had a fifth-generation iPod. It's a great way to get a large number of episodes of your favorite show, and you don't have to break the law to obtain them. But the inability to put shows I purchase on a device of my choosing turned out to be the deal-breaker for me.