It happens to all Mac users sooner or later. You're about to select a menu command in a favorite application, and suddenly your cursor turns into a beach ball that spins and spins and spins. You do everything from pounding on the keyboard to offering a sacrifice to the computer gods—all to no avail. In the jargon of the Mac world, your app has frozen.
First some good news: usually, only one application freezes at a time—even if that application happens to be the Finder. So if you move your cursor away from the program's window, the beach ball should disappear as your Mac's behavior returns to normal. But you're still stuck with an application on ice.
How do you get an application to quit when you can't access its Quit command? In the spirit of freedom of choice, OS X offers a few ways to force-quit a program. (You need to use only one, as they all do the same thing; however, you may find one method more convenient than another. And sometimes one may work when another doesn't.)
1. Force Quit Go to the Apple menu and select Force Quit (or press its keyboard equivalent: Command-option-escape). This brings up the Force Quit window. You'll see a list of all your currently open applications. Typically, the name of the frozen one will be followed by the phrase "application not responding." Select the program's name and click on Force Quit.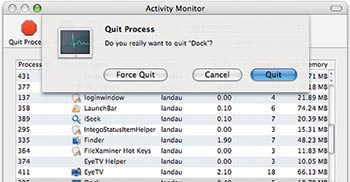 No Quit To Pick How do you quit something—say, the Dock—that doesn't appear in the Force Quit window? Use Activity Monitor.
Sometimes a program will be frozen but the Force Quit window won't indicate that it is. Conversely, sometimes your Mac mistakenly assumes that there's a problem when the program is just taking an unusually long time to complete a request. If you wait a bit longer, the program might heal itself.
2. Use the Dock Menu You can also force an application to quit from the Dock. Click and hold over the frozen application's Dock icon. When the Dock menu pops up, the item that normally reads Quit should say Force Quit. If it still just says Quit, release the mouse and start over, this time while hold-ing down the option key. This makes the Force Quit command appear.
3. Use Activity Monitor On rare occasions, you may need to quit a program—such as the Dock itself—that doesn't have a Dock icon or appear in the Force Quit window. In that case, launch Activity Monitor (it's in /Applications/Utilities). From the list in the main window, select the frozen application (see "No Quit to Pick"). Click on the Quit Process button in the toolbar; then click on Force Quit in the dialog box that appears.
[ Contributing Editor Ted Landau continues to search for new ways to get into and out of trouble. For more troubleshooting tips, see his book Ted Landau's Mac OS X Help Line: Tiger Edition (Peachpit Press, 2006). ]
Note: When you purchase something after clicking links in our articles, we may earn a small commission. Read our affiliate link policy for more details.