You can turn to shareware or free programs to burn backups of DVDs or transcode DVD videos to other formats. So why would anyone want to pay $50 for a commercial package that does many of the same things? Because the commercial package in question happens to be easy to use and reliable—that's certainly the case with Roxio's Popcorn 2, which was announced last week.
Popcorn is Roxio's software for making backups of DVDs. Based on the same technology as the company's more full-featured Toast product, Popcorn features a more streamlined interface and feature set.
Toasted Popcorn?
The release last fall of Toast 7 Titanium would have seemed to mark the end of Popcorn—Roxio rolled virtually all of Popcorn's functionality into Toast. But with the rise in popularity of portable video players, Roxio has totally rethought Popcorn's functionality. Instead of just being a DVD duplication tool, it's now a powerful video-translation utility that lets you take videos from DVDs and make them playable on iPods, Sony PlayStation Portables and other mobile devices, from cell phones to DivX-based handheld players.
This is most evident in a new tab visible in the Popcorn interface that says "Player." It looks almost the same as the DVD tab, but it allows you to set up video exporting. Popcorn 2 has been configured with several different presets suitable for handheld devices, including the video iPod, PSP, 3GPP-capable phones and handsets, DivX players, television and more. It can write MPEG-4, DivX and H.264-encoded video.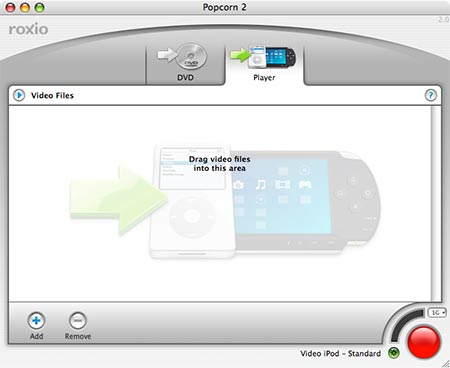 The new Player interface in Popcorn 2
For the most part, Popcorn 2 will write out the video file straight to the Movies folder—which has the added bonus of making the video content visible to Front Row, if you're working with a machine that has Apple's remote control software installed.
In the case of iPod exports, Popcorn 2 takes it a step further—it'll write that content to iTunes directly, so the next time you sync your iPod, it'll upload the video you've converted as well.
I wish Popcorn were this much of a home run for PSP users. I'm a PSP enthusiast and often use my PSP to watch movies I've ripped and converted to MPEG-4 format —the wide screen makes it really good for watching movie features without the wasted real estate you find on an iPod display.
This isn't really Roxio's fault—it's just that unlike iTunes and the iPod, there's no ubiquitous syncing software for the PSP, though there are a few strong contenders in the shareware space. And exporting the file to the Movies folder, which Popcorn does by default, makes it a cinch to find the movie when you sync your PSP.
Encryption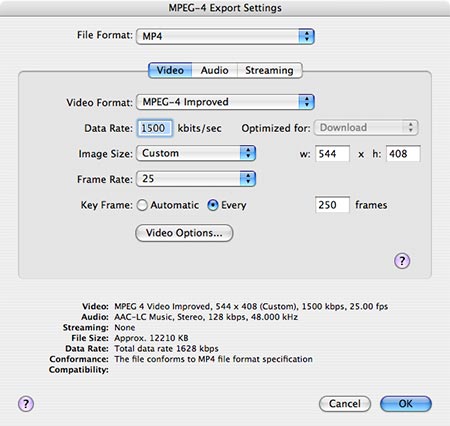 Popcorn's MPEG-4 custom settings panel
Roxio makes it a point with Popcorn to note that it only can duplicate content that's on unencrypted DVDs—in fact, if you try to duplicated encrypted content, Popcorn will display an error message explaining you can't do that.
That excludes most of the commercial DVDs that you would buy in a store, which means that on its own, Popcorn 2 can't be used to back up copies of movies you might want to duplicate lest your kids scratch them up (God knows I've lost enough animated movies and cartoon compilations that way in my house).
That limitation lets Roxio off the hook for any potential legal issues from groups like the Motion Picture Association of America, but the problem is dead simple to work around. There's free software on the Web called Mac the Ripper and Handbrake that can be used to copy the contents of protected DVDs to your hard drive. And once those contents have been copied over, Popcorn is perfectly willing to read it—it can read content from any valid VIDEO_TS folder, which is what you end up with after you've "ripped" a protected disc.
It sounds like I'm telling you how to break the law, but the fact is that a lot of us have a need to make legitimate backup copies of commercial DVDs. For me, it's a matter of financial survival with three kids who are less careful handling DVDs and other optical media than I would really care to see—I much prefer to let them scratch up duplicates than original copies. If I had to repurchase every DVD my kids destroy in the course of a year, I might as well just tithe to Best Buy.
I own an external DVD burner that works faster and supports dual layer discs. I've gotten accustomed to burning discs using Popcorn at the same time as I'm ripping other discs. That functionality seems to have been taken away with Popcorn 2, which now vies for control of the hardware and doesn't let the Mac mount discs in the internal drive until it's done with the external drive. Roxio tells me this is something that will likely change in a future update.
Popcorn 2 isn't limited to video presets, either. You can customize your export settings with extensive details defining data rate, image size, frame rate, audio, text and streaming information and more—it's quite remarkable. Fortunately, most users don't have to mess with those options, so it's just as well that they're hidden away rather than exposed at the top level of the interface.
Popcorn 2 will also try to guess how large the resulting file will be. It's only an approximation, but it's helpful to know if you're limited on space, as you are with flash-based devices like the PSP or a handset.
Director's Cut
Let's say you want to copy a DVD but don't want all the extra content, like the making of featurette or the interview with the costume designer. Popcorn 2 has a Director's Cut feature that lets you edit the content you're copying—you can specify which chapters of the original DVD you want to copy and what audio tracks—so if there are extra languages on there you don't care about, you can do away with them.
This is particularly handy if you're trying to get the contents of a double-layer disc—9GB worth of data—onto a single 4.7GB disc. Fortunately, if you spill over, Popcorn uses compression to squeeze all that video onto a single-layer disc. The compression keeps the audio pristine, fortunately.
A new "Fit-to-DVD video compression" option lets you tell Popcorn 2 that you want to squeeze that video onto a single disc; otherwise, you can burn a double-layer disc if you prefer, and if your Mac (or external DVD-R drive) supports that capability.
The resulting files are of excellent quality. Artifacts can be present in the video that Popcorn 2 will export or squeeze onto a single-layer DVD, but that's to be expected. Still, the presets are good enough that you'd be hard-pressed to produce better looking video without knowing a lot more about video streams than the average user does.
You can even preview video chapters to make sure you've specified the content you want on the target disk—Popcorn will play the video in a window, with some basic controls off to one side. You can also take screenshots of the video while it's playing using a built-in feature to Popcorn 2—a nice treat for users of Apple's DVD Player, which doesn't possess that capability.
Getting it right
Popcorn is handier than ever in its second major revision, and definitely worth the upgrade. Speaking of upgrades, Roxio's gotten it right with this release. Previously criticized for only offering scanty rebates for new purchases of upgraded applications, the company is offering Popcorn 2 for existing users for $29.99 (the full version costs $49.99). If the ability to make custom DVDs or convert video content to handheld formats or stored formats for Front Row is appealing to you, then Popcorn 2 will be a home run.
Oh, by the way, Popcorn 2 ships as a Universal Binary, so it runs natively on PowerPC and Intel Macs alike.
[ Senior News Editor Peter Cohen also writes the Game Room blog. ]