A question over at the Macworld forums got me thinking. Forum visitor RFM wrote:
Is it possible to broadcast streaming audio from iTunes?
And mod Derik DeLong responded:
iTunes doesn't have built in facilities, but Nicecast lets you do it.
And I thought, "Oh yeah, I've been meaning to do that again. Why not today?"
And here's how it works:
If you're not in the know, Rogue Amoeba's $40 Nicecast lets you stream music playing on your Mac to others tuned in over the Internet. It's made up largely of two components—the broadcaster, where you initiate and choose a source for your broadcast (iTunes, for example) and the server, where you broadcast your 'cast and determine how many listeners you're willing to allow to tune in.
For the most part, setting it up is about as easy as it could be.
Broadcasting
In the Nicecast Broadcast window click the Source button and, from the sheet that appears, choose Application from the Source pop-up menu and iTunes from the Select pop-up menu (from the Source pop-up menu you can also choose to broadcast any audio input on your computer—the audio input port, for example).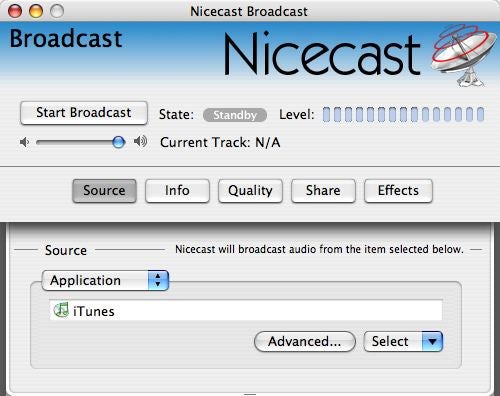 Click the Info button and give your broadcast a name, choose a genre, enter your AIM handle if you want to be chatted, and include a URL where you'd like to direct your listeners. This information will appear in the program they use to listen to your broadcast.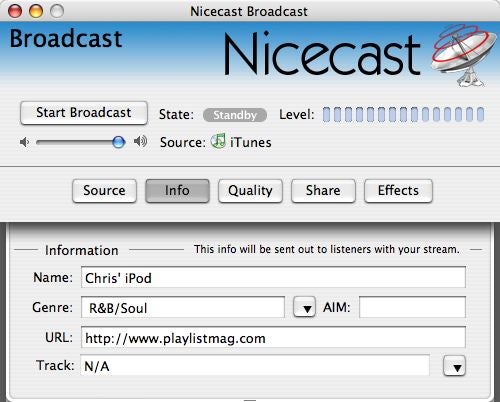 When you click the Quality button you'll see that you can choose from a number of presets. The higher the setting, the larger pipe you'll need to deliver your broadcast. My DSL line runs at around 3Mbps and I had no problem broadcasting to three listeners with the Higher (Intranet/LAN) setting. Choose a lower setting if you have a smaller pipe.
Click the Share button and you'll see the addresses that you're broadcasting on — an Internet address for those tuning in from the outside and a Local address for others on your network. This sheet also includes a Server Checker button. Once you've got everything set up, click this to see if the server's working properly.
Finally, the Broadcast window includes an Effects button. If you want to EQ your broadcast so it sounds like a cheap AM radio, here's where to do it. Just click one of the Insert panes and choose an effect from the menu that appears.
Serving
The Nicecast Server is equally straightforward. Click the Built-In Server button and you'll see the server's address and port numbers entered in their respective fields. If you want to require a password for others to listen to your broadcast, enable the Require Password option and create a username and password. Additionally you tell the server how many listeners you're willing to broadcast to in the Maximum Listeners field.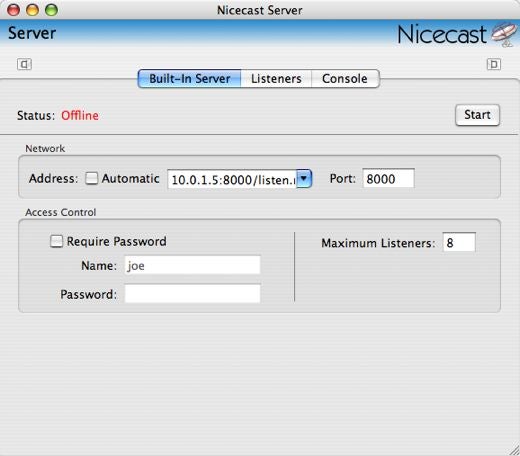 To start your broadcast, just click Start in the Server window and Start Broadcast in the Broadcast window, start playing your source, and let the world know about your broadcast. You can do that in one of a couple of ways.
You can send the URL directly to your pals and ask that they open iTunes or QuickTime Player, invoke the Open Stream (iTunes) or Open URL (QuickTime) command, and enter the broadcast's address (which you found in the Share sheet) or you can click that Share button and enable the List on MacStreams.com option. This makes your broadcast available to those who wish to access it from Rogue Amoeba's site (the site currently offers just over 200 streams).
Bits and pieces
When setting this up on my Mac I had to take a couple of additional steps.
The first was that if I wanted to broadcast the music on my iPod I had to mount that iPod, select it in iTunes, and flip it into Manual mode (iPod Preferences > Music > Manually Manage Songs and Playlists). When the iPod is in manual mode you can play it through iTunes—and, thus, stream it via iTunes and Nicecast.
Secondly, my Mac is connected to the Internet via an AirPort Extreme Base Station. In order to make the server work I had to open port 8000 so the server could communicate with the outside world. It's not difficult to do and Nicecast's documentation walks you through the process.
In next to no time, my pals Terri and Ben were grooving to my iPod's sweet soul music. There are less-expensive ways to do this, but none I've found that are as easy to set up. If this kind of thing intrigues you as much as it does me, check out the free demo of Nicecast. And if you go into the broadcasting business, drop a line via the link below. I'd love to tune in.