Last June, I wrote about SuperDuper 1.5.5 ( ), which I've found to be the best way to make a bit-for-bit-identical clone of a Mac OS X volume. A clone is a great approach to backing up your hard drive: Should anything should ever happen to your main drive, you just reboot from the clone and you're up and running in no time. (Clones are also useful when rebuilding your Mac—as I found out this past weekend after a power surge wreaked havoc on my system. You can erase your main hard drive, install Mac OS X on it, and then use OS X's Migration Assistant to import all your user accounts, files, and applications from the clone.)
Unfortunately, because of invisible files and permissions issues, you can't simply drag the contents of one volume onto another to get a good copy, as you could in Mac OS 9 and earlier. SuperDuper does the job right, and does so via an easy-to-use interface—it can even update an existing clone with just the latest changes to the original drive. It also includes a number of advanced features that make it useful to network administrators and IT personnel. Macworld liked SuperDuper 1.5.5 so much we gave it a 2005 Eddy Award.
I encourage you to read my original review, as it explains exactly what made SuperDuper 1.5.5 a "must-have" utility. It also provides some context for today's Mac Gems review of SuperDuper 2.1 ( ), which focuses on the improvements.
SuperDuper 2.1 has all of the great features that made version 1.5.5 so good; it's easy to use for the most basic functions while offering a set of advanced features not found in other similar utilities:
Easy-to-use interface.
Four different types of clones: Backup – all files; Backup – user files; Safety clone – shared users and applications; and Safety clone – shared users.
Four different copy options: erase volume and copy; smart update; copy newer files; copy different files.
Before- and After-copy operations.
"What's going to happen?" summaries.
Ability to save sets of backup/clone settings.
Ability to create custom copy scripts (for example, to make a clone that omits particular files/folders).
AppleScript support.
(I discussed these features in detail in my original review.)
However, my one significant complaint about SuperDuper 1.5.5 was its lack of scheduling support; as I noted last year:
The only major feature missing is the ability to schedule copy/clone operations—for example, I'd like to be able to tell SuperDuper to automatically clone my hard drive every night at midnight.
SuperDuper 2.1 addresses this shortcoming via a new "Schedule" button: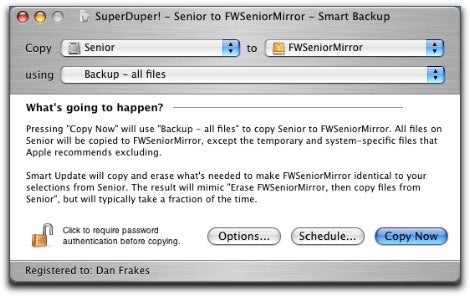 After setting up the desired copy, clicking this Schedule button gives you a handy scheduling window for that particular set of copy options:
Choose the week(s) and day(s) on which, and the time at which, you want the automatic copy to occur. As with the main SuperDuper window, the scheduling window provides you with a "What's going to happen?" summary that explains exactly what is going to happen—and, in this case, when it will happen. Click OK to add the schedule. You'll then see SuperDuper 2.1's Scheduled Copies window, which shows all scheduled copies as well as the last time each task was run and the next time it's scheduled to run.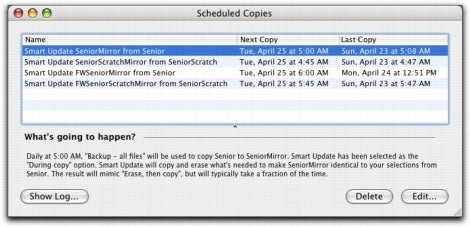 On top of that major feature addition, SuperDuper 2.1 includes a few other improvements. For starters, SuperDuper's interface has been reorganized to make it even easier to use. For example, the basic options—the type of copy and what to do when the copy is finished—are listed in the General tab of the Options screen, whereas more advanced options—shell script execution, as well as disk image and Installer package tasks—have been moved to an Advanced tab. And although I previously praised SuperDuper 1.5.5's documentation as being comprehensive and understandable—sadly rare when it comes to backup software—the documentation included with SuperDuper 2.1 is even better thanks to the addition of task-based instructions that clearly explain how to perform various procedures.
Finally, SuperDuper 2.1 is a Universal binary, so it works natively on Intel-based Macs. (Although, as noted in the manual, you shouldn't use SuperDuper to clone FAT32-formatted drives—for example, a FAT32 partition you've created via Apple's Boot Camp to run Windows on your Intel Mac. SuperDuper wasn't designed for FAT32 drives.)
Whether you use it to make one-off clones for IT work or to make scheduled, bootable copies of your Mac's hard drive for backup purposes, SuperDuper is the best clone-based backup utility I've seen—and the backup utility to which I trust my own data. Its clear interface, outstanding feature set, informative documentation, and—most importantly—fail-safe performance have made it an indispensable part of my Mac toolbox.