For my first stop at the National Association of Broadcasters (NAB) trade show in Las Vegas, I had a talk with Boris Yamnitsky, founder and president of Boris FX. He gave me a tour of the latest version of Boris Red, the company's 3-D compositing, titling, and effects plug-in for non-linear editors such as Final Cut Pro and Avid products.
Version 4, which should ship in August 2006, includes 16-bit per color channel processing, a new raster paint engine, the ability to convert bitmap files to vectors (which can then be extruded and animated), and native compatibility for Intel-based Macs. This will be the company's second Universal Binary release, since Boris Calligraphy, which is bundled with Final Cut Pro, was updated to include Intel support for inclusion with Apple's Final Cut Pro 5.1 update last month.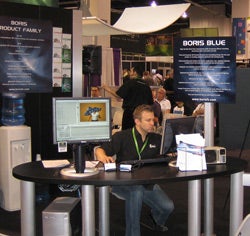 Yamnitsky also showed me the new Boris Blue (pictured on the right), a hardware-based stand-alone application with much of the same functionality of Red. But because Blue uses the OpenGL hardware acceleration on the GPU of the latest programmable Nvidia graphics cards—the system CPU and RAM aren't used to render video—users will see improvements in preview and exporting speeds, as well as higher-quality on-screen 3-D playback. Boris Blue is currently only available for Windows XP, but Yamnitsky said that the company plans to create a Mac version in the future. Such a move has become possible because of Apple's addition of PCI Express to the Power Mac line, as well as Nvidia's evolving support for the Mac when it comes to Nvidia's high-end graphics cards.