Even though Apple didn't have a big event for the press at this year's National Association of Broadcasters trade show, that doesn't mean the company doesn't have a big presence in Las Vegas. Although not as big as Sony's 24,000 square foot base camp, Apple's NAB booth is almost as big as its Macworld Expo digs—and with a prime location on the show floor.
Because of the huge crowds attending NAB, it's hard to get a good look at anything in the Apple booth, so I was glad to have a private meeting with some of the company's product managers (not to mention a quiet room in which to sit down and rest my weary feet after walking the show floor all day).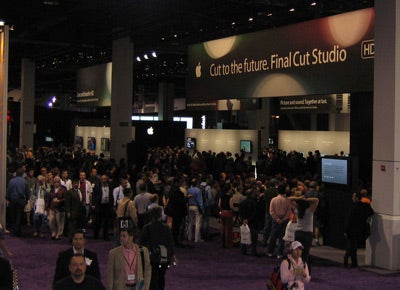 The main thrust of my meeting with Apple was to talk about the new 17-inch MacBook Pro announced at the show. As has been observed elsewhere, NAB proved to be a fitting place to introduce such a model since editors now do a lot of video and audio editing on laptops when they are away from their high-end office setups. (There's also the not inconsiderable matter of Apple not having an Intel-based desktop system available for pro users yet.)
One of the more impressive feats Apple demonstrated involved the new MacBook Pro playing four HD video streams at once in the Universal version of Final Cut Pro, with no noticeable drops in frame rates or reduction in playback quality—something a PowerBook G4 can only dream of. For comparison, Apple also set up a Quad 2.5GHz Power Mac G5 next to the MacBook Pro playing the same project; I couldn't tell much, if any, difference in performance and quality. (Apple's revelation that it doubled the number of speakers in the MacBook Pro over the 17-inch PowerBook G4 and that I would hear the superior audio performance wasn't nearly as exciting—or even very detectable).
Although the new MacBook Pro doesn't ship until next week (which, in Apple-speak, usually means "When the first models begin the slow journey from their Asian manufacturing plants"), it was good to see that laptop bag maker Booq has already announced the Vyper XL2 laptop sleeve specifically designed for the 17-inch MacBook Pro. The $60 case ships on June 5—maybe some shoppers will wind up getting their hands on a case before even receiving the laptop itself.
It's also good news for Apple that FirmTek has announced one of the first actual products for the ExpressCard slot that Apple added to the MacBook Pro line, replacing the PC Card slot in PowerBook models. The $120 SeriTek/2SM2-E —which won't be available until the third quarter of 2006—will let portable users connect to external Serial ATA disk drives, giving them another option for adding fast external storage on the go. The card will support transfer rates of up to 3 gigabits per second per port.
Another thing Apple was very keen to show off at NAB was how easy it will soon be for Final Cut Pro users to work with Sony's XDCAM HD cameras, which can shoot in 1080 formats suitable for broadcast or cinema. Sony has created software specifically for Final Cut Pro that lets editors capture clips from the XDCAM HD's 23.3 GB optical recording media using a standard FireWire connection.