For decades, you faithfully recorded your most precious moments on film, picked a few snapshots from the bunch for photo albums, and then carefully stored the rest. But now those prints are fading. If they're stored in nonarchival albums or—heaven forbid—in the attic or garage, they may be aging even faster.
You can save them. By scanning old photos and film into your Mac now, you'll be able to stop the aging process and preserve irreplaceable photos. With the help of image-editing software, you may even be able to reverse some of the worst damage.
Once your photos are digitized, you can search your collection with a few mouse clicks; share your photos with others; and even use your favorites to create calendars, books, slide shows, and more.
Although scanning decades' worth of old photos isn't a quick process, it doesn't have to become a second job. With the right tools and an efficient workflow, you can safely scan, catalog, and annotate your old photos, negatives, and slides in your spare time.
What you'll need
If you've already made the switch to digital photography, you probably own many of the tools you'll need for this project.
Scanner If you have the time and the patience, the best way to digitize your prints, negatives, and slides is to scan them yourself. In recent years, the quality and affordability of consumer scanners have improved—making them well suited to this type of project. (For more product information, see our scanner topic page.)
By scanning your old photos yourself, you'll have maximum control over the handling of your prints—some of which may be very fragile—and over the quality of your scans. The downside is that scanning can be a labor-intensive process. However, once you have your system set up, you can work on the project while you answer e-mail and handle other mundane computer chores.
Of course, if you don't have the time or the patience to take on the task of scanning, you can pay someone to do the work for you.
Companies such as DigMyPics will accept your bundled-up prints and slides, scan them, perform basic image correction, and then send you the originals along with the digital files on CD or DVD. DigMyPics even uploads proofs of your scans to its Web site so you can spot a problem and have it corrected before delivery. But the service isn't inexpensive. You'll spend 39 cents for each print (at 300 dpi; higher resolutions are available for an additional fee) and 59 cents for each frame of a 35mm negative or each 35mm slide (at 2,000 dpi). The company does offer discounts for orders of 500 or more.
Not all scanning services are created equal. Be sure to read the fine print on a company's Web site, so you know exactly what services are included with the price of a scan. And before sending any scanning service all of your precious memories, perform a trial run. Send the service a few slides or prints you have duplicates of, and see how it performs. Are the scans high quality? Were your materials returned in good shape? Are customer-service representatives available to handle your questions and problems? Once you're satisfied that a scanning service is reliable, you can begin to send batches of your pictures for archiving.
Photo-Management Software Once your old photos have been scanned, you'll need a way to organize the new files. Apple's iPhoto software ($79 as part of iLife '06 ) is a great choice because it's powerful and affordable. However, any photo-management software that helps you group photos, add keywords, and make backups will do the trick.
Image-Editing Software If your prints and negatives have been well preserved (ideally in archival albums or sleeves, and in a temperate climate), your scans may not need much touch-up work beyond the occasional exposure adjustment or the removal of a few dust spots. In these cases, iPhoto's image-editing tools should suffice.
Pictures that have faded because of exposure to light and air or that have been damaged by careless handling and storage will require a bit more help. In these cases, you'll need a full-fledged image editor such as Adobe Photoshop CS2 or Photoshop Elements ($649 and $80, respectively ). These programs offer powerful image-correction tools, layer controls, and masking features that give you precise control over specific areas of your photos. Plus, both programs support a variety of specialty plug-ins that can help you restore natural colors and even reduce grain.
Storage Space Creating high-quality scans doesn't just take time; it also requires considerable hard-disk space. For example, 100 4-by-6-inch prints scanned at 300 dpi (dots per inch)—the lowest resolution I recommend—take up more than 600MB of space. If you're digitizing a lot of images, I recommend investing in an external hard drive with a FireWire or USB 2.0 connection. If you're on a tight budget, then using DVDs is a reasonable—although certainly more cumbersome—alternative.
Step 1: Set up your scanner
Set up your scanner, and load the driver software. If you have an older scanner, check the manufacturer's Web site to see whether there's an updated version of the driver. If no driver is available, you can try third-party software such as Hamrick Software's VueScan ($50), which adds support and scanning controls for more than 400 scanners.
In addition to providing a stand-alone application that you can use to control the scanning process, many scanners also include a plug-in that lets you control the scanner through Photoshop or Photoshop Elements. Once you install the plug-in, you can access the scanner while in either program by going to File: Import and selecting the name of your scanner.
Step 2: Choose scanner settings
Before you begin scanning, take a moment to organize your material. I find that it's helpful to scan prints of similar sizes during a session. This lets you use the same settings from scan to scan.
If you're scanning a print, simply place the photo face-down on the scanner's glass surface. If you're scanning a negative, you'll probably need to place it in a special holder before you can scan it. Make sure the film's emulsion (the shinier side) is facing the correct direction—usually toward the scanner's light source. Otherwise, your image will be reversed on your monitor. You may also need to remove the white backing in the scanner's lid to reveal an additional light for scanning transparent images (see your scanner's manual for details).
Close the lid and launch your scanning software. You'll typically have two options here: Simple mode and Advanced mode. Simple mode requires fewer decisions but often comes with constraints, such as lower scanning resolutions (see "Full-Featured Scanning"). You may want to experiment to see which mode gives you the best results. I'll walk you through the process of using the Advanced mode.
Full-Featured Scanning In Simple mode, Canon's CanoScan plug-in limits the scanning resolution to 300 dpi. Advanced mode (pictured) lets you choose from a much greater variety of resolution options and control additional settings.
Get a Preview Start by clicking on the Preview button. This generates a quick look at your print so you can make sure it's positioned properly. Once the image is on your screen, use the selection tool to draw a box around the specific area you want to scan. There's no need to scan the entire glass surface.
Set Color Mode Next, choose a color mode for your scan. The options are usually Grayscale, B&W, and Color. For color prints, the choice is obvious. However, I often choose Color mode even when scanning black-and-white prints. The finished file still appears as a gray-scale image, but it also supports RGB tools, such as Photoshop's Channel Mixer, for additional image-enhancement options.
Set Print Resolution The next choice, Output Resolution, is an important setting—and often a difficult one to understand. Unless you plan to use your images only on the Web or as e-mail attachments, I recommend a minimum resolution of 300 dpi. If you use a lower resolution, you won't capture enough data to make high-quality prints at the same size as the original—never mind making enlargements. In fact, you may need to go higher than 300 dpi.
When choosing a resolution, consider the quality of your source material and the size at which you might want to reproduce the image in the future. If you'll want to reprint the photo only at its original size or smaller, a resolution of 300 dpi should suffice. However, if you want prints bigger than the original, I recommend an output resolution of 600 dpi. If your print is in particularly good shape and you'd like to make a very large reproduction, you may even consider scanning at 1,200 dpi (if your scanner offers this resolution). But keep in mind that file size and scanning time increase substantially as you up the resolution. So you'll need to balance your ambition for getting as many pixels as possible with the realities of your storage space and free time.
The following tables show that a 4-by-6-inch snapshot scanned at 300 dpi can easily produce a photo-quality 5-by-7-inch print. However, if you scan the same snapshot at 600 dpi, you can make much bigger prints from that file later on. But notice how the file size swells, too. You go from a 6MB file at 300 dpi to a 24MB file at 600 dpi. And keep in mind that the quality of the source material needs to be good if you're going to make large prints. Otherwise, you're just magnifying the image's flaws. You won't be able to make a stunning 11-by-14-inch print from an underexposed, grainy 4-by-6-inch photo just because you scan it at 600 dpi.
Output Resolution Guide for Prints
Original print size (in inches)
Scan resolution (in DPI)
File size (in MB) *
Maximum print size at 240 DPI (in inches)
4×6
300
6
5×7
600
24
10×15
1,200
98
20×30
5×7
300
9
6×9
600
36
12×18
1,200
144
25×35
8×10
300
21
10×12
600
82
20×25
1,200
330
40×50
* When saved as a TIFF file.
Output Resolution Guide for 35mm Film
Original negative size
Scan resolution (in DPI)
Typical file size (in MB) *
Maximum print size at 240 DPI (in inches)
35mm
2,000
15
8×12
3,000
35
12×18
4,000
61
25×38
* When saved as a TIFF file.
Set Resolution for Negatives and Slides Slides and negatives are much smaller than prints and therefore require a much higher output resolution. If you plan to print 8-by-10-inch or smaller copies of your negatives, a 2,000-dpi output resolution should suffice.
Additional Options Some scanners let you try to address common image problems during the scanning process. The most useful of these options is the Reduce Dust And Scratches filter, which attempts to eliminate dust spots and light scratches. But be careful when using this filter, as it may incorrectly detect a scratch or spot and remove valuable detail from your image. Be sure to check its work. Also keep in mind that the filter can only do so much. For severely marred material, you'll need to perform more-selective retouching with your image editor.
Other scanning options you may find useful are Fading and Grain. These work particularly well with old prints that time has mistreated or that weren't of very high quality to begin with. For example, older film often shows more grain than we're used to seeing today. Although you probably can't eliminate the grain entirely, using Grain correction may at least reduce its appearance.
Unless you're scanning photos from a newspaper or magazine, you can safely ignore the Descreen option. I also tend to ignore image-adjustment tools such as Levels or Curves, which can slow down the scanning process. If your originals are good, today's scanners will produce great-looking digital files without much tinkering. And if the images do need extra help, I'd rather work with the tools in Photoshop to restore them.
When you're done, click on the Scan button. The scanner will make its final pass and display an electronic version of the picture on your screen. Most scanners preserve scan settings from one job to the next. So if your next scan uses the same medium, you shouldn't have to do much work. But if you'll be switching back and forth between different media, see if your scanner will let you save your settings as a preset. This way, you can quickly switch between setups without having to retype all of the numbers.
Step 3: Save your images
Once you've made your scan, the first thing you should do is save a full-quality version of the file. This is the version you'll use as a backup (in case you ever lose or otherwise muck up your working copy). To ensure that you retain all of the data your scanner captured, I recommend saving your pictures in an uncompressed format, such as TIFF. Yes, the file size for each picture will be larger than if you used a compressed format such as JPEG, but you won't be throwing away any data in the process. Remember, you don't want to have to go back and rescan. Later, I'll show you how to make working copies of your images for easier editing.
When saving your files, use a consistent naming convention. This will make it easier to track down your photos later. I prefer
	scan_0001_	description.tiff	
. The first part lets me know that this is a digitized version of a print or negative. The number provides an easy way to link this scan with the original version of the image (I then label the print or negative with the same number). Lastly, the short description aids in searching. Save all of the images in a folder on your Mac.
Step 4: Back up master scans
Once you've completed a batch of scans, back up your uncompressed files to an external drive or to DVDs for safekeeping. For maximum security, you should always make two backup copies of your masters. They can be two external hard drives, two sets of DVDs, or any combination of media. Then save your masters in two different locations—for example, one at home and another at the office.
Step 5: Make working copies
Uncompressed files are important for backups, but the large files are cumbersome for everyday use—especially if you'll be using them with iPhoto. The solution is to create JPEG versions that can serve as working copies of the originals. JPEGs take up much less disk space and require less power to process.
Now, you could open up each master file in Photoshop or Preview and use the Save As command to create a JPEG version. But if you have OS X 10.4 (Tiger), you can streamline this process with the help of Automator. Setting up this workflow takes a few minutes, but you'll get the return on your investment the first time you use it.
To build your workflow, you'll first need two folders: one with the master files you want to convert, and one for the finished JPEGs. Then go to the Applications folder, and open Automator. You'll construct your workflow by dragging items from the Action list into the workspace on the right. Here's the list of actions you'll need for this project, in the order in which they should appear (see "Put Your Files on a Diet"):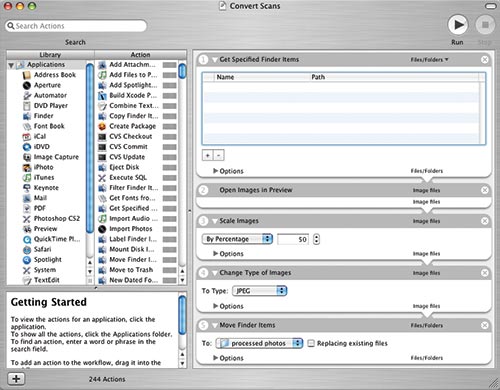 Put Your Files on a Diet This Automator workflow lets you convert your space-hogging TIFF files into more-compact JPEGs. Save the workflow as a Finder plug-in, and you can access it by control-clicking on any selected files in the Finder.
Finder: Get Specified Finder Items This action tells Automator which files to convert. Leave the Name field and the Path field empty.
Preview: Open Images in Preview This action opens all the images in Preview.
Preview: Scale Images This step is optional. It lets you scale your scanned image to a more manageable size (in other words, it throws pixels away). For images that you plan to print, skip this step. But for images that you'll mainly be viewing on screen— in slide shows or on the Web—scaling down will save you considerable time and disk space. Remember, you can always return to your archived master file if you decide later that you'd like to make a print.
When you drag the action into your workflow, Automator will ask you whether you'd like to add a Copy Finder Items action. Choose Don't Add. You'll specify a new location in a later step. Choose By Percentage from the pull-down menu, and use the arrows to select the percentage you'd like to scale to. (Due to a bug in the program, just typing in the percentage won't do the trick. The field will revert to 480 percent the next time you open it.) I recommend scaling to 50 percent.
Preview: Change Type of Images This is where you'll specify the new file type. Automator will give you the same warning as in the last step. Again, choose Don't Add. Open the To Type pull-down menu, and choose JPEG.
Finder: Move Finder Items Open the To pull-down menu and choose Other. Navigate to the folder in which you'd like to store your compressed JPEGs, and then click on Open.
To get the most out of your new workflow, I recommend saving it as a Finder plug-in. This lets you access the workflow by simply control-clicking on selected files. In Automator, go to File: Save As Plug-in. Select Finder from the Plug-In For pop-up menu, and give your workflow a name. To run the workflow, select a batch of master files that you'd like to convert, and then control-click (or right-click if you have a multibutton mouse) and select your workflow from the Automator submenu in the resulting contextual menu.
Before you convert a whole batch of scans, test your workflow with one image to make sure everything operates correctly. If there's a hitch, don't panic. You probably just need to make a minor adjustment, such as pointing to the right folder or image. Once you're satisfied with the results, try running the workflow on a batch of ten images and see how your Mac performs.
Step 6: Add copies to iPhoto
Once the Automator workflow has run and you have your JPEGs, you can drag them into iPhoto to organize them. By default, iPhoto will copy the files into its own file structure. (iPhoto '06 lets you avoid copying your digital images into its managed library; you can instead point iPhoto to a folder elsewhere on your drive. However, this feature introduces a new set of complications. I recommend sticking with the managed-library approach.)
You can now remove the original images from your Mac's hard drive, knowing that they are safe and sound on backup drives and discs. And be sure to maintain the same file-naming conventions for your JPEGs that you used for your masters. That way, you'll be able to match up the versions later if necessary.
Step 7: Add image details
Digital cameras embed important details such as the photo's date and camera setting within a file, but scanners don't know anything about your original image. If you want to take advantage of search tools, you'll need to supply this information yourself by adding keywords and captions.
Add Vital Data Details such as when and where the shot was taken, who the subjects were, and what was happening at the time will be valuable as the years go by. One of the easiest ways to add this type of data is with iPhoto's Information panel. To display this panel (if it's not already visible), select an image and then click on the Show Information button at the bottom of the Source column. From here you can change the date to reflect when the photo was taken, supply a rating (to quickly weed out the good from the bad), and add a useful caption in the Comments field (you can also use caption data as a search tool). If your cursor is in one of the Information panel's text fields, you can quickly jump to the same field for the next image by pressing Command-right bracket (]). Pressing Command-left bracket ([) moves you to the previous image.
Add Keywords Keywords give you another way to retrieve your images from within your iPhoto library. For example, I add the keyword Scan to all my scanned images. Later, I can simply click on the Scan keyword to see just the images that were part of my archival project.
To add keywords, select an image in your library (or Command-click to select multiple images), then go to Photos: Get Info. Click on the Keywords tab, and then click on the box next to keywords you want associated with your pictures. If the keyword you want to use isn't already listed, you can add it by opening iPhoto's Keywords preference pane. Click on the plus-sign (+) button, and then type the word you want to add. Your additions will immediately appear in the Keywords tab of the Get Info box.
To use keywords to search for photos, click on the Find Photo By Keyword button (represented by a key icon) below the Source column, and then select the keyword you want to use in the search. iPhoto displays only those images that include the highlighted keyword. To further narrow your search, click on additional keywords.
Just the beginning
Once you have your prints and negatives scanned, cataloged, and labeled, you can work with them as you would any digital photos. And with a photographic history that goes back past 2001, you can create photo projects that tell a larger story. For example, you can create a slide show of old family photos for a reunion, or a book with one page for each year of your daughter's life. Best of all, you'll have preserved some of your family's most precious documents and mementos from the ravages of time. l
[ Derrick Story is the editor of O'Reilly's MacDevCenter.com. Photography by Peter Belanger. ]