Sure, sure, we know: you only use your laptop for work. But on those rare occasions when you're on the road, you're done with the labors of the day, and you need a little diversion, that PowerBook, MacBook Pro, or iBook makes a dandy little portable entertainment center— if you had the foresight to bring along the right software and peripherals. Here's what I recommend.
Remote Controls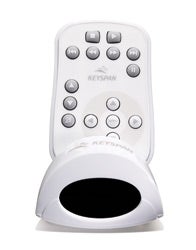 Keyspan Express Remote
Take Control If you've got one of the new MacBook Pros, you've got an Apple Remote Control. If not, you'll need a little bit of help controlling your laptop media center from a hotel-room bed. Griffin Technology's diminutive AirClick USB ( ) is a five-button remote that comes preconfigured for many applications. Keyspan's $60 infrared Express Remote ( ) is bulkier and comes with a USB-connected receiver; the device is extremely configurable. (A $40 model works with Front Row only, but does more than Apple's remote.) Finally, if you've got a Bluetooth-capable mobile phone, Salling Software's $24 Salling Clicker gives you the ability to use your cell phone to control (via Bluetooth) multimedia applications on your Mac, and the free MediaCentral Remote enables you to use Salling Clicker with MediaCentral.
Speakers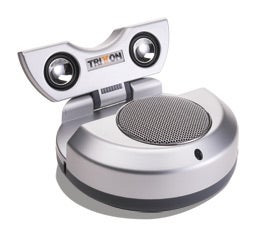 Tritton Technologies Sound Bite
Bring the Noise Once you've reached your destination, you'll want to take the headphones off and listen out loud. If you travel with a set of portable iPod speakers, you can probably connect them to your laptop. But instead of carrying around a bulky battery-powered system, I recommend speakers that get both audio and power from your laptop's USB port—one cable and you're ready to go.
Logitech's $80 V20 Notebook Speakers are the best I've heard, with both decent bass and surprisingly loud volume; a 10-by-7.5-by-2.2-inch hard case keeps the 1.5-pound system safe in your suitcase. If you're willing to trade sound quality for a lower weight, Tritton Technologies' $30 fold-up Sound Bite ( ) is a major improvement over stock laptop speakers, and at only 9.6 ounces, it's very carry-on friendly.
Headphones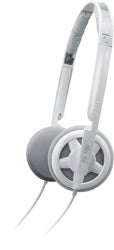 Sennheiser PX 100 W
Hold the Phones For private listening on an airplane, I particularly like Sennheiser's $60 PX 100 W ( ), lightweight traditional headphones that not only sound great but also are comfortable enough to wear for hours and durable enough to withstand the rigors of travel. AKG's $50 K 26 P aren't quite as comfortable, but they do block some external noise and offer a bigger kick for bass-heavy music and movie effects. If you prefer the peace and quiet you get from in-ear headphones, Ultimate Ears' super.fi 3 Studio model offers impressive bang for the buck, at only $100. For $50 more, Xtreme Mac's $150 FS1 in-ear headphones produce bass the likes of which you don't usually get from in-ear headphones.
Power supplies
Power Up Multimedia fun takes power. And while Apple's laptops get pretty good battery life (as laptops go), watching video and listening to music can suck up juice at a frightening pace. So it makes sense to bring some extra power supplies.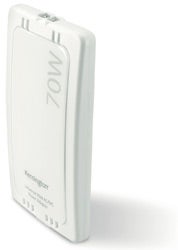 Kensington 70 Watt AC/DC Power Adapter for Apple Notebook
As long as you're near some sort of power outlet, either Kensington's $120 70 Watt AC/DC Power Adapter for Apple Notebook or iGo's $120 Juice70 Universal Notebook Power Adapter will keep you up and running. Each combines adapters for AC power, car accessory jacks (also known as cigarette lighters), and the special power outlets found in newer airplanes. With an optional $25 adapter, either can charge your laptop and another electronic device at the same time. (The iGo works with recent PowerBooks and iBooks; if you have an older laptop, you'll have to buy a special tip for it. The Kensington includes tips for recent PowerBooks and iBooks, along with a tip for dock-connector iPods. Unfortunately, neither adapter works with the MacBook Pro's new MagSafe power port.)
If your travels will strand you far from a power jack, you'll need extra battery life. Apple sells additional batteries, good for a couple more hours of fun, for $129 each. Other World Computing carries its own brand of higher-capacity (and longer-life) batteries for everything from the latest Apple laptops to 1998-era Wall Street PowerBooks; prices range from $120 to $160. If you need more play time, Lind Electronics' $350 to $450 Power Packs provide 8 to 10 hours of additional battery life via a large, thin battery "slab"—half an inch thick and approximately the size of a sheet of 8.5 by 11 paper—that packs neatly in your laptop bag. A Power Pack adds 2.4 to 3.4 pounds of weight to your bag, but for the additional weight you'll likely be able to watch three DVDs (or, I suppose, finish a few more hours of work) on that transatlantic flight.
Software
MediaCentral
Second Row If you've got a MacBook Pro, you've already got Apple's Front Row software, which lets you browse your Mac's multimedia content via an iPod-like interface, using the keyboard or the Apple Remote Control. But if, like most people, you have an older PowerBook or iBook, you can't use Front Row (yet). You do have an alternative to using iTunes, iPhoto, and DVD Player one at a time. Equinux's free MediaCentral mimics Front Row's look-and-feel. Pressing shift-escape brings up the on-screen browser, which lets you access video in your Movies folder (and VIDEO_TS folders ripped from DVDs anywhere on your drive); music in your iTunes library, in a shared iTunes library, or on a connected iPod; photos in iPhoto; and, if you have a broadband Internet connection, streaming Internet video. (The latter requires the Windows Media and Real Player browser plug-ins.) If you want to play something QuickTime or MediaCentral can't handle, check out the VLC media player or the open-source MPlayer.
What to watch?
Although you might think your on-the-road viewing options are limited to video purchased from the iTunes Music Store and DVDs, there are plenty of other ways to get video to go.
To start, you can conserve battery power—and keep your actual DVDs safe—by ripping your movies to your hard drive. For the best quality, GeezerButtz Software's free MacTheRipper ( ) copies DVDs in all their full-quality (and full-size—about 4.5GB per movie) splendor. If you don't need perfect quality, the free, open-source HandBrake will rip a DVD to a smaller, lower-quality file playable by QuickTime Player or MediaCentral.
For TV lovers, Elgato's $330 EyeTV 200 works much like a computer-based TiVo. Using its built-in TV tuner, you can record shows at home—in MPEG-2 or MPEG-4 format—for later viewing on the road.
Sling Media's Slingbox ($250)—a Mac version of which was just announced—lets you redirect live video streams from your cable or satellite TV to any computer on the Internet. You connect the Slingbox hardware at home to your Mac and then use the SlingPlayer software to stream content over the Net.
Two caveats about carrying all this video: If your laptop's hard drive is getting full, consider a portable FireWire or USB hard drive for storing your files. And if you want to watch any of this stuff on your hotel room's TV, rather than your laptop's screen, be sure to bring along an S-Video or composite video cable, along with the adapter that comes free with the PowerBook. (It's a $19 add-on for the MacBook Pro or iBook.)
[ Dan Frakes is a Macworld senior editor and the reviews editor at Playlist. ]