Recently I related my experience attempting to hack the Motorola ROKR's 100-track limit. If you read that entry, you know I met with a degree of success, but not the kind of thing where I'd declare "mission accomplished." My ROKR and I are now closer to the mark thanks to the help of reader MG.
Person G writes that they own a SLVR L7 phone and have been able to successfully fill the phone's iTunes menu with more than 100 tracks via moto Tunes 0.8.1. Once you've hacked the phone to break the 100-track limit, you must work moto Tunes this way:
Click on the Actions button on the left side of the moto Tunes window. Choose the location of the phone's removable drive from the pop-up menu (on my Intel Mac mini, this was drive E, your mileage may vary).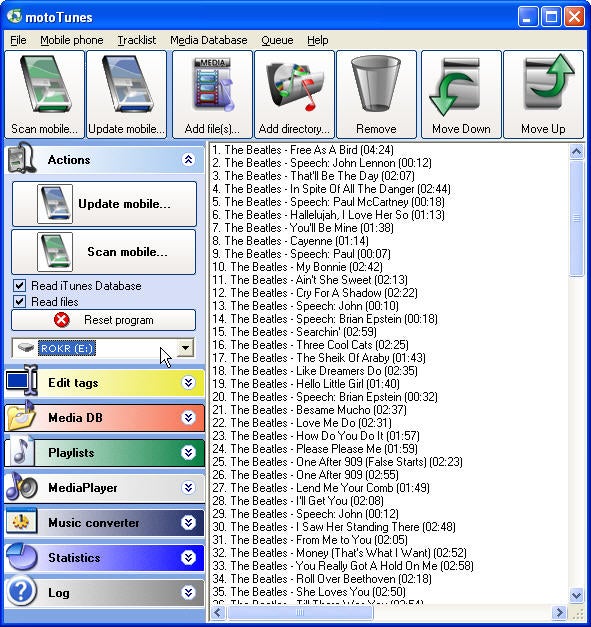 Choose either Add File(s) or Add Directory and select the songs you'd like to load onto the phone. You'll be told if you're exceeding the phone's memory limit (with the hack the limit is the amount of memory up to 1,000 tracks rather than the arbitrary 100 tracks imposed by Motorola and Apple).
Click the Update Mobile button. This creates an iTunes file on the phone's memory card, which allows the phone's iTunes program to recognize the tracks you add and, thus, populate the iTunes' menus with these tracks.
Wait a good long time for the tracks to be copied to the phone. When copying is complete, unplug the phone, press the iTunes button, and you'll discover that your ROKR (or other compatible Motorola iTunes phone) does indeed hold more than 100 tracks.
Thanks MG!