If you haven't been closely following the world of streaming media, you may have missed the major changes in the past year. Following a particularly bad financial quarter at Netflix, the entertainment industry collectively decided they were done spending huge sums of money to establish new streaming services.
The gold rush is over and the rules have changed. One of the biggest changes is that Netflix, which for years refused to even consider offering advertising on its platform, instead announced it would add a discounted version of its service… with commercials. And the results are in: Netflix already makes more money from a subscriber viewing its ad-laden version than it does from a subscriber who's signed up for a more expensive ad-free tier.
If you don't like ads on your internet video, this is bad news because it means you'll need to pay even more to keep the ads at bay. But for Apple, it's an opportunity–and a data point that might make the company question its video strategy.
The ecosystem game
Right now, Apple TV+ has only one tier–you pay (either directly or via a bundle like Apple One or Apple's deal with T-Mobile), and you get access to an ad-free 4K video service with all of Apple's programs on it.
Now, just because Netflix does something and has success with it doesn't mean that Apple will follow. Unlike Netflix and all of its entertainment-industry kin, Apple (and Amazon) are tech giants who also happen to be playing the streaming-video game. Netflix's entire business rises or falls based on how it does in streaming.
Apple's able to play a much bigger game, using Apple TV+ as part of a larger strategy to create value inside the Apple ecosystem. If watching Ted Lasso ties you more tightly to Apple One, makes you more likely to buy a new iPhone, or leads you to spend more time in Apple's TV app on your streaming box or iPad, it's a win for Apple. Netflix, HBO Max, Paramount+, and Peacock don't have those extenuating circumstances–they need to offset what they pay for content with subscribers and growth.
As a result, it's not really even fair to compare what Apple TV+ and Prime Video are doing to Netflix and its ilk. The metrics for success are entirely different. One group is playing chess, and the other is playing four games of Risk simultaneously.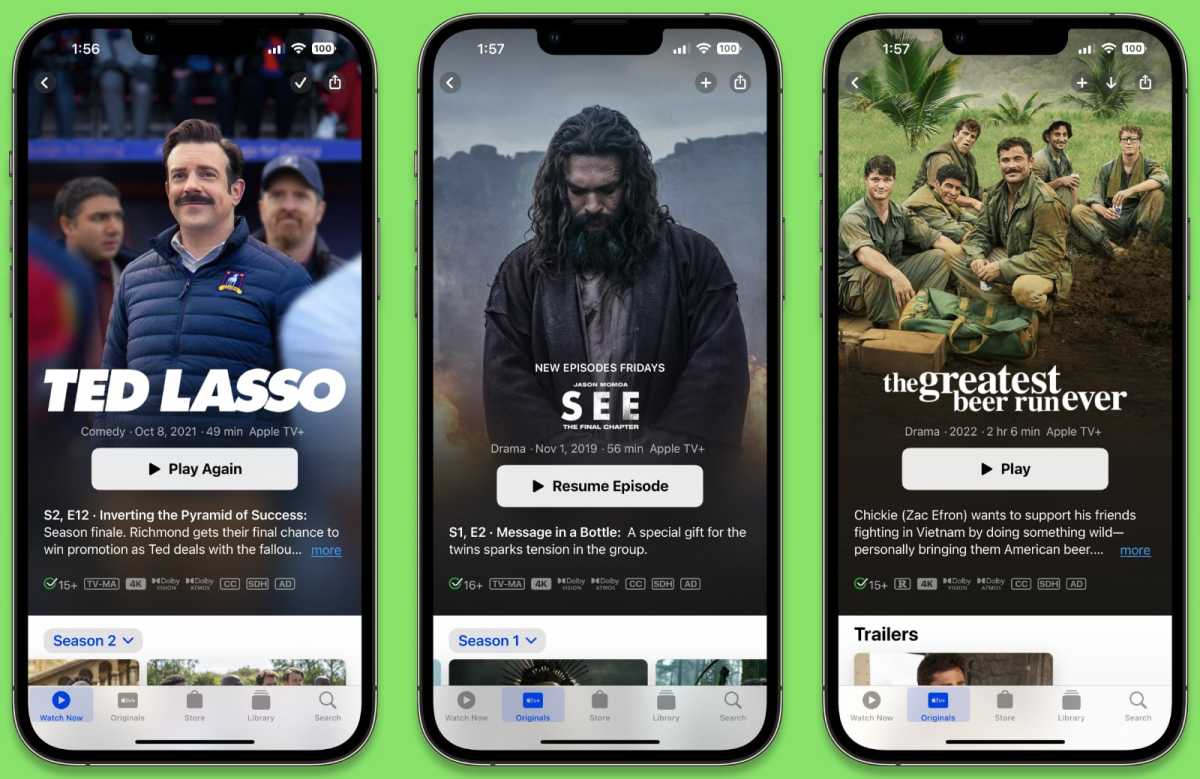 Foundry
Money talks
That said, it's hard to believe Apple is not paying attention to what Netflix has discovered, which is that there's growth to be had and money to be made by offering a cheap or free version of its service that includes advertising. (Another recent trend in the streaming business is the rise of FAST, short for free ad-supported TV–services like Tubi and FreeVee that were designed from the ground up to be free with ads.
The question is, what does Apple want Apple TV+ to be? How does it fit into its ecosystem? Is offering a free or cheap tier with ads something that helps push Apple's ecosystem in the right direction? Is it counter to Apple's strategy, or is it somewhere in the muddy middle?
I'd like to pretend that Apple sees itself as a more refined, premium experience that would be sullied by the inclusion of advertising. But I can't. Not only does Apple see advertising as a growth area but it's already integrated ads into its live sports offerings. (Friday Night Baseball, for example, has between-inning ads like any other TV broadcast, and its pregame show has a title sponsor, too.)
In short, today's Apple has not proven itself to be a company that will turn its nose up at extra ad revenue. Besides, the App Store itself popularized the "freemium" model, where you give something away for free and then ask customers to pay for extra stuff. This is the same idea.
Ted Lasso presented by State Farm
Given everything that we've already learned from Netflix's hard pivot from being a premium ad-free service to one that likes its ad-based tier so much that it's beefing up its feature set, it's hard to imagine Apple resisting the call.
The question is not if but when–and, more importantly, how. Given that Apple has resisted offering a free-with-ads tier of Apple Music thus far, I think it will probably not offer a free version of Apple TV+. Instead, it'll probably offer a $5 per month version with ads while eventually raising the price of the current $7 per month ad-free offering.
At least, that's my best guess. Look, I don't like the increasing cost of streaming services any more than you do. Unfortunately, what Netflix has proven is that streaming video ads are so profitable that it is going to cost even more if you don't want to see them. It's a message that even Apple will find impossible to resist.