Mark Bennett is yet another reader plagued by files that won't disappear. He writes:
I read your June 2006 response to deleting "locked" files with interest—I have two folders that refuse to die. They are in the Trash, have no contents, consume 0K, and stoutly remain when I empty the Trash.
In the June response I was writing specifically about deleting files that refused to move to the Trash.
(For those who need reminding, the method is to launch Terminal, type
sudo rm -R
, press the Space Bar, drag the stubborn item into the Terminal window, and press Return. Enter your password if requested to do so. If asked to override specific privileges, be really sure you're attempting to delete something you should, then type
Y
and press Return.)
But your problematic folders are already in the Trash. When faced with a similar situation I turn to one of a couple of free utilities. One is Renaud Boisjoly's BatChmod. BatChmod's was written largely to allow you to manipulate file and folder permissions but it also includes a Force Empty Trash command in its BatChmod menu. Select this command and BatChmod will override whatever permissions necessary to make the trash empty.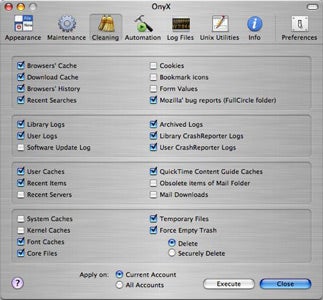 Another option is Titanium Software's OnyX (pictured above). Another free utility, OnyX is a maintenance, optimization, and personalization tool. Among the host of things it does is force the trash to empty. You'll find this option within the program's Cleaning pane.