Macworld editors can be a jaded bunch. We've been looking at Mac hardware and software for so long, we sometimes feel as though we've seen it all before. But then, every once in a while, something new comes along—a desktop gadget, a way to keep a laptop safe, or an oddball USB device, for instance—that makes us stop and say "Wow." (Although it's not always "Wow, that's great." Sometimes it's "Wow, what were they thinking?")
Every month, we collect a few of our favorite new things in our Hot Stuff section on the magazine's back page. But sometimes we have more than a few new things to tell you about. So this month we decided to let Hot Stuff stretch its legs a bit. You'll still find it on the back page, but it also gets a little extra room in the pages that follow. That's where you'll find a bunch of the hottest—and a few of the wackiest—gadgets, programs, and Web sites we've seen or heard about lately. We hope that more than a few of them make you stop and say "Wow," too.
Today we start off with some things you'd find around the house.
1.Dell 3007WFP
$2,199; www.dell.com
At $2,199, Dell's new 30-inch 3007WFP isn't exactly cheap, but it's worth a look if you're in the market for a superhuge display and want an alternative to Apple's $2,500 30-inch Cinema HD Display. You'll need a dual- or quad-core Power Mac with PCI Express, one of the current 17-inch PowerBooks, or one of the new MacBook Pros to run the thing. (The requisite graphics card was also a build-to-order option on the last 15-inch PowerBook.) But if you've got the money and the right Mac, this is one sweet display.
iMac G5 Omni Directional Antenna
2. iMac G5 Omni Directional Antenna
$100; www.quickertek.com
Wireless networking is great until you can't get a signal. That'll never happen with QuickerTek's new iMac G5 Omni Directional Antenna. It can theoretically extend Airport's range up to three times, and it's omnidirectional, so you should be able to pull in networks from across the office (or even across the street). To maximize its reach, the antenna comes with a three-foot-long coaxial cable. You mount it wherever you get the strongest signal.
3. SoundBridge Radio
$400; www.rokulabs.com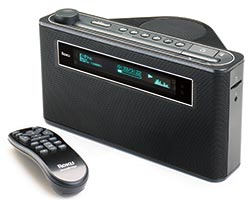 SoundBridge Radio
You probably know about Roku's SoundBridge network music player, which lets you stream iTunes music (the unprotected kind, at least) from your Mac to your stereo or speakers around the house. The SoundBridge Radio does much the same thing, except that it plays your iTunes music over its own built-in speakers, and it can play AM, FM, and Internet radio streams. It's got an alarm clock, too.
4. Digital Picture Frame
PV1945, $850; PV1955, $1,200; www.photovu.com
Digital picture frames are nothing special these days—but the PhotoVu Digital Picture Frame does something different. It lets you download and display pictures from iPhoto photocasts, as well as photo streams from Flickr, Smugmug, and MSN. It's available in two 19-inch models. Both display pictures at 1,280-by-960-pixel resolution, but the higher-priced PV1955 sports higher contrast and better brightness than the PV1945.
5. Petito Flash Drive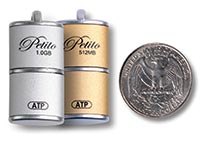 Petito Flash Drive
$25 and up; flash.atpinc.com
The Petito Flash Drive is (according to ATP Electronics) the "world's smallest flash drive." How small? About the size of a quarter. Yet it holds as much as 1GB of data, can transfer it via USB 2.0, and can be protected with a password. But c'mon, you don't buy one of these things for the specs.
6. Chandler
free (for now); chandler.osafoundation.org
iCal? Address Book? Forget 'em. Well, don't forget 'em just yet, but do keep an eye on Chandler. At version 0.6, it's a minimally usable calendar app right now. But it promises to grow into a comprehensive information manager that will handle e-mail, calendars, to-do lists, notes, and more; let you share that information in all sorts of ways; and put a friendly Mac OS X face on top of it all. You don't have to use it. Just name-drop it once in a while.