Apple's iPod Hi-Fi certainly garnered its share of headlines and reviews, but it's not the only game in town. Here's a few speaker systems that will still deliver quality sound without breaking the bank.
1. Scandya Dock
$350; www.podspeakers.com
OK, so it's not a speaker system. But if you have a set of high-end bookshelf speakers, Scandyna's The Dock lets you connect your iPod directly to them. It's a 30-watt, Class T amplifier inside a stylish (white or black), circular Universal Dock only 5 inches across and 1.5 inches high. You also get a remote control and a subwoofer output.
2. ZVox Mini
$200; with battery and bag, $300; www.zvoxaudio.com
ZVox Audio's ZVox Mini is similar in concept to Apple's iPod Hi-Fi, but it's about half the size, it's more rugged, and it offers surprisingly good sound for a one-piece speaker system. You'll need to add your own dock and iPod remote, but you'll be impressed by the expansive 3-D soundstage. Add the battery and carrying bag, and the Mini is even more portable than the Hi-Fi.

Audioengine 5
3. Audioengine 5
$349; www.audioengineusa.com; full review
For the same price as an iPod Hi-Fi, Audioengine's amplified bookshelf speakers provide impressive bass response and excellent stereo separation. They even include USB and audio ports for your iPod. And the AC outlet on the back lets you hook up an AirPort Express for remote iTunes playback.
4. inMotion iM9
inMotion iM9
$200; www.alteclansing.com; full review
The latest in Altec Lansing's seemingly endless supply of inMotion portable speaker systems, the iM9 stands out by offering great sound in a tiny (10.9 by 7.6 by 2.8 inches) system. With the cassette-deck-like dock of Altec Lansing's iM7 in a solid package powered by C cell batteries, the iM9 is also one of the toughest portable speaker systems out there.
5. Sonic Impact i-Pax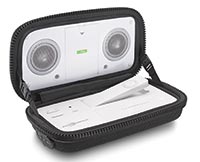 Sonic Impact i-Pax
$80; www.si-technologies.com; full review
The i-Pax is a set of iPod shuffle speakers inside a sturdy, ballistic-nylon, hard-shell case that zips closed for travel. Plug your shuffle into the i-Pax's USB dock, and your iPod becomes part of the i-Pax, with only the shuffle's control pad protruding from the smooth white surface. The battery-powered speaker system even includes room to store your shuffle and earbuds during travel.