When the MacBook Pro was introduced in January 2006, everyone was left wondering: If this is the MacBook Pro , where's the MacBook? Five months later, the other shoe dropped.
The new non-pro MacBook is a 13-inch laptop that replaces both the iBook and the 12-inch PowerBook G4. But despite its lack of Pro in its name, this little laptop is much more powerful and full-featured than the laptops it's replacing.
A box-opening hubbub
This morning we got the call — two MacBooks were waiting for us at the downtown San Francisco Apple store. So Macworld Senior Editor Jonathan Seff and I set out on foot to grab Apple's latest laptops and bring them back to the offices for unpacking, poking, prodding, lab testing, and (who are we kidding?) eventual dissection.
We returned to a crowd of excited staff members, all waiting to see the new laptops. If the buzz around our offices is any indication, there's a tremendous pent-up demand for the MacBook. (One of our staff members has already placed his order for one, and more are threatening to do so even as we speak.)
The MacBook box is a slightly smaller version of the thin MacBook Pro box. Inside is the MacBook itself, along with an Apple Remote and a MagSafe power adapter. Once I slid the first MacBook out of its protective bag, the entire office oohed and aahed — it was the black model!
If you're an old Mac hand, you'll find the black MacBook quite reminiscent of the "Wall Street" generation of G3 PowerBooks. Unlike the white MacBook (or previous iBooks), the black MacBook has a matte finish. Numerous Macworld staff members complimented its look, although another group clearly preferred the "classic" shiny white appearance inherited from the iBook.
Size matters
Compared to a 15-inch MacBook Pro, the MacBook seems quite small. The MacBook is slightly thicker, but the MacBook Pro is 1.3 inches wider and .4 inches deeper than its new little brother. Likewise, the MacBook weighs 5.2 pounds, compared to the MacBook Pro's 5.6 pounds.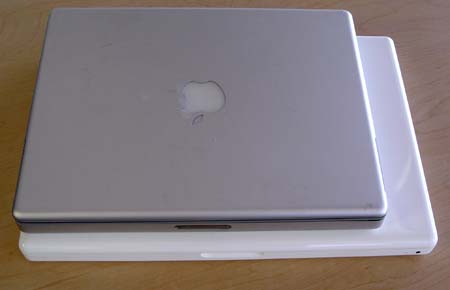 The 12-inch PowerBook G4 atop a MacBook.
But how you view size is a matter of perspective. I like little laptops. One of the perks of being the editorial director of Macworld is that I generally get to use whatever Mac system I want to. And yet at one point I was an iBook user, entirely because it was so much smaller than the Titanium PowerBook G4. When the 12-inch PowerBook was released, I glommed onto it and wouldn't let go. Only recently did I reluctantly switch to a MacBook Pro, taking on the added size and weight so I would be able to actually write about using an Intel-based Mac.
So from my admittedly skewed perspective as a lover of tiny laptops, I can't help but notice that the MacBook is most definitely bigger than the 12-inch PowerBook: it's two full inches wider and three-tenths of an inch deeper than that model, and weighs six-tenths of a pound heavier. (If you're an iBook G4 user, you'll find the MacBook slightly smaller, but slightly heavier.)
Still, users who prefer a smaller laptop — and were not inclined to buy a 15-inch MacBook Pro — will undoubtedly be excited about the MacBook. As someone who's been toting around a MacBook Pro for the last three weeks, I know I'm excited about it.
Unlike the 12-inch PowerBook and iBook, this new MacBook comes with a 13-inch widescreen display with a native resolution of 1280 x 800 pixels. (In contrast, the 12-inch PowerBook's screen could only display 1024 x 768 pixels.) This screen is slightly taller, much wider, and quite a bit shinier, since it's the first Mac laptop to feature a screen with a glossy surface.
If you've ever walked past a PC laptop and noticed that its screen was incredibly reflective, you've seen the same type of screen that's been incorporated in the MacBook. While it's too early for me to have reached a judgment about whether this new screen style is an improvement to Apple's older, anti-glare screens, I am sure of this: some people will love it, and others will hate it. In the right conditions the glossy screen looks absolutely gorgeous; however, it's also remarkably reflective, and it can be quite distracting to continually see yourself reflected back by your laptop's screen.
Key features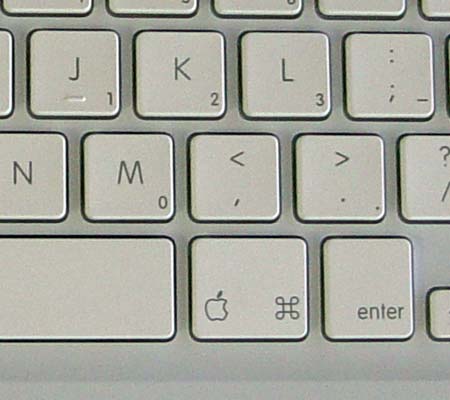 Speaking of love-it-or-hate-it features, this new MacBook features an entirely new keyboard style for Apple. No doubt the new style will quickly win adherents as well as vociferous critics, although in my brief tests with the keyboard it seemed fine.
The biggest change with this keyboard is its look. Previous Apple laptops have featured keyboards with keys that are wide at the base, but narrower at the top. As a result, even though there are fairly large spaces between the square areas where your fingers contact the keys, there are only tiny gaps down at the base of the keys.
This new MacBook keyboard does away with that approach. The MacBook's keys don't get wider at their base. Instead, they're perfect squares that descend into the innards of the MacBook. It's hard to describe, but it's definitely a different look and feel.
Speaking of a different feel, the MacBook is reminiscent of the original, clamshell iBook in that it doesn't have a latch on its front. Instead, there's a slight indentation on the MacBook's front edge that lets you grab hold of the display's frame and open it up. Opening and closing the MacBook feels quite comfortable — opening doesn't require too much effort, but the laptop remains snugly closed until you really want to open it. And closing the MacBook felt remarkably stable and smooth.
I'm not entirely sold on the MacBook's mouse button, which didn't move very much when I clicked on it. I found myself wanting more tactile feedback when I click, but perhaps I'll get used to it as I use it more. However, I was impressed with one new feature of the button: when you click while you've got two fingers on the MacBook's trackpad, the button becomes a control-click/right-click button. (This is an option; you can turn it on or off in the Trackpad tab of the Keyboard & Mouse preference pane.) It's not quite a two-button mouse, but it sure beats reaching for the control key when you want to see a contextual menu. (And it's a feature the 15-inch MacBook Pro doesn't yet offer, although it does appear on the 17-inch model.)
Extras aplenty
Although Apple could have skimped on features with the MacBook to distinguish it from the higher-end MacBook Pro models, it didn't. The MacBook contains many of the same features you would find in a MacBook Pro, including a built-in iSight camera and an Apple Remote with built-in Front Row software. As with all other new Apple systems, there's no longer a built-in modem — Apple's external USB modem is $49 extra. And as with all Macs these days, AirPort Extreme and Bluetooth are built in to all MacBook models.
The MacBook's also got built-in audio input and output, in both digital and analog forms, and support for external displays up to the 1920 x 1200 pixel resolution of Apple's 23-inch studio display. The MacBook can drive external displays separately from its internal display, allowing for true screen-spanning. You can even run the MacBook in lid-closed mode, driving a large external monitor. (The MacBook does not come with any video adapters, however — if you want to drive a DVI or VGA display you'll need to buy a corresponding adapter cable for $19 each.)
Although the MacBook uses the same Intel onboard video technology as the Mac mini, rather than dedicated video circuitry as in the MacBook Pro and iMac, we found that the MacBook was able to play back HD movie trailers with ease. I'd expect the MacBook's game performance to be quite similar to that of the Core Duo version of the Mac mini, however — in other words, it'll lag a bit behind the systems with more powerful video circuitry.
What's missing from the MacBook that the MacBook Pro provides? The big one is an ExpressCard slot. The MacBook Pro also supports dual-link DVI, which lets it drive a 30-inch display. There's also no keyboard backlighting. Several other relatively minor features are lacking — if you're curious, be sure to check Apple's spec sheet carefully before buying.
Beneath the battery

The MacBook's battery is long and narrow, somewhat reminiscent of the original iBook battery — but not nearly as gigantic! We'll work to test the MacBook's battery life, although right now we have no idea how long it'll run on a single charge. Stay tuned for more in our full review.
Underneath the battery you'll find two SO-DIMM slots, which let you take the MacBook up to as much as 2GB of RAM. To get to the slots, you've got to unscrew a small metal housing and then pull back on one of two levers to pop out that particular RAM module. It's relatively easy to do, but it's a different process than on other Mac laptops I've seen.
And here's a tiny observation: the MacBook doesn't have little rubber feet that are bound to fall off in the first month you own the laptop. Instead it's got big plastic feet embedded in its undercarriage. And they work quite well while being unobtrusive.
Big power, little package
Although the MacBook is Apple's lowest-priced laptop, it's about as far from a "low-end" model as you could get. Although you can no longer buy a new Mac laptop for under $1,000, the cheapest MacBook (a $1,099 model) features a dual-core 1.83 GHz processor. Apple could have chosen to release a cheap, underpowered MacBook with an underpowered Intel Core Solo processor — the same approach it took with its Intel-based Mac mini models — but it didn't go down that path. As a result, even the lowest-priced MacBook is a remarkably powerful system.
And for those who appreciate the MacBook's small package but want to make sure it's packed with as much power as possible, the add-on options for this system are incredible. Yes, a maxed-out MacBook will cost you $2,049 ($2,199 if you want it in black!), but for that price you'll get a dual-core 2GHz processor, 2GB of RAM, a 120GB serial ATA drive, and a SuperDrive.
The iBook might have gotten a reputation as a compromised low-cost laptop, but the MacBook is as powerful as you — and your bank account — want it to be.