Think someone's looking over your shoulder? Peeking into your data? Or worse, eyeing your sleek new MacBook? Here's some tools to help you secure your digital lifeblood.
1. Undercover
$30; orbicule.com
If your credit card gets stolen, police can track it down by finding out where the thieves use it. Orbicule's Undercover 1.5 does the same thing for laptops. When you install the app, it registers a unique ID for your Mac on a server and checks in periodically. If your machine is stolen, the system transmits its Internet location; Orbicule will then cooperate with law enforcement officials to locate the system physically and recover it. The latest version even adds support for iSight cameras, so your Mac can snap a mug shot of the miscreants.
2. Laptop Locker
$220; www.secureit-usa.com
When you think of laptop theft, you probably think of airports and cabs—but what about right off your desk? If you ever leave your portable Mac unattended at work, during the day or overnight, anyone could walk by and snatch it. If you really crave protection, check out SecureIt's desktop Laptop Locker. It's a sturdy metal box that you can permanently affix to your desk, with a lockable door and a hole for whatever security cables you might want to add.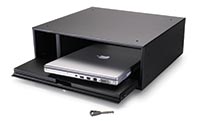 SecureIt Laptop Locker
3. SiteAdvisor
free (for now); www.siteadvisor.com
Even experienced Web surfers can sometimes land on sites they shouldn't visit. Whether a site tries to install spyware or just harvests your e-mail address for future spam campaigns, it's hard to tell before the damage is done. SiteAdvisor, an add-on for Mozilla Firefox and Microsoft Internet Explorer (a Safari version is reportedly in the works), tries to fix that by telling you how risky sites are before you click on their links. To find out which sites you should avoid, SiteAdvisor deploys a spider that crawls the Web, looking for suspicious behavior. It then inserts site ratings into every page you view, using a three-color scale (a green icon next to a link means the site's OK, yellow means it might be iffy, red says stay away).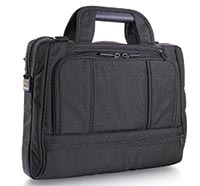 Brenthaven Profile Bag
4. Profile 12/15
$130; www.brenthaven.com
Brenthaven is known for the sturdiness of its bags. But there's sturdy, and then there's really sturdy. Brenthaven's Premium Core bags—including the Profile 12/15, for 12- and 15-inch laptops—are padded on six sides with foam up to two inches thick, and feature reinforced corners, a reinforced bottom, and a rigid wall that protects your laptop's screen.
5. Rocbit
$160 and up; www.rocsecure.com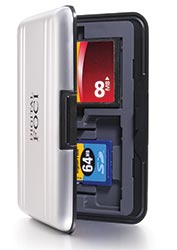 Digital Foci Memory Card Travel Case
Available in USB or USB-and-FireWire configurations, with capacities ranging from 40GB to 500GB, Rocstore's Rocbit external drives aren't your garden-variety mobile storage devices. They'll encrypt your data using real-time hardware encryption (way faster than software encryption), at 40-, 128-, or 192-bit strength, so nobody can read your stuff. In case you're worried about physical threats, they also come with antishock protection, so you can drop the things and not miss a bit. These aren't your garden-variety external drives.
6. Memory Card Travel Case
$20; www.digitalfoci.com
These days, we're swimming in memory cards. CF I/II, MD, SM, MMC, SD, miniSD, MS, MS Duo, and xD card—it's a wonder we can figure out which cards go with which gadgets, much less what all those acronyms mean. And they're all so darned small and easy to lose! The Digital Foci Memory Card Travel Case at least gives you a safe, sturdy place to put them. It'll hold eight cards at a time, of almost any shape or size, and protect them inside a hard aluminum frame.