Not too long ago, a 4-megapixel camera was considered pretty hot stuff. These days, even basic point-and–shoots pack a whopping 6 megapixels. They're also adding larger zoom lenses, bigger displays, more sophisticated sensors, and a host of interesting new options for editing, viewing, and sharing your images right from the camera. Drooling yet? Take a look at some of the newest cameras shaking up the photography world.
1. Nikon Coolpix S6
$450; Nikon
The Coolpix S6 is great for showing off your latest photos when you're nowhere near a big screen. The camera is ultracompact, yet its big (three-inch) LCD screen with a wide viewing angle lets everyone have a look. You can even set up an in-camera slide show, complete with music (you supply the WAV files).
2. Canon PowerShot S80
$500; Canon
The 8-megapixel PowerShot S80 is small (about 4 by 2 by 1.5 inches) and light (about 8 ounces). But its 28mm-to-100mm lens is wider than what you find on most compact point-and-shoots, letting you capture more of the picture.
3. Panasonic Lumix DMC-FZ7S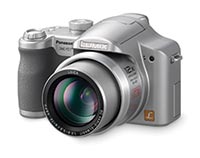 Panasonic Lumix DMC-FZ7S
$400; Panasonic
For people who want to feel close to the action, even from the stands, the 6-megapixel DMC-FZ7S sports a 12x optical zoom. It also comes with an optical image stabilizer—especially handy when you're shooting those really long-distance shots.
4. Olympus Evolt E-33O
$1,000; Olympus
You'd like to upgrade to a digital SLR, but you don't want to lose the screen preview you get with your compact camera. The Evolt E-330 is the first digital SLR camera to offer a live preview. The 2.5-inch LCD screen also tilts to help you compose shots from awkward angles.
4 things to throw into your camera bag
Joby Gorillapod
1. Joby Gorillapod
$22; www.gorillapod.com
This flexible, compact, lightweight tripod can adjust to nearly any surface.
2. Pantone Huey
$89; www.pantone.com
This compact, inexpensive monitor calibrator adjusts your screen for whatever lighting situation you're in—a café, an airport terminal, or a home office.
3. Lowepro Slider Case
$20 to $25; www.lowepro.com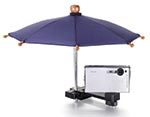 Popabrella
A camera case specifically designed for sleek compacts, the Lowepro comes in three sizes (the 10, 20, and 30) and three colors (black, red, and blue); each has a detachable belt clip.
4. Popabrella
$20; www.popabrella.com
OK, it looks supergoofy, but it could come in handy: it's an umbrella for your camera. Position it at an angle to protect the camera from rain or to shade the lens from the sun.