When it comes to reading the newspaper, you've got your "got to have it every morning" types, the so-called printed news addicts. You know the type—they absolutely must have the paper first thing every morning, they read every page, fold sections over, even complete the crossword puzzle. In short, they're paper-hounds, as eager for the morning paper as they are for that first cup o' joe.
Then there are people like me. I get 99 percent of my news from the Net. By the time I see a newspaper, it's usually old news. As such, I don't tend to be the first person in our household to get to the paper. In fact, by the time I get to it, it's been read at least once, perhaps used as a toy to entertain our daughter, and maybe even as a comfy curl-up-spot for the cat. Call me a "paper free zone" or a "net geek," but reading the printed paper is not something I rush to do every morning. I take my time. I don't want to jump on any trendy "news type" bandwagons. I am, truth be told, not entirely up to date when it comes to knowing what's in my local paper.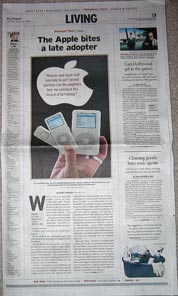 So imagine my surprise when I picked up a paper for the first time in weeks last Friday, and I found this column by one Kristi Turnquist, discussing Apple and the iPod nano. It was hard to miss, too, given that it was on the front page of our Living section, with an amazingly large graphical lead-in (see photo at right; here's a larger version ). The photo takes up nearly half the page; it's so large that none of the story is visible when the paper is folded. Obviously, the large graphic, witty headline, and shocking quote (in the cutout Apple logo) are all designed to get you to read the story. And I did, expecting a shocking exposé on some not-yet-revealed flaw in the nano's design or usability.
What I found instead was on user's tale of trouble in getting iTunes on her Toshiba laptop to see her new nano. That's it—something very similar to what we deal with here every day on the Macworld forums , and what happens on countless other sites across the Web for OS X, Windows, and Linux users. Everyone has problems of some sort with technology; it's the nature of the beast. The big difference, of course, is that Kristi writes for the newspaper, meaning her article reached many thousands who probably wouldn't have otherwise found it buried on a Web site in the vastness of the Internet.
All of that would be well and fine if Kristi just discussed her problem and its resolution. Instead, trying perhaps to strengthen the article's focus on flaws in the nano, Kristi presents other evidence of iPod nano issues. For instance, she writes:
"I hear the batteries run out a lot faster than the package says they will, too," I say, echoing complaints of co-workers.
Note that Kristi hasn't apparently tested her nano to see what the battery life is like—she's just repeating what others have said. When I bought my nano, I play tested it not once but twice. In simple "play songs, no skipping, no random" mode, I got just about 14.5 hours of playback. (Apple claims 14.) When I used it as I typically do, skipping and in random mode, battery life dropped to about 12 hours. I also tested it again recently, when reviewing the Radio Remote —driving the radio, the nano lasted for about eight hours. I'm not sure what Kristi is hearing, but my experience is that battery life basically matched what Apple stated it would, though (like fuel mileage), actual life in use will be less than stated.
Kristi goes on to talk about Matthew Peterson, who set up a Web site (which he has since taken offline) detailing "issues" with the iPod's screen. She even quotes a Macworld article in her coverage of the issue. Kristi writes:
Most notably, a disgruntled user named Matthew Peterson set up a Web site detailing problems with the Nano's [ sic ] LCD screens. Apple ultimately admitted there was a problem with scratch-prone screens, and Macworld magazine quoted a company executive who said it was a "real but minor issue" related to a "vendor quality issue" that affected a fraction of the zillion units shipped.
What she doesn't clearly explain here is that there were actually two separate screen-related nano issues. The first was a general complaint that "they scratch easily." Apple responded to the scratching issue in the same Macworld story that Kristi quoted, but she didn't include this response in her article:
Apple said that the screens on the iPod nano are made with the same material that is found in the company's fourth-generation iPod, which, to date, is complaint free.

"We have received very few calls from customers reporting this problem—we do not think this is a widespread issue," said [Senior Vice President of Worldwide Product Marketing Phil] Schiller. "If customers are concerned about scratching we suggest they use one of the many iPod nano cases to protect their iPod."
That sure doesn't sound like Apple admitting there was a problem with "scratch-prone screens." The second screen issue, and the one that Matthew Peterson actually set up his Web site to complain about (at least according to the Macworld article), was related to a small number of iPods with broken screens. And Kristi is right, this problem affected "a fraction of the zillion units shipped"—Schiller states that it was actually "less than 1/10th of 1 percent of the total iPod nano units that we've shipped."
Kristi does have some legitimate complaints—but I would argue they're with the Apple Store in Pioneer Place, not with the nano itself. Twice she visited the store, once without her laptop and once with. On her initial visit, she took only her iPod, and the Apple Genius proceeded to convert it for use on a Mac, not a Windows machine. That's inexcusable to me; I have no idea what Kristi might have provided in the way of background, but clearly, the Genius should know to ask basic questions such as what machine the iPod is being used with.
The second trip was more successful, as she brought her laptop and her nano. The Genius, a different one this time, had more luck, but not before both he and Kristi had trouble finding a downloaded software update. Kristi wrote, "We agree that Windows XP has—how to put this tactfully?—issues." He finally resorted to using a CD installer, and Kristi's nano now works perfectly with her Toshiba laptop.
As an aside, Toshiba's laptops are apparently somewhat flakey when it comes to iPod connectivity; Apple even has a Knowledge Base article on that very subject. It's not clear if the issue is on Apple's side or Toshiba's side, but if you have a Toshiba laptop, you may want to read the article.
Wrap up
So here we have a 900-word article, with a huge picture, given front-page placement on the Living section, implying via its title and quote that there may be some sort of widespread issue with the iPod nano. Read the details, though—which is what all that stuff was designed to get you to do—and you find that we have nothing more than a user with a connectivity issue. This is something that's neither rare nor specific to iPod nanos, or even to Apple products in general. It's a fact of life in today's complex multi-vendor, multi-cable, multi-platform world.
Perhaps I should ask The Oregonian for a similar amount of space, placement, and large imagery to detail the connection issues I faced in trying to get my Brother networked laser printer working with Windows XP. Look for "Printer cut by broken Windows," coming soon to the Living section!