With the introduction of the iMac G5 and its accompanying remote control and Front Row media browser software, Apple hinted that the Macintosh was ready to add a new skill to its resume—serving as a multimedia center. I took a look at the multimedia capabilities of that G5-based iMac earlier this year, approaching the task with a challenging goal in mind: Switch off the stereo, TV, TiVo, DVD player, and radio and replace those devices and their functionality with the iMac and a select set of third-party peripherals.
While the iMac proved to be an adequate multimedia center, it wasn't about to replace my dedicated media components. Its display was too small for a large room and television pictures displayed on its monitor lacked the clarity that you find on a real TV. Maybe the answer wasn't in replacing my media center, but rather using the Mac as an enhancement to my existing components. If only the computer was smaller, cheaper, and—when plugged into my TV—free of the redundant display.
Apple released just such a computer in the Intel-based Mac mini. Unlike the original mini, this Mac supports infrared remote control, includes an updated version of Front Row that supports playing shared media, and offers 5.1 digital audio output, four USB ports rather than two, and, of course, a more powerful CPU. Could this Macintosh be the answer to my multimedia needs?
To find out, I got my hands on a Mac mini with a 1.66GHz Core Duo chip. I also created a new set of goals.
Goal 1: The mini must serve all my video needs, including playing DVDs on my television in glorious 5.1 sound, displaying live television, recording television programs, and streaming video from another Mac in my house.
Goal 2: The mini must serve nearly all my audio needs. It will play CDs, play and record Internet and terrestrial radio, and stream music from another Mac in my home.
Goal 3: After the initial setup, I won't have to leave the comfort of my couch to configure my Mac or play media through it.
Was such a small computer up to such large challenges? When outfitted with the proper peripherals (and those peripherals are correctly configured) the mini performed as a workable media center as long as its media files were stored on the mini or a hard drive attached to it. As a client tasked with streaming media from another computer, Front Row and the mini have a way to go.
Out of the box
Apple makes it clear that when you purchase an Intel Mac mini you get the basics—a computer packed with basic software (including iLife '06), a power supply, and Apple's remote control. The rest is up to you. Apple suggests that the bare minimum for the rest is a keyboard, mouse, and monitor. To that list I'll add a set of computer speakers or headphones—listening to music or a DVD soundtrack through the mini's tiny (and tinny) internal speaker is far from satisfying.
With those speakers or headphones and a decent monitor (my Apple 20-inch display, for example), iTunes sounds great and DVDs look fabulous. Controlling them through Front Row makes sense when you're sitting across the room, but with the Mac set before you on a desk, I prefer using iTunes and DVD Player directly. As slick as Front Row may be, it offers a limited set of controls. For example, I have a large enough iTunes collection that I routinely use iTunes' browser or Search field to find the music I want. Front Row provides no way to do that. And when you attempt to play disc 2 of Pixar's The Incredibles you discover that you can't navigate through the menus with Apple's Remote—the plus (+) and minus (-) keys do nothing. With DVD Player and a mouse you can easily click the menu items you want. And, of course, you can forget about using the iTunes Music Store with Front Row.
But forget all that. This Mac wasn't destined for the desktop. Living room, ho!
Beyond the box
Goals 1 and 2 required that the mini handle my video and audio needs. The first step toward meeting those needs was to incorporate the mini into my existing media center.
Cheapskate that I am, I've yet to commit to HDTV—my Sony WEGA CRT television dishes up the day's Daily Show . Like most old-style TVs, the Sony offers three video inputs—antenna (also known as coaxial ), composite, and S-Video. The Mac mini includes a DVI video port and a DVI-to-VGA adapter is included in the box. To make the mini talk to the television I needed Apple's $19 DVI to Video Adapter. This adapter features a DVI port on one side and composite video and S-Video ports on the other. It was the work of a moment to plug the adapter into the back of the mini and string an S-Video cable between the adapter and the television's S-Video port.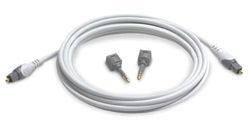 Griffin Technology's XpressCable helped me hook up my Mac mini to a 5.1 AV receiver.
Above the TV I have a 5.1 AV receiver that includes an optical ( TosLink ) digital audio input. Although the mini supports digital audio output it doesn't include this TosLink connector. Rather, it sports a mini-plug output. Fortunately, Griffin Technology's $20 XpressCable includes the adapter necessary for the cable to work with the mini's audio jack.
I could just have easily created a computer-specific audio system by using this cable to jack into the $400 Logitech Z-5500 5.1 speakers that adorn my computer desk. This 5.1 speaker system includes a variety of audio inputs including 6-channel direct, digital (coax or optical), and analog.
Temporarily putting aside my desire to control everything from the couch, I plugged a spare USB keyboard and mouse into the TV, connected the mini, and fired it up. The mini recognized the DVI to Video Adapter and adjusted the mini's resolution to 800 x 600 (VGA). As expected, the picture was a bit squished and fuzzy, but clear enough that I could see what I was doing as I pulled down menus, opened folders, and navigated through applications.
I inserted a DVD, invoked Front Row with Apple's remote control, and enjoyed the same kind of movie experience I get with my dedicated DVD player and AV receiver. The one fly in the ointment was that I could control the volume of the movie with only the AV receiver's remote control—the Mac's overall volume controls (including those in Front Row) hold no sway over a digital audio output. You can, however, control volume from within applications—using iTunes or DVD Player's volume sliders, for example.
After the movie I flipped back to the Front Row menu, selected Music, and listened to some of the tracks stored on the mini. No problems here.
Note: When you purchase something after clicking links in our articles, we may earn a small commission. Read our affiliate link policy for more details.