Television trickery
So far, I'd hardly taxed the mini's media capabilities. It was now time for something tougher—playing live TV and recording that programming.
Elgato provided the necessary peripheral in the form of its now-discontinued $350 EyeTV 200. (The EyeTV 200's replacement, the EyeTV 250, is on the way. I'll offer my views on this device in an upcoming update.) In league with Elgato's EyeTV 2 software, this small gray box—which includes coaxial, composite, and S-Video ports—allows you to watch live TV, record TV programs, create schedules for your recordings, and automatically export those recordings in a format compatible with an iPod with video. It includes its own remote control.
Though the EyeTV lacks such TiVo niceties as program recommendations based on your tastes and smart scheduling (where the TiVo service automatically changes schedules when lineup changes occur) it does have a singular advantage not currently available to Mac users—the ability to convert recorded video to a portable form. Though TiVo has promised a Mac-compatible TiVoToGo service that will let you convert your TiVo recordings to a format that you can play on your computer or iPod, such a program is still missing in action. The EyeTV 2 software can automatically convert its recordings to an iPod-compatible format and send them to iTunes.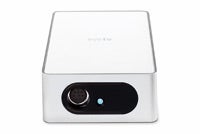 Along with the EyeTV 2 software, Elgato's EyeTV 250 lets you watch and record TV through your Mac.
To incorporate the EyeTV into my setup, I strung a FireWire cable between the mini and the EyeTV's FireWire port. I then plugged the output of my Dish Network receiver into the EyeTV's S-Video and stereo RCA input ports. From within the EyeTV 2 software I was able to view live TV. When zoomed to full screen the EyeTV didn't look quite as good as a direct connection from the Dish Receiver—some artifacts were evident—but it was no less watchable than TiVo programming recorded at medium quality.
Changing channels was another matter, however.
Sorting out satellite
When using the EyeTV with an iMac G5 earlier this year, I ran into a snag—the device doesn't provide a way to change channels on a digital cable or satellite TV box. My TiVo includes an IR-blaster for this purpose—a device that relays an infrared signal from the TiVo to a cable or satellite receiver via a cable device that carries two LEDs that shine the infrared signal at whatever they're pointed at (a satellite receiver's IR window, for example). Elgato doesn't support such a feature. This time around I was determined to find a way around this crippling limitation.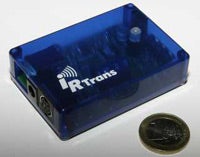 The IRTrans USB Module is a piece of the puzzle for changing channels on a digital cable or satellite TV box.
I found it in IRTrans' iRTrans USB Module (€85.5 with iRed software), the iRed software that lets the IRTrans work its magic, and Vidcan Software's $30 iEye Captain. The IRTrans is a small blue box with a USB port on one end and a series of IR LEDs on the other. When plugged into your Mac and configured with the iRed software, it can send the IR codes necessary to control any device with an IR receiver—a TV, stereo, or, most important for my purposes, a Dish Networks satellite receiver.
iEye Captain provided the final piece of the puzzle—a way to create schedules that fire the IRTrans at times that match the schedules I've created with the EyeTV 2 software. iEye Captain does far, far more than this including allowing you to save EyeTV recordings to multiple drives and access all those drives at once in EyeTV and organize your recordings in smart playlists and saved searches.
I'll go into richer detail on how to configure these components in a future article, but for the time being, here's the gist:
After installing the iRed software, you plug the IRTrans into the computer's USB port. Although the iRed software offers some built-in controls for Sony remotes, it doesn't include controls for my Dish receiver. In cases such as this you must train iRed to recognize a remote's codes. You do this by creating a virtual remote control, assigning buttons—in this case, 0 – 9 and the Dish remote's Select button—clicking a Learn button in the software, pointing the remote at the IRTrans, and pressing the remote's corresponding button to teach the software that command. Complicated as this sounds, it doesn't take long to configure, particularly if you're using a small subset of the remote's keys as I have. And, in most cases, it's no more difficult (or time consuming) than programming a "real" universal remote.
iEye Captain acts as an intermediary between the EyeTV and iRed software—taking the schedules you've created in the EyeTV software, turning those schedules into iCal events via some clever AppleScripts, and then firing the IRTrans with the proper codes at the time of each scheduled event. It's a convoluted solution, but one that works.
Alternatively you can use iEye Captain with the less expensive ZephIR, but the $65 ZephIR's software is even more complicated than what you find in iRed. (With luck, you'll find the device you want to program already configured in the ZephIR's code library.) The ZephIR's developer is in the process of updating his software to make it more powerful and easier to use.
Graham Jones, iEye Captain's creator, has worked out bundle deals with both IRTrans and ZephIR. For $90, you get the IRTrans device, iRed software, and a coupon for $10 off on iEye Captain. The ZephIR bundle costs $75 and includes the ZephIR device, ZephIR software, and iEye Captain. Details on purchasing the bundles can be found on Vidcan's website. For more details on the differences between the IRTrans and ZephIR devices, see Vidcan's FAQ.
Note: When you purchase something after clicking links in our articles, we may earn a small commission. Read our affiliate link policy for more details.