Radio reception
My methods for playing and recording local and streaming radio worked well enough when I configured the iMac G5 as a media center that I changed very little about them for the Mac mini. I continued to use Griffin Technology's $70 Radio Shark to tune into local radio. When I began work on the mini I used the non-Intel-native version 2.0 of the Radio Shark software and it mostly worked—after recording a radio program it refused to play live radio until I restarted the application. Griffin has since released the Radio Shark 2.0.1 software, a Universal binary version, that works as advertised—no need to restart the application after recording to listen to live radio.
Ambrosia Software's $19 WireTap Pro 1.2.0, though not a Universal binary application, works as it should under Rosetta emulation. Like the Radio Shark software it lets you record what's playing on the Radio Shark—either via a live recording or one you schedule.
For recording streaming radio (and scheduling terrestrial radio recordings) I've stuck with RadioTime —a Web-based service that lets you listen to more than 50,000 music, sports, and talk stations from around the world through a client (which, in turn, channels its music through Microsoft's Windows Media Player, RealNetworks' RealPlayer, or QuickTime). For $39 a year, RadioTime will let you schedule and record those programs. Regrettably, the Mac version of Windows Media Player has reached the end of its life—Microsoft has no plans for updating it further. And this version doesn't work with the RadioTime client. Its alternative, Flip4Mac, is no help as it, too, is incompatible with the RadioTime client. (RadioTime representatives report that work is being done on a Universal version of Flip4Mac that resolves most of its issues with RadioTime.)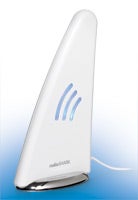 Griffin Technology's Radio Shark lets you tune into local radio on your Mac. A Universal Binary version for Intel-based Macs is now available.
As a majority of streamed radio stations offer programming only in Windows Media format, this makes RadioTime less valuable for Mac users. Fortunately enough programs are offered in RealPlayer and MP3 formats that I could still play and record plenty of content. Plus, many of the programs I wanted—those from NPR in particular—are offered by a number of stations, some of which stream their content as RealPlayer files.
Couching toward Bethlehem
As I was already involved in one form of remote control, it was time to turn to another. No Mac is a media center if you have to control it with a wired keyboard and mouse. Cute and cuddly though the Apple remote may be, there will be times that you'll want to navigate around the Mac in ways forbidden to the remote. For this, you need an alternate input device.
Should you wish to remain in the Apple camp, you can do this with Apple's Wireless Keyboard and Wireless Mouse ($59 each). The range of these devices was good enough to control the Mac from across my living room, but using them requires that you put up with swapping in new batteries from time to time. Keeping a couple of sets of rechargeable batteries on hand took the sting out of these all-too-frequent swaps (every couple of days, on average).
A potentially more flexible option is Belkin's $99 MediaPilot. As I explained in my earlier look at the iMac G5, the MediaPilot comes in two pieces—a base plugged into a spare USB port and a wireless keyboard that communicates with the base via a 2.4Ghz wireless connection. The MediaPilot offers a couple of advantages over Apple's Bluetooth devices. First, the keyboard carries a rechargeable battery. When you place the keyboard in the base, the keyboard's battery charges. So much for worrying about battery replacements. Secondly, it can learn the functions of other remote controls via an IR teaching mode. Potentially you could train it to mimic the Apple remote's commands for controlling Front Row.
I toss the word "potentially" around so liberally because the MediaPilot's software isn't currently compatible with Intel Macs. Though you can use its default functions for moving the mouse, clicking, and typing text, you can't configure it. When that software does go Universal, the MediaPilot will be a far better option.
Reducing redundant remotes
I could have left it there but it occurred to me that while I was now able to remain on the couch, I was going to be buried in remotes. My current setup required not only a wireless keyboard but four additional remote controls for Front Row, the Dish receiver, the AV receiver, and the EyeTV 200. Too much.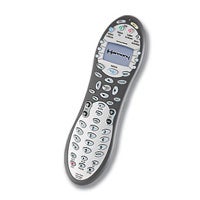 A universal remote like Logitech's Harmony 659 can help you cut down on remote clutter around your Mac mini multimedia center.
Rummaging around in my box of gear I unearthed a Logitech Harmony 659 Advanced Universal Remote. This $150 remote lets you replicate the controls of just about any remote control you throw at it. Unlike other universal remotes that you teach by firing one remote at another and hoping the universal model learns the other's commands, you configure the Harmony remotes online. Just travel to the Harmony remote members site, choose the devices you own (the list of supported devices is exhaustive), and download a profile that matches your gaggle of gear. Plug a USB cable into the Harmony remote and the Harmony software uploads that configuration into the remote control.
This I did, adding all the aforementioned remotes as well as profiles for controlling Front Row and an iPod plugged into Apple's new IR-capable Universal Dock. Now, with this single remote, I could control every bit of gear in front of me, save for turning the Mac on and off (though I could make it sleep by using the Apple remote's Sleep command—a command you invoke by holding down the remote's Play/Pause button for about three seconds).
Priced from $130 to $400, Harmony remotes aren't cheap and if I didn't have one already I could turn to other pieces of gear I possess—my Palm T2 or Sony-Ericsson phone. One of these Bluetooth devices in league with a Bluetooth-bearing Mac let me use the $24 Salling Clicker, a utility that allows you to control most of a Mac's media applications with a compatible Bluetooth phone or PDA.
While Salling Clicker lets you pull up Front Row and control it with that Bluetooth device, it offers so much more. You can directly control iTunes, iPhoto, DVD Player, QuickTime Player, VLC, EyeTV, SlimServer, PowerPoint and Keynote, and even direct the Mac's cursor and clicking functions. And because it uses Bluetooth you don't need to be within line-of-sight of the mini's IR port. If you're within about 30 feet of the Mac, you're golden.
Not so gently
One particularly welcome feature of Front Row 1.2.2 is the ability to play shared music, slideshows, and videos. This is a real boon with the Mac mini because the mini's 80GB hard drive (the 1.5GHz Intel Core Solo mini includes a 60GB drive) will quickly prove too cramped to hold multiple full-length movies ripped from DVD. Far better that the mini act as a client wirelessly connected to a media server that holds more expansive hard drives. And Front Row's Shared media services seem to hint that it can do just that.
That client/server relationship was my next goal. Regrettably, it proved the most challenging task I'd undertaken. Both file size and the speed of my network connection proved to have a significant bearing on how successfully my downstairs dual-2GHz Power Mac G5 and upstairs Mac mini-streamed media.
Below stairs, you find my office equipped with an AirPort Extreme Base Station. The signal from that Base Station is reduced to one-to-two bars in the upstairs living room where the Mac mini resides. Over this connection, I was able to reliably stream iTunes music files via Front Row's Shared Music command—though it took Front Row a minute or so to see the downstairs Mac and load its library. Streaming movies from that same downstairs Mac via Front Row was next to impossible—Front Row gave up after a few minutes of churning away at the task, claiming there was a problem with the server.
To help things along, I boosted the wireless signal by creating an extended wireless network with the help of an AirPort Express Base Station placed near the mini. This provided a strong enough signal that I was able to stream music videos I purchased from the iTunes Music Store. Alas, longer programming often resulted in server errors or programming that did play back, but stuttered.
Obviously, wireless wasn't the complete answer. I then moved to a HomePlug network using two of Belkin's $60 Powerline Ethernet Adapters. These are small adapters you plug into electrical sockets that send data at speeds up to 14Mbps over your home or office's electrical wires. Setup is a cinch: Plug the adapter into a nearby socket, string the included Ethernet cable between the adapter and each Mac's Ethernet port, enable Ethernet in the Network system preference, choose Using DHCP from the Configure IPv4 pop-up menu, and the two Macs are networked.
This provided better results. The mini was able to play iTunes episodes of Weeds and Lost streamed from the remote Mac via Front Row. It choked, however, on a 90-minute Saturday Night Live collection of Christopher Walken's appearances purchased from the iTunes Music Store. It was also incapable of playing the file that does death to only the most robust networks—a 2.69GB MPEG-4 rip of the 2 hour and 42 minute It's a Mad, Mad, Mad, Mad World .
Before taking the next step and moving to a direct wired connection, I experimented to see just what effect Front Row had on the proceedings. As it turns out, a great deal more than I expected.
I discovered, for example, that I could play previously unplayable Front Row streaming videos by opening them directly in iTunes. For example, the Walken collection played over the HomePlug network when I chose it within iTunes from the G5's shared library.
By eliminating iTunes' Shared entry items altogether I had even greater success. I mounted the network volume that housed my movies and copied an alias of the Walken collection from the Power Mac to my mini's Movies folder. I then invoked Front Row, selected Movies, and chose that alias from the mini's Movies entry. It played without a hitch. Using this technique I was even able to open It's a Mad, Mad, Mad, Mad World within Front Row. It initially stuttered over the HomePlug network, but after 30 seconds or so, the video played back smoothly.
I was getting close.
I finally bit the bullet and ran wire—100 feet of Cat-6 Ethernet cable from the downstairs 10/100BaseT Ethernet switch to the mini. In this wired world, all the television shows I purchased from the iTunes Music Store played within a shared Front Row environment. The aliased version of It's a Mad, Mad, Mad, Mad World loaded via Front Row and played immediately as well. But the shared version once again refused to load. Replacing the 10/100BaseT switch with a faster gigabit Ethernet switch didn't help. Front Row was happy to play the movie as an alias saved to the mini's Movies folder, but refused to play the movie via its Shared Video menu. Likewise, the movie would not play when accessed from within iTunes as part of the G5's shared library.
I originally ripped this very long movie at a frame size of 720 x 288 and a bitrate of 2,300kbps—settings designed to provide a good quality picture that mirrored its original widescreen format. But it was too much for Front Row and iTunes to swallow over Front Row and iTunes' sharing. To see just what they would allow, I encoded the movie in the H.264 format at bit rates of 1,200-, 800-, and 400kbps and attempted to view each version over a shared connection. Front Row and iTunes remained uncooperative when attempting to share any of the three versions. I then ripped the movie at 400kbps at a frame size of 640 x 256. No dice.
Maybe it was an issue of length rather than bit rate. I used Instant HandBrake to rip an MPEG-4 copy of the 1 hour, 42 minute Casablanca . Front Row and iTunes wouldn't play the shared version at all, much less again, Sam. It was pretty clear that this less-than-dynamic duo weren't up to the task of playing shared full-length movies.
Of course, Apple never said they could. But given that Front Row has no objection to playing such movies when they are presented as aliases to files on a mounted drive, it's clear that such streaming is possible. Let's hope there's some improvement in such media sharing. The diminutive mini is a natural as a shared media client.
(Since this article first appeared, a reader got in touch with me to offer a tip on successfully playing these movies in Front Row. You can read all about it in this update to my multimedia Mac mini adventure.)
Note: When you purchase something after clicking links in our articles, we may earn a small commission. Read our affiliate link policy for more details.