Except for the movies I get in the mail from Netflix, I don't spend very much time watching DVDs on my TV at home—which is a shame, because I have a pretty good-sized collection. But recently I've discovered new-found life for my DVDs—especially the TV shows—on my fifth-generation iPod.
Using HandBrake Lite ( ), I've taken to ripping my DVDs (yes, these are DVD I own—and yes, I consider the process fair use) to an iPod-compatible MPEG-4 format. I then transfer those to my iPod (TV shows work the best, since most of them are in the iPod's 4:3 aspect ratio) to watch while exercising on a stationary bike at the gym, riding the street car to work, or sitting on an airplane.
The one big problem is that since iTunes doesn't give me the ability to enter tags for things such as a show's title, season number, and episode number, these files don't show up in the TV Shows section of the iPod's Video menu, much less neatly filed by season and in running order (as TV shows purchased from the iTunes Music Store do).
The solution I've found to iTunes' shortcomings is James Huston's free Parsley is Atomically Delicious 1.3.3 ( ). PAD provides a graphical user interface (GUI) for the AtomicParsley command line metadata editor (which explains where the GUI gets its name, but not the underlying technology).
PAD's simple interface is one of its biggest attributes. To get started, drag-and-drop files into the File List (or click on the Choose button and pick the files that way). In this example—for a TV show—you can enter the episode title, show title, season number, episode number, and year. Select the file, enter your information, and click on the Process button.
The are a few options that require your attention. Apply To "Music" Fields adds the tags to the equivalent fields in iTunes—without that, iTunes won't be able to display all that information. You can choose to replace the file you're tagging instead of creating a duplicate (PAD actually creates a temp file and then removes it). I use the replace option exclusively, and have never ended up with a corrupt file—although once or twice, I've seen a file's size swell up when overwritten multiple times. You can even add a description or artwork (such as the DVD cover) to your files.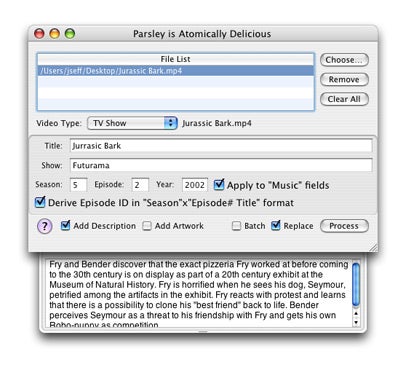 You can also use PAD to tag music videos or movies: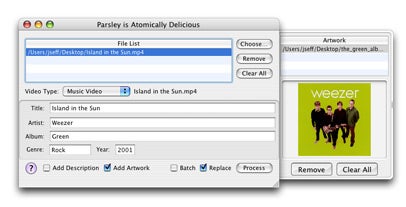 The one area where PAD could use some work is in its batch processing capabilities. When tagging a whole season of TV episodes, for example, there's no reason to enter show, season, and year data manually for each track. And if you add a number of files and activate the Batch option, PAD will let you adjust those tags for all the files at once. But there are two problems. Since you can't enter episode titles for items in a batch, those will be missing. You can remedy that by naming your files in the Finder before adding them to PAD and selecting Rename Files Based On Your Title in PAD's preferences; but this method only works in Batch mode. Although somewhat of a hassle, that solves one problem. (And if you choose the Add Episode Number to TV Shows option, PAD will add ascending numbers before each file so they will be in order in the Finder.)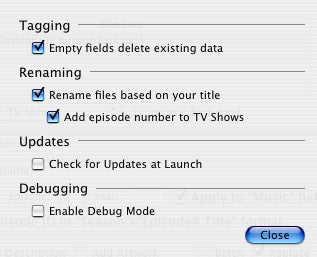 But that leads to the bigger problem. If you turn on the batch processor and process a bunch of files, PAD automatically fills in the episode numbers. That's a good thing—or at least it would be if the files were in the correct order in the File List. But PAD arranges files alphabetically, and there's no way to organize them by hand, either by adding them in the proper sequence or by dragging them around in the File List. The solution I've found is to number the episode file names before adding them to PAD—but that brings us back to the naming problem. You can combine names and numbers—"01 Crimes of the Hot," "02 Jurassic Bark," and so on—but then the episode names in iTunes and on the iPod will have numbers in front of them. If that doesn't bother you, it's a passable workaround (but it does bug me, so I go back and remove the numbers individually in a second pass, either in PAD or in iTunes).
Although PAD isn't the only GUI for working with AtomicParsley on the Mac, it's by far my favorite. I find Lostify to have confusing naming fields, it has no batch processor, and it doesn't let you overwrite a file. vID Infiltr8 has a nice interface and some cool features (such as customizable default field values), but also lacks batch processing and is mostly a hack of an MPEG-4 audio tagger. PAD has made order where before there was only chaos—well, a smart playlist on my iPod with my videos in the order I added them to the iPod, but that's chaos to me. And If there were a better way to process multiple files from a TV series, it would be nearly headache-free.
Parsley is Atomically Delicious requires Mac OS X and is a Universal Binary.