At a Glance
Expert's Rating
Pros
Great sleep function
Charges iPod while docked
Good sound for the size
Remote control included
Excellent alarm clock
USB port for iPod shuffle
Cons
No radio presets
No weekday versus weekend alarm setting
Can't set iPod to wake to same playlist or song every day
Our Verdict
Waking up is hard to do, so you may as well get the best alarm clock you can and start your work day on as pleasant a note as possible. iPod aficionados have several alarm clocks to choose from; in this review, we'll concentrate on just two—iLuv's i177 and JBL's On Time . Both clocks that sport iPod docks for playing your favorite tunes and ditching the morning-DJ banter.
iLuv i177
The iLuv i177 looks remarkably similar to iHome Audio's iH5. The top of the unit has a dock to hold and charge your iPod, with adapters to fit all third-generation and newer iPods, the iPod mini, and the iPod nano. Even better, a small plastic hatch flips open to reveal a USB port for connecting and charging an iPod shuffle. For those with older 1st- or 2nd-generation iPods, or other types of MP3 players, a line-in jack on the back of the unit lets you play music from just about any audio source (without the power and syncing benefits of the dock cradle, of course). Finally, a line-out minijack allows you to connect your i177 to a home stereo.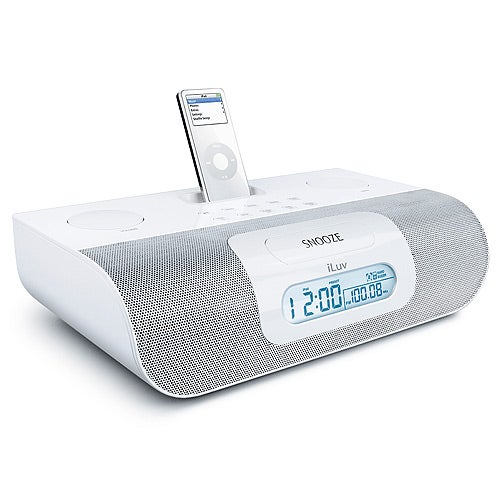 The 11-by-6.5-by-3-inch i177 fits nicely on a bedside table. By way of comparison, it's about an inch wider and deeper than the iHome, and is also available in white or black, so you can pick the color that matches your iPod. Two speakers on either side of the unit pump out surprisingly rich sound from such a small unit (more on that later). Two recessed dials on the top of the unit control the volume and radio tuning, and double as controls to set the time and alarm. Small buttons across the top allow you to set the sleep timer, music source (iPod, iPod shuffle, AM or FM radio, or auxiliary), time of day, and two alarm clocks, as well as to play and pause music. The LCD display shows the time, date, alarm settings, and play mode. It is bright and easy to read, yet automatically dims after a period of inactivity—it won't stay on all night, keeping you awake. One large button across the top of the LCD serves as both a snooze button and dimmer for the display. Most of these functions can also be accessed via the included remote control.
The iLuv i177's sound quality is amazingly good for such a small unit. The two vented speakers on either side of the unit provide rich, deep sound from a very small package. Although the overall sound quality doesn't approach that of JBL's $300 On Time, at only $110 the i177 is a great value. And compared to the similarly priced and sized iHome iH5, I found the i177 to have slightly better sound quality with more resonant bass tones, even at low volumes.
The i177 is loud, too. At maximum volume, I measured the sound decibels at 89, compared with 86 for the On Time (without an attached subwoofer, for sake of comparison) and 86 for the iHome. However, at maximum volume, the bass can sound blown out; kickdrums can sound more like pizza dough slapping onto a counter. Nonetheless, at lower volumes it sounds quite nice, although I would certainly not want it as my only audio source.
Two alarm settings let you set daily alarms to go off at two different times. You can set each to wake you to audio from an iPod (full-size only; an iPod shuffle works only as an audio source), FM or AM radio, or a buzzer. The alarm volume can be set independently of the master volume, so no matter what volume you happen to blast your tunes at during the day, you can be assured that you won't be awoken early in the morning with unintentional front row seats at a rock concert (or vice versa—if you listen at low volumes, you can still blast the alarm to get you out of bed).
Overall, the alarm clock works very well, although I had two beefs with it. The first is actually a common complaint with iPod alarms: You're limited to waking to whatever track is "now playing" on your iPod. For example, I like to go to sleep listening to my female jazz vocalist playlist, but would rather wake up to something slightly more upbeat. However that's not possible without resetting the iPod manually after the sleep timer has stopped. Nor is it possible to set the alarm to choose the same playlist or track to play every time, so that no matter what was playing when I put the iPod in its cradle—Mastodon's Leviathan, for example—I could be assured of waking to something that wasn't going to make me jump out of my skin first thing in the morning. The On Time has the same problem.
My second complaint with the iLuv's alarm is that there is no weekday versus weekend setting for the alarm clock. Many alarms on the market today—including the On Time—allow you to set a single alarm to go off at different times on weekdays than on weekends. Although the iLuv does have two alarms, both are set for seven days a week. So although you can set an alarm to go off later on the weekends, you will have to remember to turn your weekday alarm off every Friday (and the weekend alarm off on Monday).
The sleep timer can be set in increments of 120, 90, 60, 30 and 15 minutes. Though you can set the volume to whatever level you like, it will gradually grow quieter as it approaches its off time until it shuts down completely—a nice feature.
If you're a radio listener, the iLuv is something of a mixed bag. In my testing, FM reception was great via an attached wire antenna, and the iLuv performed equally well with AM after I hooked up the included AM antenna (which, like most AM antennas, is remarkably ugly). However, unlike most modern clock radios, it doesn't allow you to save station presets; instead, you must always manually tune in anything you want to listen to on the radio.
One of my favorite features of this unit is its included remote control. Though the iHome, which is in the same price range, also has a remote, it is sold separately, and I felt that this alone made the iLuv a better value. The smaller-than-an-iPod-nano remote allows you to power on and off; play audio from the radio, iPod, or auxiliary source; adjust the volume; skip/scan forward and back; tune the radio; switch between FM and AM bands; turn off the alarm and snooze; and adjust the LCD backlight. If you keep your alarm anywhere other than on the nightstand—on a vanity or desk across the room, for example—the remote is a great way to access the iLuv's sleep, snooze, and alarm functions without having to get your lazy bones out of bed.
JBL On Time
There's a lot to love about the On Time, but when I first pulled it out of the box, I wasn't quite sure what to make of its design. Approximately 10 inches wide by 8.5 inches tall, it's 9.25 inches deep at its base, while the arched speaker that spans the unit is 4.5 inches deep up top. Though it's a striking design that works well on a desktop or table, I found it the On Time's height to be somewhat inconvenient. Since there's no remote, you want it to be within easy reach so you can hit the snooze button or turn it on or off, yet such a tall unit can get in the way on your nightstand, especially if you're prone to keeping books, a water glass, glasses, or other night-time accouterments within reach.
This reflects the On Time's identity crisis. Is it an alarm clock, a home stereo, or an iPod dock? Should I put it on my desk in my office, or the nightstand in my bedroom? My answer? It fits perfectly in at least two places: dormitory rooms and studio apartments.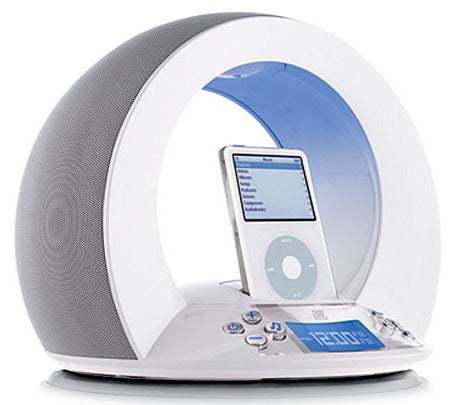 Also available in black or white, the front of the On Time has six dedicated buttons: one for power, two for adjusting the volume up or down, one for selecting the play mode (FM/AM band, or iPod), and one for turning each of two alarms on or off. In addition, four navigation buttons can be used for various tasks, such as setting the time of day and alarm clocks, adjusting contrast, tuning the radio, and adjusting the display brightness. A large, slightly recessed, snooze button on top is easily "smackable" when you want to sleep in.
The On Time's most noticeable feature is its circular speaker design. Though it makes for a dramatic, modern design, this arch/halo is there to serve a purpose: It allows the On Time to fire its two 25mm tweeters upward and its 45mm low/midrange speakers horizontally. The result is spacious sound, which I'll discuss further below.
In the center of the unit, beneath the speaker "arch" is an iPod dock that cradles and charges your iPod. Unlike many iPod stereo docks, however, JBL put a true dock in the On Time—you can connect it to your computer and sync the unit. JBL includes adapters to cradle just about any make and model of docking iPod, including the nano, video, and mini. It doesn't, however, support the shuffle, though you can still play audio from a shuffle via an auxiliary input.
Oddly enough, JBL hides some of the On Times most compelling features in the back of the unit at its base, where you'll find two key ports. One is the aforementioned iPod dock connector. Attach an iPod dock cable to the On Time at one end and your computer's FireWire or USB port at the other, and you can sync your iPod with iTunes just as you would via a standard dock or docking cable. This is a welcome feature, though it's of limited usefulness if you intend to use the unit as an alarm clock (unless you keep your computer in your bedroom). There's also an output to connect a subwoofer, dramatically enhancing the sound. I loved having this option, though it, too, is of limited usefulness in the bedroom, unless you're in a studio or dorm. An auxiliary input rounds out the backside ports.
Unlike the iLuv or iHome combination alarm and stereo systems, the On Time can pull its own weight as a passable home stereo—assuming you have a small home. Although it can't compete with the similarly priced Bose SoundDock or Apple's iPod Hi-Fi in terms of room-filling sound, I was duly impressed overall. Out of the box, the On Time gives you deep bass tones and excellent midrange sound at most volumes. Thanks to the upward firing tweeters, high notes sound clear and don't get lost in the mix. Unfortunately, the bass can sound blown out at maximum volume—though not nearly as much as on the iHome or iLuv alarm systems. Yet after hooking up an amplified subwoofer, the On Time sub system cranked out deep, complex, and positively rumbling bass tones, and I managed to squeeze 108 decibels out of it. All in all, given the subwoofer, computer, and auxiliary connection options, this is a great base component for a desktop stereo system.
Though the On Time has many features, they can be a mixed bag when in use. The alarm clock works well, but some of the extras do not. Two alarms, each with everyday, weekday, and weekend settings mean that there's no need to reset your alarm or turn it off every Friday. And unlike the iLuv i177, which has a nine-minute snooze timer, you can set the On Time's snooze function for whatever interval you'd like. Similarly, the On Time also has a more flexible sleep timer, which can be set in one-minute increments up to 10 minutes, for 15 minutes, and then in 10-minute increments from 20 to 90 minutes. On the other hand, unlike the iLuv, JBL's sleep timer abruptly cuts off, rather than growing gradually quieter. It's also difficult to tell whether or not you've actually set it for sleep—during my initial testing, I had to get up several times, annoyed, before I finally got the hang of it.
There's also a TimeCrawler auto-time-set feature that scans the FM dial for stations that transmit the time of day with their signal. You may have better luck than I did with this, but despite my hilltop location in San Francisco, near a broadcast tower where I get typically excellent reception, this function never worked for me; I had to set the clock manually. (To be fair, I'm not sure that any stations in San Francisco broadcast the time in their signals.) And the radio, which allows you to set five station presets, provided good reception overall.
As with the iLuv—and pretty much every other iPod speaker system out there —not being able to access the iPod's menus via the On Time itself is a bummer. And as I noted with the iLuv, above, I would like the ability to set a standard playlist to wake to than have to manually set it each and every day—effectively killing the convenience factor of the weekend and weekday alarms.
I also sorely missed having a remote when using the On Time. This was especially true when using the unit in sleep mode at night and when waking in the morning. The lack of a remote was exacerbated by the On Time's interface, which I found trickier to use than a regular alarm clock's.
On the other hand, the On Time's ability to sync your iPod with your computer is a welcome addition. Once connected to my Mac, my iPod synced flawlessly. JBL notes in the instruction manual that the dock might now work when connected through a USB or FireWire hub. However, it performed without problem for me whether I connected the system directly to my Mac mini or to my OWC MiniStack external hard drive. If you plan on using the On Time in the same room as your computer, this is a fantastic feature.
The lowdown
Both the iLuv i177 and JBL On Time are nice clock radios, and each has strengths and weaknesses. In short: If it's an alarm clock you want, the iLuv i77 is the best choice and includes nice extras such as a remote and an iPod shuffle port. If you desire something more akin to a small stereo, with the added benefit of a clock and alarm, go with the On Time.
Overall, I found the iLuv to be a better value, while the On Time had far superior sound. Yet, while I would highly recommend the iLuv—as an alarm clock—I can't say the same about the On Time; although it performs well as both a clock and a stereo, it doesn't truly excel at either.
[ Mathew Honan is a San Francisco based freelance writer. Check out his weblog. ]