Wow, you're generous! These systems will knock the socks off Dad and Grad!!
Mac mini/1.5GHz
Price: $599 ( ; May 2006 )
Even priced $100 more than its PowerPC-based predecessor, the Mac mini Core Solo remains an attractive desktop—especially when you consider features like built-in wireless networking now come standard on this machine. It's worth noting that this Core Solo configuration underperforms compared with the Mac mini Core Duo in almost every respect; however, it's still a good entry-level Mac for the money.
17-inch iMac Core Duo
Price: $1,299 ( ; April 2006 )
The Intel-based Mac era begins with this 17-inch iMac, which runs on a 1.83GHz Intel Core Duo chip. This new Mac features faster RAM than its G5-based predecessor, although maximum memory has dropped to 2GB from 2.5GB in the iMac G5. A mini-DVI port in the new iMac lets you use a second external monitor, and the graphics card has undergone a slight upgrade to the ATI Radeon X1600.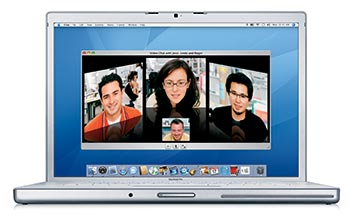 MacBook Pro
15-inch MacBook Pro/2.0GHz
Price: $2,499 ( ; May 2006 )
The first Mac laptop to feature an Intel processor—two processors, actually, thanks to the chip's dual-core architecture—the MacBook Pro features some significant departures from the PowerBook line. The MacBook Pro features a 4X DVD-burning SuperDrive (as opposed to the 8X SuperDrive in the PowerBook); it lacks an S-Video port and a built-in modem. However, the MacBook Pro's screen is brighter, it boasts a faster bus speed and faster memory, and a new MagSafe Connector for hooking up the laptop to its power supply.
13-inch MacBook/2.0GHz
Price: $1,499 ( ; August 2006 )
The release of the MacBook Pro was big news: It was Apple's first laptop with two processing cores, the first to use Intel chips, and had the feature set and price tag professional users are accustomed to. The new MacBook, on the other hand, replaces both the iBook and the 12-inch PowerBook G4 in Apple's product line. As you might expect from a product that replaces both a consumer and professional system, the MacBook is a fascinating hybrid of high-end features and cost-conscious engineering.