Back in April when I reviewed Monitor's i-deck iPod stereo system, I noted that the high-end audio industry has largely been either oblivious to or scornful of the iPod as a quality audio source. This despite the fact that the iPod is quite capable of being such, given high-quality audio files and the right connections. (And let's not forget that many iPod owners have a good deal of disposable income—just the sort of people high-end audio needs.) So it's no surprise that last weekend's Home Entertainment Show 2006 —aimed at those with golden ears and deep pockets—wasn't exactly an oasis of iPod accessories. But a few vendors are seeing the iPod light, so we made the short trip down the California coast to Los Angeles to see what was cooking in the field of high-end audio. (The show purports to be about Home Entertainment , but apart from a large Sony exhibit and a couple other vendors hawking TVs and printers, it was mostly about audio.)
Stick it in your ear
Two vendors in attendance of special interest to iPod users were Shure and Ultimate Ears. Shure was demonstrating the company's upcoming $499 E500PTH in-ear-canal headphones, which will take a seat next to the popular E5c in Shure's product line. Like the $299 E4c, which received one of our 2005 Plays of the Year awards, the three-driver E500PTH offers a significant style and comfort upgrade over previous Shure models, with a smaller, more streamlined shape and more flexible cables. In addition, the cable itself is modular: You get a short built-in cable along with three plug-in options—a short extension, a longer extension, and the E500PTH's most significant feature, a "push-to-hear" module (hence the "PTH" in the model name). Given that in-ear-canal headphones seal out nearly all external noise, one of their drawbacks is that you can't hear external sound when you want to—for example, if someone is talking to you. The inline push-to-hear module fixes this problem: When the feature is disabled, you hear a direct signal from your audio source; when you flip the switch on the module, your source's audio level is reduced and a microphone in the module picks up ambient sound. (You control the volume level of external sound via a dial on the PTH module.) It's a unique and desirable feature for canalphone fans; the only drawback is that the PTH module, which provides 15-20 hours of "listening time" off a single AAA battery, is a bit bulky.
Shure's E500PTH
Ultimate Ears, on the other hand, wasn't demonstrating anything new—only their current lineup of headphones, which includes the excellent super.fi 5 Pro and the Plays of the Year -winning super.fi 3 Studio. However, the company let us know that the super.fi series will be undergoing an aesthetic redesign in the coming months. The revised models will feature new, more comfortable enclosures with smooth, glossy finishes for a more stylish appearance. The cables used in the super.fi line will also be upgraded.
Pump up the (headphone) volume
Speaking of headphones, HeadRoom, likely the most respected headphone retailer on the 'net, showed off a plethora of private listening options in the company's large suite. Besides the dozens of quality headphones available for testing from such companies as Sennheiser, AKG, Grado, and Beyerdynamic, HeadRoom was also demonstrating their latest line of headphone amplifiers. Golden-eared iPod owners will want to check out the new versions of the iPod-sized Total AirHead and Total BitHead amps. (The AirHead provides only analog inputs, whereas the BitHead also includes a USB digital input for connecting to your computer.) Compared to the previous versions, these battery-powered headphone amplifiers feature upgraded circuitry, quieter volume pots, and a gain switch for using the amps with headphones of different impedances—all for $50 less than before (now $149 and $199, respectively).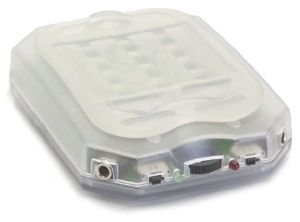 HeadRoom's Total BitHead
For those more serious about their on-the-go listening, and who want the flexibility to improve their digital music system at home, HeadRoom showed off their Micro Stack, a $598 combination of diminutive digital-to-analog converter (DAC) and headphone amplifier units. The Micro Amp offers significantly better performance than the AirHead amplifier, with the Micro DAC improving on the digital-signal handling of the BitHead. You can use the Amp by itself on the road with your iPod and then hook it up to the DAC at home to listen to your computer's digital audio output. Granted, to really benefit from the Micro Stack, you'll need to have high-quality music files—low-bit-rate listeners need not apply—and the Stack truly shines when powering hard-to-drive headphones such as the higher-end offerings from Sennheiser, Grado, AKG, and the like. But if you've got the gear, this is a serious upgrade for your headphone system.
Belkin booth
Most iPod owners are familiar with the name Belkin, as the company has released a steady stream of iPod accessories over the past several years. And although Belkin's presence at HES was focused mainly on the company's high-end PureAV audio/video accessory offerings, they took some time to show Playlist a number of upcoming—and potentially upcoming—products.
First up was the TuneStage nano, an iPod-nano-fitting version of the Plays of the Year -winning TuneStage. Like the original, the TuneStage nano uses a Bluetooth transmitter connected to your iPod to send the iPod's music wirelessly to your home stereo or powered speakers, letting you use your iPod itself—with its famous Click Wheel and on-screen interface—as a "remote." However, because the TuneStage nano connects to your iPod's dock-connector port, it works with the nano (and, based on our observation of the design of the demonstration model, with the 5G iPod [with video]). In addition, with the TuneStage nano, Belkin officially supports pairing the TuneStage's transmitter with A2DP-capable Bluetooth headsets, headphones, and auto head units. The TuneStage nano will retail at the same $180 price as the original and should be available in July. On a related note, Belkin told Playlist that a version of the TuneStage designed specifically for the iPod (with video) will be released in September; that model will be available in black or white and will feature new wireless technology and a new receiver design.
The company was also demonstrating the new TuneTalk Stereo, an accessory for the iPod (with video) that lets you record CD-quality audio. The dock-connector-port add-on provides two omnidirectional microphones for recording stereo audio, as well as a 1/8" (3.5mm) minijack input for using an external microphone. A switchable auto-gain feature can automatically set recording levels, and a USB-mini port on the TuneTalk lets you power/charge your iPod while recording. Also included with the TuneTalk is a plastic stand that lets you place your TuneTalk-equipped iPod upright and a spacer that lets you use the TuneTalk Stereo with many iPod cases. The TuneTalk Stereo will retail for $70 and should be available later this month.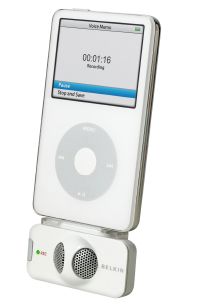 Belkin's TuneTalk Stereo
Belkin also showed us the upcoming TuneCommand AV, an audio/video docking cradle that lets you connect your iPod to your home stereo for playing music and to your TV or home theater system for showing video and photos; like other similar products, it also charges your iPod while docked. The RF-based, eight-function wireless remote, identical to the one used in Belkin's standard TuneCommand, has an advertised range of 120 feet and works through walls. The $80 TuneCommand AV will be available later this month.
Finally, Belkin gave Playlist a sneak peek at one other interesting piece of potential gear: A tube-based stereo amplifier with built-in iPod dock. What we saw was clearly a prototype, with a rough metal enclosure and off-the-shelf switches and knobs, but it's an interesting product nonetheless. Like Scandyna's Dock, you slide your iPod in the dock cradle, connect a set of quality bookshelf speakers, and you've got an iPod stereo system. I call the product "potential" because Belkin hasn't decided whether or not they'll actually produce it.
Loud(speaker) and proud
As you might expect, HES was overflowing with amplifiers and speakers; unfortunately, few of them were aimed at improving the sound of iPods and computers. But there were a few exceptions. The one Playlist is most looking forward to is ZVOX Audio's $350 ZVOX 325. ZVOX specializes in one-piece, multi-driver speaker systems that offer surprisingly good soundstage and stereo imaging; we've been especially impressed with the company's portable ZVOX mini, which we talked about in our review of Apple's iPod Hi-Fi and are currently evaluating for a feature review. The new 325 combines a number of features of the mini—front-mounted volume and effect controls, a remote, a streamlined enclosure—with the larger size and bigger sound of the older, non-portable ZVOX 315. In addition, the 325 offers more power, a more sophisticated amplifier, and a larger woofer than the 315. The 325 should offer significantly better sound than the 315 while also addressing several of our criticisms of that model. The 325 is scheduled to ship in late July or early August.
At the other end of the spectrum was Ferguson Hill's $1250 FH007 Mini System. Clearly aimed at the high-end "lifestyle" market, the five-piece FH007 includes a small, cube-shaped amplifier providing 16 Watts per channel into four channels; two (left/right) bass speakers; and two (left/right) horn-style speakers for midrange and treble. The system is striking in its design, with the four speakers all being completely clear and the diminutive amp presenting only a single volume knob on the front. And in case there was any doubt about the target audience for the FH007, the demonstration system was connected to an iPod for playback.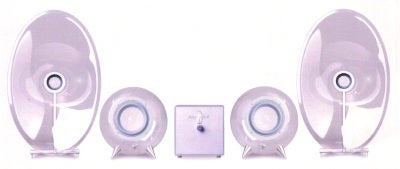 Ferguson Hill's FH007
And what does a $16,000 headphone system sound like?
While in the HeadRoom area, I got a chance to listen to the company's ultimate system: $10,000 Meridian CD player, $5600 HeadRoom Max Balanced headphone amplifier, $550 Sennheiser HD 650 headphones, and $275 Cardas Balanced headphone cables. (There were also some high-end interconnects, but I didn't get a chance to see what were used; likely something quite expensive, so the cost of the system was surely higher.) The centerpiece of the system, of course, was the headphone amplifier: Whereas the Total AirHead, mentioned above, is designed for a typical listener's budget, with the Max Balanced the company said, "Let's make the best product possible, regardless of price." How crazy is the amp? The Alps-made volume control costs $1100. (It's allegedly the finest pot in the world; I should hope so.) In other words, the Max Balanced is made for people who want the best and are willing to pay for it. And if you should have deep enough pockets to purchase such a monster headphone amp—and the $10,000 CD player to go with it—you'll be rewarded with what is likely the best audio you've ever heard. I've listened to 6-figure loudspeaker-based stereo systems, and I can tell you this: Speaker listening is different than headphone listening, but once you've heard this thing, you'll be hard pressed to say speakers are better . I liken the listening experience to getting behind the wheel of a McLaren F1 (or at least how I image it would be, considering that I've never actually done so)—something you're glad you did, even if you'd never personally be in the market.