Father's Day is just around the corner, and you're stumped for gift ideas. You won't be able to face dad if you wind up giving him another tie. Your dad doesn't even like golf. And you're only now back on speaking terms after last year's nose-hair trimmer episode.
But if dad owns an iPod, your worries are nearly over. There are dozens of iPod accessories that can help him get the most out of his music. But which one should you pick?
Our editors have been combing through Playlist's Product Guide searching for iPod gear for all kinds of dads, whether they're an iPod novice or they have more gear than they know what to do with. And we've assembled a collection of iPod accessories at every price range, from gifts for less than $25 to high-end gear that will cement your place in dad's will.
Other Summer Gear Guide installments
For novice iPod owners
There's a first time for everything—walking, talking, eating oysters, and, yes, even unwrapping your very first iPod. And when you do open that box, you'll find some earbuds, a fuzzy gray pouch, and a data cable—useful accessories, but hardly the stuff that will expand your iPod's capabilities beyond the basics. If your dad is the sort of person still getting by with few accouterments that ship with the iPod, here are some ideas to help expand his horizons.
Protect your 'pod There's a reason Apple provides that little gray pouch with fifth-generation iPods and iPod nanos for a reason—these models show marks and accumulate scratches. Given that dad will expose his iPod to the elements from time to time, he can make its front and back scratch-resistant by applying Power Support's Crystal Film Set ($16 for 5G iPods, $15 for iPod nanos ). Held in place by static electricity, these thin films are tough as nails, clear as glass, and easy to apply.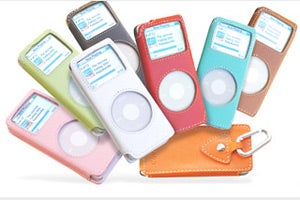 Covertec's Luxury Pouch Case for the iPod nano comes in a rainbow of colors.
Now that scratches are taken care of, you can help dad protect his iPod from bumps and bruises with a leather case from Covertec. The leather Luxury Pouch Case for iPod Video costs $30 , comes in a variety of colors, and leaves the iPods controls and ports easily accessible. This same style case is available for the iPod nano for $20 . To give your tiny iPod a more classic look, check out Covertec's $27 Luxury Case for iPod nano .
Listen up If your dad is like most iPod owners, it won't be long before he craves better-sounding and more comfortable earbuds. V-MODA supplies just that in its $50 Remix M-Class earbuds . Available in three flashy finishes, the M-Class earbuds are more than just aesthetically-pleasing accessories. Their fit and finish, as well as their sound quality, are impressive.
In-ear earbuds like the FS1 from XtremeMac and Future Sonic can improve upon the performance of the included earbuds that come with each iPod.
Dads disappointed in the size and fit of the earbuds that come with the iPod should give a listen to XtremeMac's $150 FS1 earbuds. Designed by Future Sonics—the company responsible for many of the in-ear monitors musicians use during live performances—the FS1s provide both a comfortable fit and well-rounded bass response.
For a completely personal listening experience, dad needs headphones that conform, quite literally, to his ears. He can have just that with Ultimate Ears' $550 UE-5c custom-fit earphones. Each pair is created from impressions taken of the ears by a local audiologist. Expensive, yes, but they're as comfortable as can be and deliver great sound that blocks out all but the most clangorous noises around you.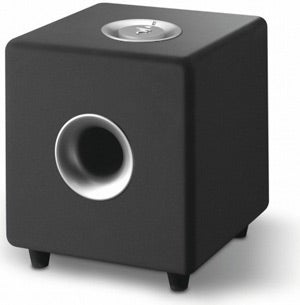 The iCub combines a subwoofer/amplifier/digital-audio-converter unit with a pair of quality satellite speakers for impressive audio performance.
If you're going to drop $550 on a pair of custom-fit headphones, you shouldn't flinch at spending $750 for Focal-JMlab's iCub. A combination subwoofer/amplifier/digital audio converter unit, the iCub coupled with a pair of quality satellite speakers (which aren't included) produces impressive sound (provided that the sound you feed it through its analog and digital inputs is of a quality sufficient to show off the iCub's sonic qualities). The iCub offers tight and controlled bass frequencies without the thump offered by lesser subwoofers and its amplifier produces rich and realistic tones (at just about any volume you care to crank).
Plug in Part of the pleasure of owning an iPod is jacking into other gear you own. To inexpensively pair your iPod with your home stereo, grab dad Monster Cable's $15 Mini to RCA Audio Interconnect Cable. A stereo miniplug on one end plugs into your iPod's headphone port and the two RCA connectors on the other fit snugly into your stereo receiver's Auxiliary jack.
Speaking of cables, Apple includes a single Dock Connector to USB cable in the iPod's box. For a more flexible cable—one dad can use to power his iPod even when his computer's asleep—get Apple's $19 iPod Dock Connector to FireWire and USB 2.0 Cable . This is a "Y" cable that bears a dock connector on one end and splits out to USB and FireWire connectors. Although the 5G iPod and iPod nano won't sync over FireWire, they will charge from a FireWire connection—even when the computer's asleep (something a USB connection on some computers won't do).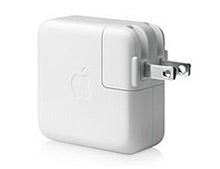 With an iPod USB Power Adapter, dad can charge his iPod even when he's away from the computer.
And while we're on the subject of power, why force dad to tie his iPod to the computer every time he wants to give it a charge? Opt for Apple's $29 iPod USB Power Adapter and dad can juice his iPod from any available power outlet.
Odds and ends To really put the "portable" in your portable player, dad should be able to play it through his car stereo. There are lots of ways to do this. A direct cable connection from the iPod's dock connector to the stereo's input provides the best audio, but this isn't a convenient or affordable option for everyone. If it's not, consider DLO's $99 Transpod , an FM transmitter that plays the iPod's music through the car's radio. Providing power through the car's auto power outlet (commonly known as the "cigarette lighter"), the Transpod is easy to use, lets you store four preset stations, and overpowers all but the strongest competing FM stations.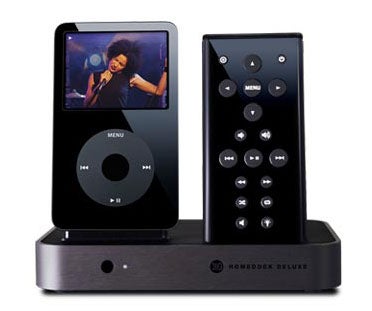 The HomeDock Deluxe from DLO lets you connect your iPod to a home stereo or television.
DLO also offers a good solution for integrating your iPod into your home's media center. Its $150 HomeDock Deluxe performs the functions of Apple's iPod Universal Dock and a whole lot more. This sleek dock and solid IR remote control not only let you connect your iPod to a home stereo and television via the included audio and AV cables, but you can also navigate through your iPod's music collection from a special television interface developed by DLO.
If dad has already welcomed in the 21st century by procuring that era's most popular music player, it's time he made his kitchen radio just as current. You can help him do so with Tivoli Audio's $300 iSongBook . This portable iPod speaker system/radio includes controls for playing AM and FM radio, five presets per radio band, sleep timer and alarm, a preset for playing the iPod's audio through its dock connector, a clever fold-down dock for mounting the iPod, a remote control, and speakers that can be separated to provide a broader stereo field. Oh, and it sounds good too.—CHRISTOPHER BREEN
For new fathers
Forget about dads who are new to the iPod. What about fathers who are new to fatherhood? Here are some gift ideas sure to earn you a big "thank you" from that novice dad—assuming he's alert enough to speak after weeks or months of interrupted sleep, 2 a.m. feedings, and countless dirty diapers.
Music to sleep by Giving dad the gift of music in the form of a $24 gift certificate from the iTunes Music Store is a great gift idea. But it's important that you also recommend he purchase his music within a particular genre: baby lullabies. Why emphasize music to help the young 'un nod off to sleepsville? Because more sleep for the baby means more sleep for dad and mom, which makes for a happier household. As the father of a three-year-old and a two-month-old, I've had good luck with Baby Einstein Lullaby Classics and Lullaby (Classical Music for your Baby) . If you're into Celtic music, you're in luck as well— Celtic Twilight 3 Lullabies is a collection of Celtic lullabies. Sure, Dad might spend his certificate on something else—but not if he's smart.
Kolcraft's iBaby Reclining Umbrella Stroller features an iPod dock with speaker so that you can enjoy some tunes when taking your baby out for a stroll.
That new music doesn't have to stay behind when dad takes the baby out for a stroll. The $30 iBaby Reclining Umbrella Stroller from Kolcraft includes an iPod dock with speaker, so that both dad and baby can enjoy the iPod. The iBaby stroller has your regular stroller features as well, including a cup holder for dad's water bottle, a sun shade, and a three-point safety harness for baby. For only $30, though, don't expect audiophile quality sound from the built-in speaker or much in the way of color options—the stroller only comes in pink.
Baby proof that iPod As a babies become toddlers, they will quickly discover a new sport: throwing dad's stuff. If this activity involves something of limited value—dad's shoes, say, or the newspaper—a good laugh can be enjoyed by all. But if the child happens to grab dad's nano or iPod Video and sends it hurtling toward the tiled kitchen floor, things suddenly become less funny. Enter OtterBox's protective Otterbox iPod case. Available for every iPod ( shuffle: $20, nano: $35, color-screen iPod: $50), these rubberized sturdy cases will help your iPod survive your child's experimentation with gravity—and yet, the controls are still usable within the case. As a side bonus, these cases are waterproof down to one meter, which means even a bit of rain while out strolling with the iBaby won't hurt your iPod.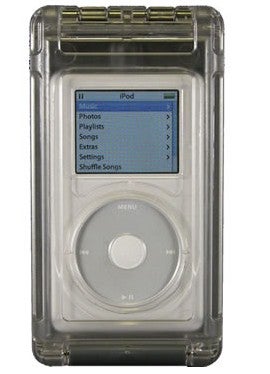 One of Otterbox's protective cases can keep your shuffle, nano, or full-sized iPod safe from your offspring's wrath.
If one's child possesses superhuman strength, and you're fearful that not even the OtterBox is protection enough for that full-size iPod, then the $40 Matias iPod Armor case from Matias is what you want to give to dad. This padded rugged aluminum structure will save his iPod from anything the little one can dish out. While locked up in the case, the iPod's controls aren't usable, but you can use all the controls once the case is flipped open. This thing is so rugged that Dad's iPod would have a good chance of surviving an accidental tumble down the concrete stairway outside the local day care—not that I would recommend such a stress test.
Dad's all ears As Christopher Breen mentions up above, the earphone buds that come with every iPod provide better-than-average sound, but you can certainly do better—especially for your Dad—and for not much money, either. Sennheiser's MX500 in-ear headphones sell for $20 , while delivering better sound quality than the Apple-provided units thanks to deeper bass response and better midrange. The MX500 even features a volume control on the cable.
On those rare occasions where someone volunteers to watch the baby so that dad can enjoy some quiet time, a $330 set of ER4 MicroPro in-ear headphones from Etymotic Research will come in hand—especially if a crying baby doesn't want to cooperate. These in-ear headphones block out from 35db to 42db of external noise, the highest among any type of headphone. Once dad fits them properly to his ear canal, he'll hear nothing but his music… at least until mom comes and taps him on the shoulder to let him know it's time for a shift change!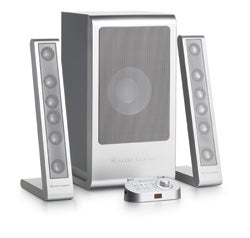 The FX6021 2.1 speaker system from Altec Lansing offers a three-speaker setup for sharing your music with others.
Music for all When it's time to celebrate that first birthday party, here's a suggestion on how to share some festive music with the other attendees: Altec Lansing's $250 FX6021 2.1 speaker system . You get an impressive three-speaker setup (two satellites and a subwoofer), a multi-function wired controller, and even a wireless remote control. Plug in dad's iPod via its audio output, and you'll have a roomful of great tunes. The FX6021 produces excellent overall sound, with great midrange and detail. The subwoofer's driver is a bit small, so you won't be able to make the floor bounce, but it still sounds great. And when the party's over, dad can connect the system to his Mac for desktop use.—ROB GRIFFITHS
For on-the-go dads
I've been a father for less than five years now, but I've already learned a few things. First off, dads are busy. Really busy. They're always running from place to place, whether it's for work, errands, parental obligations, or, most likely, some combination of all three. Since I continue to find myself away from home far more than I'd like, I've crafted a list of some iPod-related suggestions for other dads on the go.
The car as sanctuary The stereotypical father is still a road warrior, driving long distances in order to provide security for his family. Stereotypes be damned, a lot of people still spend far too much time in traffic. Thank goodness the iPod can ease the pain of long drives.
Rather than adding a flashy gadget to the car, why not integrate dad's iPod via a more subtle approach? Dension's $200 Ice-Link Plus replaces his car's existing trunk CD player with an iPod. Instead of CDs, his car stereo now has five iPod playlists at the ready, which he can fill to bursting with his favorite artists, genres, or albums. Dension makes an "active cradle" to drop your iPod into, but I never want to be bothered with taking my iPod in and out of the car every time I park somewhere. Instead, get Dension's Dock Cable and stow your iPod out of sight in your car's trunk—right where that obsolete CD player used to be.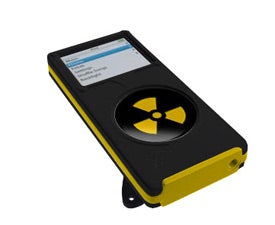 Silicone iPod cases from iFrogz come in a number of colorful designs such as "Toxic Black Sunburst."
Walking, running, mowing When dad's out navigating the cold, cruel world, make sure his iPod is protected. iFrogz's line of $31 iFrogz silicone iPod cases are colorful and protective, with an optional screw-on belt clip.
Once his iPod is stowed away safely on his belt or in his backpack, dad will still want to control the volume, pause, and skip tracks at his leisure. There's no better alternative than Apple's own $49 Apple FM Radio Remote . Not only does the Apple accessory feature a snazzy white clip-on wired remote, but it also comes with a built-in FM radio tuner.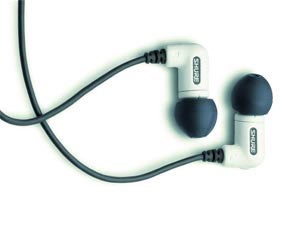 In-ear headphones like Shure's E3c model can help dad drown out the outside world without pumping up the volume to dangerous levels.
I've found that there's no better place to use an iPod than when I'm mowing the lawn. Unfortunatley, those lawnmowers are noisy! But smart dads don't simply turn up the iPod's volume controls—that's what leads to deaf daddies. Instead, dads need to use a high-quality pair of in-ear headphones that block outside sounds while also making beautiful noises in your ear. Shure's $110 E3c headphones will replace that awful lawnmower noise with music of incredible detail and clarity.
Planes, trains and hotel rooms Many modern businessdads find themselves traveling far away from home, riding on airplanes and sleeping in hotel rooms. It's a sad time for any dad who wants to be back with his family—so why not use the iPod to make it less unpleasant?
Dad may enjoy watching a full season of episodes from his favorite show purchased off Apple's iTunes Music Store.
For video iPod-toting dads, consider a season's worth of TV episodes, such as Lost, available for $35 at the iTunes Music Store. And let dad watch that video on the plane without any interference with an amazing set of high-quality in-ear headphones, UltimateEars' $250 super.fi 5 Pro .
In the hotel room—or in your back yard, or even perched on the toilet tank in your bathroom—there are plenty of times when you want to listen to music, but don't want to wear any headphones. My favorite portable speaker is Tivoli Audio's $150 iPal . It's got an auxiliary jack for your iPod, tunes in AM and FM radio stations, and will run when unplugged on a rechargeable battery. The iPal is great for a trip to the beach, a sunny afternoon in the backyard, or a sojourn in a far-off hotel room.
Make the experience even better by letting dad pack his dock and Apple's $29 Apple Remote , which lets him control the iPod wirelessly from across that hotel room. If he doesn't have an infrared-controlled iPod dock, you can get one from Apple for $49 .-JASON SNELL
For dads at home
Sure, there are plenty of ways for pop to enjoy his iPod on the go. But what about when he's relaxing at the homestead? Here are some suggestions for bolstering at-home audio enjoyment.
Connections are cheap You could buy a powered dock that connects an iPod (or a computer) to a home stereo, but such a setup can run $50 to $150. Shoppers on a budget should consider the less expensive route of separate cables and a charger. Belkin's $6 Y Audio Cable gives you left/right RCA connections (for connecting to a stereo receiver or amplifier) on one end and a 1/8-inch miniplug (for connecting directly to an iPod's headphone jack or the audio output of Apple's iPod Dock) on the other.
For better quality, Belkin has a $20 Stereo Link Cable offers better cable and connectors and the $20 AV Cable for 4G/5G iPods includes a video cable for watching photos and videos on the TV. (Most self-powered speaker systems, such as those you'd connect to a computer, include a cable with a 1/8-inch miniplug, so you don't need to buy one.)
If you go this route, you'll also want to keep your dad's iPod powered up, and Sonnet's $20 iPod USB Power Adapter , compatible with 4G and newer iPods, is the most inconspicuous—and one of the least expensive—we've found.
It'sn iPod dock! It's a flash card reader! Actually, Edge Tech' Dock & Multi Flash Card Reader for iPod is both.
What's up, dock A dock for charging and syncing an iPod with iTunes is a handy gift, but if your dad is like most modern fathers, he also has a digital camera. Edge Tech' $45 Dock & Multi Flash Card Reader for iPod can save some space on his desk by combining a standard iPod dock with a universal media card reader. The iPod cradle on top works with all dock-connector iPods and features a dock-connector port and audio and S-Video outputs on the back. The media-card slots on the front accommodate xD, SD, MMC, Memory Stick (standard, Pro, and Duo), SmartMedia, Compact Flash, and MicroDrive cards. USB2.0 speed means tunes and picts transfer quickly.
Old school, new sound Most dads born before the '80s likely have music in a format other than CD. Getting that music onto an iPod can be a challenge, but ADS Tech's $50 Instant Music makes it easy. Simply connect your receiver or tape deck—or phono pre-amp if your dad still has vinyl—to the Instant Music's inputs and then connect the Instant Music to your computer via USB. Play back your music source and then record to your favorite audio format on your computer. (Mac users can use GarageBand to record, whereas Windows users can use the included Nero Mix and Wave Editor 2. You can also use other audio-recording apps on either platform.)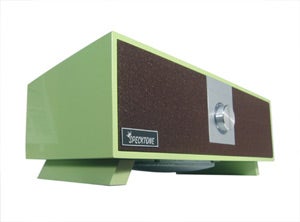 Go retro with Speck Product's SpeckTone, an iPod speaker system that recalls the radios of the Eisenhower Administration.
There are plenty of options for iPod speaker systems out there, but older dads will get some nostalgia from the design of Speck Product's $150 SpeckTone. With an enclosure made of real wood and available in white, black, or super-retro mint green with brown, the glossy SpeckTone is a spitting image of the table radios of yesterday. But this radio features an iPod dock cradle, 28-Watt amplifier, and 4-inch subwoofer, which means it will easily fill the den or bedroom with music. It even includes two "skin" cases, one for the iPod nano and one for the iPod (with video).
As for a newer speaker systems, Apple's $349 iPod Hi-Fi purports to be "portable," but its size and weight limit how far you can take it. If your pop wants something that offers comparable sound quality—perhaps better, depending on dad's preferences—in a more portable package, get him ZVOX Audio's $200 ZVOX mini. At 13-by-10-by 3.3 inches, the ZVOX mini, available in black, white, or silver, is significantly smaller than the Hi-Fi and also 10 pounds lighter (7 pounds lighter if you include the mini's external power supply). Yet the mini offers superior detail, soundstage, and stereo imaging. You won't get the room-shaking volume or bass levels of the Hi-Fi, but it's a more-than-fair tradeoff, especially given the mini's lower price. And if dad wants to take the ZVOX mini out to the back yard, an additional $100 gets him a hefty rechargeable battery and a padded case for carrying the mini, battery, power supply, and an iPod—he won't even have to take the mini out of the bag to use it.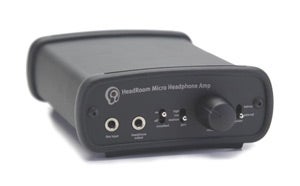 The HeadRoom Micro Amp offers a dedicated headphone amplifier that will lets higher-end headphones reach their full audio potential.
Money's no object Got a father with golden ears? Got deep pockets? Get dad a headphone rig that'll do his lossless music justice. HeadRoom's $299 Micro Amp bypasses your iPod's headphone jack and provides a dedicated headphone amplifier with better circuitry and the ability to drive higher-end headphones to their potential. (You should connect such a product to the iPod's dock-connector audio output via an iPod dock or an accessory such as SendStation's $30 PocketDock Line Out .) With a Micro Amp between his iPod and headphones, he'll hear increased dynamic range, better detail, punchier presence, better bass response—simply better sound overall. In addition, HeadRoom's crossfeed processor—which adds an ever-so-tiny bit of delayed audio from the right channel to the left, and vice versa—helps reduce the "blobs in the head" effect of traditional headphone listening; it makes listening to headphones less fatiguing and more like listening to speakers or a live performance. (The processor can be switched off if dad prefers.)
But don't stop there: If dad spends a lot of time in front of the computer, HeadRoom's $299 Micro DAC is a matching digital-to-analog converter (DAC) that dad can connect to his computer's digital audio outputs for high-end desktop listening. Superior to the DACs found on computer sound cards, the Micro DAC will make working at home much more enjoyable—in fact, it might be difficult to pull dad away from the computer. And the aluminum-bodied Micro Stack (as HeadRoom calls the pair) is only 3.5-inches wide by 4.5-inches deep and just a few inches tall—it takes up less desk or table space than a couple iPod docks.
To get the most out of this high-end gear, dad will likely need a headphone upgrade. AKG's new $400 K 701 headphones may look like an example of iPod-influenced style-over-substance, thanks to their white-and-silver appearance, but these cans are among the best in the world. Like their predecessors in AKG's line, the K 701 offer stunning resolution across the audio spectrum, but you also get deep bass extension and enough punch and impact to keep you rockin'.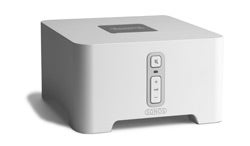 Sonos' ZonePlayer 80 is a smaller unit than the original ZP100—but it adds optical and coaxial digital output.
Let dad (and everyone else) enjoy music no matter which room he's in with Sonos's Digital Music System. The Sonos system creates its own mesh wireless network of ZonePlayers; each ZonePlayer can play tracks from your digital music library individually, or you can combine zones to send different audio to different parts of the house. (A Party Mode plays the same thing everywhere.) The ZonePlayer 100 ($499 each) includes its own 50-Watt-per-channel amplifier; add speakers and you've got a full-blown stereo system. The diminutive ZonePlayer 80 ($349 each) eschews the amplifier in favor of small size and digital outputs—perfect for connecting to an existing stereo system. You can mix and match ZonePlayers to equip each possible listening room, and then use the LCD- and iPod-like-scroll-wheel-equipped Sonos Controller ($399) to coordinate them all.—DAN FRAKES
For the dad who has everything
All the previous gift suggestions are all and well and good if your dad has a missing part of his iPod accessory puzzle. But what if he already has a fairly complete assortment of add-ons—the noise-canceling headphones, the sweet home stereo set-up, and all the music he could ever want? What can you get this species of iPod lover, iPodus Maximus? Here are a few ideas.
Bargain hunting If you're low on cash, you can try a free gift that puts the "fun" into "functional." When your dad isn't looking, swipe his color-screen iPod and take it to your Mac. Once you're connected to the Internet, load it up with maps—specifically, iPod Directions or iPod Subway Maps . The free iPod Directions is a slick and easy way to integrate Yahoo! Maps with your iPod. Simply type in the starting and ending points (just like you would with any online map service) and this website will generate directions and the map that you can download to your dad's iPod. And if your dad takes public transit to work, the free iPod Subway Maps offers iPod-compatible versions of subway maps for cities around the world, including San Francisco, Chicago, Boston, New York, Salt Lake City, and Los Angeles.
If your dad's a frequent traveler, he'd surely appreciate tips on where he can connect to the Internet and perhaps even get a decent cup of joe when he's on the road. Snag your dad's iPod, and hook him up with the free WiPod , a great Web site that has custom built lists for all 50 states and many countries around the world, including Russia, Peru, and the Netherlands Antilles. All you have to do is just figure out where your dad's off to next and out fit his iPod with data. If a future destination happens to be San Francisco or New York, you could also load him up with MacworldEats , a list of our favorite local eateries or the PiPod , a list of all the best pizzerias in the Big Apple's five boroughs.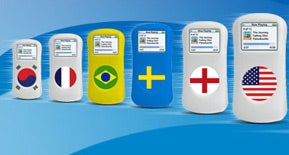 AVA's Lava World Cup cases for the iPod nano sport the flags of the participants in the soccer tournament.
Even if dad isn't going to get a chance to travel to Germany for this month's World Cup, you can still get something that the soccer fan in him will appreciate—the Lava World Cup case from AVA. This $15 rubber iPod nano case comes with a cover for the screen and replaces the clickwheel with the flag of dad's favorite World Cup team—the United States, Germany, Italy, Spain, Japan, Sweden, and Brazil, among others. After you present it to him, you can show him how to download a free World Cup encyclopedia from Coolgorilla. This software includes files on World Cup history and a team guide for every single national team.
Eat, drink, and be merry Get dad a gift that everyone can enjoy with a one-two punch of two great American classics: the $10 Pocket Bar & Grill for iPod from Enrique Quintero Design and the $16 audiobook version of The Daily Show with Jon Stewart Presents: America The Book from the iTunes Music Store. Dad can consult any one of 750 mixed drink recipes and 225 food recipes with the turn of an iPod wheel. That way, by the Fourth of July, he'll have practiced enough to wow the whole family. While salivating over grilling tips is only so much fun, The Daily Show with Jon Stewart Presents: America The Book provides nearly four hours of laugh-out-loud storytelling of America's political history from basic cable's premier court jester. Just make sure your Dad doesn't combine these two activities—gut-wrenching laughter combined with fire and/or alcohol don't go so well together.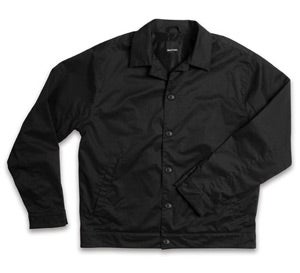 It may not look like it, but this BlackCoat Work shirt from Koyono lets you stash and control your iPod.
Fashion forward OK, so dad has the upper-tier iPod case, the upgraded headphones, and a tricked-out iPod setup for his car. But he probably doesn't have a shirt which he can plug his iPod into. He will if you get him the $249 BlackCoat Work from Koyono. (A $275 "premiere" edition is also available.) The shirt has iPod controls on the inside of the front buttons for easy access, allowing dad to walk down the street with his iPod concealed while maintaining control over his music.—CYRUS FARIVAR