June isn't just a month for giving dads their just desserts. It's also the time of year when colleges and high schools wrap up sending newly minted graduates out of the halls of academia and on to their next challenge. Whether that next step is four more years of college or a job in the real world, we think that graduates deserve to be handed more than just a diploma—they've also earned some great iPod gear to help them enjoy whatever life throws at them next.
Ah, but what iPod gear? We'd love to be able to tell you what today's soon-to-be-former student desires. But the last time we graduated from anything, our contemporaries rocked out to strange shiny circles that the ancients called "compact discs." For expertise on the kind of gear that earns top honors from the kids these days, we've turned to a pair of writers who've been actually inside of a classroom sometime during the last olympiad— MacUser bloggers Derik DeLong and Dan Moren. Together, they've created an iPod accessory wish list that's sure to please the high-school or college graduate in your life.
Other Summer Gear Guide installments
Part One: Gifts for dads
Part Three: Summer travel tools
For the iPod
Case study Recent and future college students aren't exactly known for using a gentle touch on their electronics. We're much too busy either getting to know fellow students or adjusting to the new job to handle devices with care. And that's problematic for the iPod, which has been known to pick up a scratch or two in the course of everyday use. To extend the aesthetic life of Apple's portable music player, try the $35 eVo3 from iSkin. One of the best cases when it comes to total iPod protection, the eVo3 stands up to the usual wear and tear and comes in six colors, helping your grad assert his or her individuality.—DERIK DELONG
Apple's iPod Camera Connector is small, but it packs a big punch, letting you download pictures directly from your camera onto the portable device.
Oh, the places you'll go If you're heading off on one of those post-collegiate jaunts around the world, you're going to collect a lot of memories; just don't let one of them be lugging around a heavy laptop. Apple's $29 iPod Camera Connector lets you put those gigs of empty space on your color-screen iPod to use by allowing you to download pictures directly from your digital camera. Best of all, the tiny connector won't take up much extra room in your backpack.—DAN MOREN
Docking bay SendStation's PocketDocks aren't exactly glamorous, but trust me, neither is the real world. PocketDocks, which cost $15 to $30 depending on which model you need, simply ensure you have the right tool for the job at hand. These little dongles plug into the iPod's dock connector and provide, depending on the model, a standard USB or FireWire port for syncing and charging your iPod using a USB or FireWire cable, and/or a stereo miniplug for access to the higher-quality line-level audio output of the iPod's dock port.—DM
For your ears
MBA: Much better audio Now that your student has graduated from school, maybe it's time they graduated to quality headphones as well. Grado makes some of the finest headphones around that get even more expensive than the iPods themselves. The lower end of Grado's product line is much more affordable and a huge step up from Apple's included headphones. The entry-level SR60 headphones are the best value at $70 , but the SR80 headphones cost only a little more at $95 and supply a little more punch. They are supra-aural, bleeding some sound, so unless you're trying to help your high school grad annoy their new college roommate, make sure that's understood.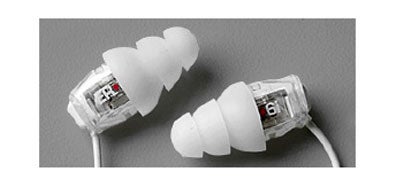 Etymotic Research's ER-6i headphones feature good sound while isolating external noise.
If you're looking for headphones that keep external sound out, check out the offerings from Etymotic Research. Rob Griffiths sang the praises of the ER-4 MicroPro headphones in the first part of the Gear Guide. Me, I favor the $150 ER-6i model . It may be a lower-ending sibbling to ER-4, but the ER-6i still offers good sound along with excellent noise isolation, and at a much lower price. That kind of isolation can help, particularly if your roommate owns a pair of Grados, or just talks a lot.—DD
Noise, begone If there's one thing college is full of, it's distractions. While you shouldn't avoid every one—that's what college is for, after all—from time to time you may need to actually study. For those rare occasions, Bose's $299 noise-canceling Bose Quiet Comfort 2 headphones could be your best friend. Pop these suckers on and watch as your roommate's ceaseless prattling becomes the soothing sound of silence.—DM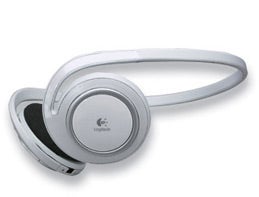 Logitech's Bluetooth Headphones pump sound from your iPod without the hassle and heartbreak of wires.
Look, no wires When I'm on my way to that critical job interview, nothing helps me bolster my confidence like one of my favorite songs. But having to untangle myself from a mess of wires just to shake hands doesn't make the best first impression. That's where Logitech's $120 Bluetooth Headphones come in. Plug the Bluetooth transmitter into your iPod and you're ready to jam cable-free. Discreetly pocket the headphones and nobody will be the wiser. Just remember to hit Pause on the headphones' integrated controls too, unless your prospective employer turns out to be a death metal fan.—DM
For your closet
Just do it There's no better way to stave off the Freshmen Fifteen than good old-fashioned, heart-pumping exercise. But if, like me, you know more about overclocking than burning calories, never fear—pounding the pavement these days can be decidedly high-tech. The $29 Nike+iPod Sports Kit includes a sensor that goes in a pair of special Nike+ sneakers and a receiver that attaches to an iPod nano. Running stats display on the nano; they're also spoken over the headphones. You can also upload your info to Nike's Web site to track your progress. Triggering the "Power Song" is great for those last-minute dashes to class.—DM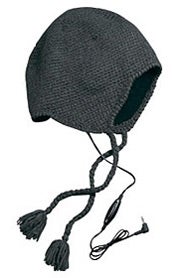 With the Burton Headphone Beanie, you can keep listening to your favorite tunes, thanks to the hat's integrated earphones, without ever exposing your head to the elements.
Hat's off There are a lot of great colleges in the northeast United States, but as a local, let me warn you—it gets cold. Really cold. You don't want to be in a situation where you have to choose between jamming to your favorite tunes and keeping your head icicle-free. So check out Burton's $40 Burton Headphone Beanie, a warm wool hat with integrated earphones. Even better, you can remove the speakers and pop in a different set.—DM
For your car
A seatbelt for your iPod When you're driving around, the last thing you want to do is search around in your car for where the iPod is resting in order to flip to a new song or see what'ls playing. Some very lucky people own a car that has a place to rest their iPod. For the rest of us—including the cash-strapped college student or graduate—that might not be an option. Fortunately, most cars feature cupholders in convenient places. That's where Belkin's $30 TuneDok comes in handy. The TuneDok ships with three adapters, any one of which will fit snugly in a cupholder to keep your iPod in place. Got a nano or mini ? Belkin has you covered with kits for those models, too.—DL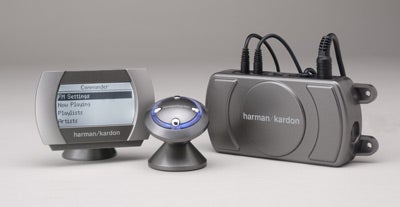 These are the components that make up Harman Kardon's Drive+Play system for integrating iPods with a car's stereo system.
The rockin' road I used to constantly drive long distances to school and back, and though my iPod and tape adapter were lifesavers, Harman Kardon's $200 Drive+Play system makes my setup look like an 8-track player. Not only can Drive+Play connect to car stereos via auxiliary jacks or a CD changer adapter, but it also has a dashboard-mountable screen and a control knob that mimics the iPod's interface, so you don't have to fumble around while you're on the highway. Trust me, your parents will like that.
If the Drive+Play is the gold standard in iPod-car connectivity, then BMW's iPod Adapter has gone platinum. Calling the $34,800 to $41,800 Z4 roadster an iPod accessory may be wishful thinking on my part, but in addition to being slicker than a banana peel on a patch of oil, the Z4 lets you access your entire music library and control your iPod, all from the steering wheel. Remember, in the real world it's not what you drive that matters, but what you listen to while driving.—DM
Power listener FM transmitters are popular for iPod—they let you listen the music stored on your iPod over your car stereo—but many of them don't address the issue of power. I can't count the number of times I got into my car and plugged a transmitter into my iPod only to discover I had barely enough juice to listen a couple songs. Fortunately, Cars have alternators; so you might as well get a device that puts it to use. Griffin Technology's $20 PowerJolt works with any iPod that can charge over USB. It also includes a high quality USB-to-Dock Connector cable that will definitely come in handy.—DD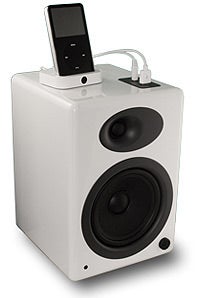 Its compact size makes the AudioEngine 5 ideal for dorm rooms or that first post-college apartment.
For your room
A room with a boom Ah, the essentials of that first apartment—food, water, and, most important, a kicking stereo system. But why spend the cash on pricey stereo components and speakers when you've already got your iPod? Audioengine's $349 Audioengine 5 can provide great sound for a fraction of the price and space. It even has a USB port to power your iPod for those long parties.—DM
Radio days While iPods are a revolution and podcasting is rapidly eating into radio's market share, there are times where you just want to listen to the radio or a CD. The Bose Wave Radio not only has the ability to do both, but also features some of the richest sound to come out of such a small package. Some adapter cables for bringing in iPod's sound are essential.—DD