The summer months are a time to get away and explore new places. No matter where you're headed—across the country, overseas, or just out to the beach—make sure that your trusty iPod is among your traveling companions. After all, one of the best things about having a truly portable player is the ability to take it anywhere.
Our Summer Gear Guide wraps up with suggestions on accessories and equipment that will help you get the most out of your iPod whether you're traveling by car or by plane. And we've also got suggestions on gear that will help you continue to enjoy your music and videos once you arrive at your getaway destination.
Other Summer Gear Guide installments
Part One: Gifts for dads
Part Two: Gifts for grads
Road trip gear
Few things are better in life than cruising the open road with your favorite music blasting from your car stereo. And few things are dicier than leaving the selection of your road-trip soundtrack up to the vagaries of over-the-air radio. One minute, you're speeding down the highway to one of your favorite songs, the next you're listening to the pops and hisses of a fading signal or—worse—the rantings of a moody talk-radio loner who's convinced that the martians are in league with the Prussians to ruin this year's wheat crop.
Fortunately, if you've taken along your iPod, the days of desperately searching the AM/FM dial for something remotely appealing are over. Before you hit the road this summer, make sure you have a handful of the following accessories within reach to keep the music playing long after you've left the city limits of your hometown.
Station to station The first thing you'll need for your road trip is a device that gets the music from your iPod onto your car stereo. If your car stereo has an auxiliary input jack on the front, you're set—you just need a simple cable, and you've got the best connection possible. If not, you have two relatively inexpensive choices—a cassette adapter or an FM transmitter.
Personally, I favor the cassette adapter, which is a cassette-sized device that pops into your car's tape deck with a cable that connects it to the iPod. Because the cable usually plugs into your iPod's headphone jack, cassette adapters tend to work with any model iPod, even older, non-dockable ones. And because you're not competing with FM radio signals for a space on the dial, cassettes give you a more consistent performance.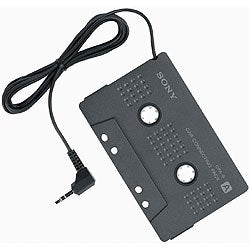 With its ability to play music from the iPod over your car's tapedeck, Sony's CPA-9C cassette adapter will be a welcome companion road trips.
One iPod-compatible cassette adapter is pretty much like another, so the thing you're really looking for is price; most sell for around $20. I've had a good experience with Sony's $20 CPA-9C , a black adapter that plugs easily into everything from an iPod mini to one of the more recent models. More aesthetically minded users might prefer an adapter that doesn't clash with their iPod's color. If you demand that all your accessories be as white as the driven snow, try XtremeMac's $20 Cassette Adapter for iPod or Monster Cable's $20 iCarPlay Cassette Adapter . At $30, Griffin Technology's SmartDeck costs a little more than other adapters . But it also does a little more— SmartDeck lets you jump from song to song using the tape deck's forward and rewind buttons as well as the pause and play controls. It's a lot handier reaching for your stereo interface than it is fumbling for your iPod while driving.
A final note about cassette adapters: make sure wherever you buy one has a clear return policy, as not every adapter is compatible with every car stereo system. I've sampled maybe a dozen adapters over the years, and only one has refused to work with my car stereo. That's a pretty good success rate—though that would be of small comfort if you get the one adapter that doesn't work, and you don't make that discovery until you're halfway to the middle of nowhere with only the Farm Report to keep you company. So take that cassette adapter out for a test drive before that lengthy road trip.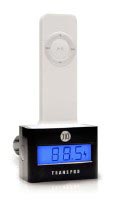 iPod shuffle owners have an FM transmitter to call their own, thanks to DLO's TransPod shuffle.
If you've got a car stereo without a tape deck, you'll want to give an FM transmitter a try. These devices plug into either the headphone jack or the docking port of an iPod. You dial in an FM frequency on the device—sync it up to the FM band on your car radio, and you can broadcast music from your iPod via your stereo system. For that reason, look for a transmitter that lets you select from as much of the FM band as possible, instead of just a few select frequencies.
Transmitter performance can vary from area to area—the stronger the competing signal from a radio station, the less likely you'll be able to cleanly transmit your own music. But we've had some success with Monster Cable's $80 iCarPlay Wireless Plus for dockable iPods. It's got an easy-to-read LED display plus a charger that connects to you car's cigarette lighter so that you're not draining the iPod's battery. Similarly, Kensington's $80 Digital FM Transmitter/Auto Charger for iPod combines an FM transmitter and power adapter; in Playlist's testing, the Kensington transmitter offered better sound quality than what we've come to expect from similar devices. And while many of FM transmitters are aimed at dockable iPods, shuffle owners need not feel abandoned. DLO offers the $60 TransPod shuffle . This version of the TransPod plugs into the cigarette adapter, allowing it to serve as a transmitter, charger, and shuffle mount in one tiny package.
Power up Having your iPod at your side for an extended road trip won't do you much good if you run out of juice before you even reach the halfway mark. You'll need a device that keeps your iPod powered up by drawing a charge from the cigarette adapter on your dashboard.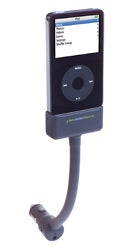 Plug TenTechnology's FlexibleDock has a 6-inch flexible arm to position your iPod at a usable height while you charge it via the cigarette adapter on your car's dashboard.
We've already talked about FM transmitters that also pull double-duty as chargers. But if you're looking for devices that focus solely on boosting battery life, consider TenTechnology's $50 FlexibleDock, which works with all dockable iPods. The FlexibleDock's 6-inch flexible arm positions your iPod at a useful height and stays in place, even when you hit the occasional bump in the road. Another solid option, Griffin Technology's $20 PowerJolt was covered by Derik DeLong in part two of our gift guide.
ezGear's $14 CarShare provides a clever solution to a potentially dicey problem—what if you want to charge more than one thing on those long drives? Just plug the CarShare into the cigarette lighter adapter—it offers two jacks so you can juice up your iPod and your cell phone at the same time.
Keep your place It may be tempting to have your iPod ride shotgun, but maybe the person seated next to you won't appreciate having to share a seat. Besides, you wouldn't want your iPod bouncing around every time you make a sharp left turn. Derik DeLong mentioned Belkin's TuneDok in a previous Gear Guide installment —that's the iPod dock that fits snuggly in a cupholder for easy access. But if you'd rather reserve your cupholder for stashing the 32-ounce cola you're drinking to beat the summer heat, you could turn to HandStands's $9 iSticky Pad . The sticky rubber pad promises to bind your iPod to any car dashboard—HandStands also says that the pad is washable, removable, and reusable.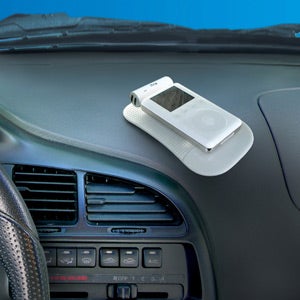 The iSticky Pad will hold your iPod in place as you motor down the highway.
You can also see that your iPod travels in style with the $70 Monster iCase Travel Pack from Monster Cable. The travel case features a durable nylon exterior. In addition to a place for securing your iPod, you also get pockets and storage compartments for stashing accessories. Two add-ons come with the case—a splitter for connecting two headphones in one jack and a battery charger.
Sing along with iPod If you're a long-time iPod user, you doubtlessly have an entire library's worth of tunes to accompany those extended drives. But if you're looking to augment your collection with some driving-appropriate background music, sample some of the iTunes Essentials playlists at the iTunes Music Store. The $73 Late Night Driving Songs can help those dusk-to-dawn drives go by just a little faster. The $72 Country Road Songs can put some pep into your pickup. And the $44 Kids Travel Songs will drown out those incessant cries of "Are we there yet?" with familiar tunes from The Wiggles and Dora the Explorer.—PHILIP MICHAELS
Flying the musical skies
As much fun as it may be to sit for hours, glaring at the back of the seat that's crushed your legs since 10 minutes after take-off, there are more pleasant ways to while away the hours on a long plane ride. One of them is listening to (and watching, in the case of the fifth-generation model) your iPod. Try these iPod add-ons the next time you take to the air.
Battery check The iPod's battery provides enough play time for a cross-country flight, but for those really long flights you'll want a little extra help. The least expensive way we know of is Griffin Technology's $20 TuneJuice Backup Battery for iPod . Compatible with any dock connector iPod, the TuneJuice is a small external power source that houses a single 9-volt battery. A completely drained iPod will play music for up to four hours from this battery. If your iPod is charged up, the TuneJuice should provide around eight additional hours of music play. Because video is more power-intensive, expect to get less playtime from the TuneJuice when used with a 5G iPod playing your favorite TV programs.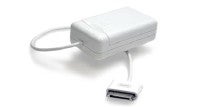 TuneJuice from Griffin Technology can bolster your iPod battery so that the music never stops during your cross-country flight.
Griffin's TuneJuice is a convenient option for extending your iPod's battery charge, but if you're flying halfway around the world, even it won't help you get through the first season of Lost on a single charge. For this kind of robust charge you need a bigger battery, specifically an external Lithium-Ion battery from Lithium House or Battery Geek. These somewhat bulky external batteries are available in different capacities (from 50 to 200 hours of additional music play time) and are priced between $70 and $250.
If you're among the fortunate few who travel on your company's nickel and get to sit in the high-tone areas of the aircraft—specifically, those seats equipped with power outlets—save some wear and tear on your iPod's battery and acquire Monster Cable's $30 iAirPlay Charger for iPod. As its name implies, the iAirPlay offers a 15v airplane power jack on one end and an iPod dock connector on the other. Plug it into the airplane's power outlet and your iPod, and the music and video never stops. Better yet, the iAirPlay also includes an adapter that works with an automobile's power outlet.
The belt loop on DasBlau's Versa flipcase doubles as a sturdy stand, letting you place a video-capable iPod on a tray table for easy viewing during flights.
Travel in comfort If you're on a flight that lasts longer than an hour, your arms will quickly grow tired of holding your 5G at a video-friendly viewing angle. Das Blau' $60 Versa flipcase for 5G iPods makes viewing video less stressful by providing a belt loop that folds out to become a sturdy stand, suitable for placing on a tray table. This attractive leather case allows you to place your iPod at angles of approximately 40, 50, 65, or 75 degrees.
To this point we've recommended a power adapter, a case, and an external battery. Now you need somewhere to put all this gear—and to pull your traveling ensemble together. Try Waterfield's $35 Large iPod Gear Pouch. Yes, it looks just like a clutch purse. Get over it. It's a great (and attractive) way to conveniently carry your iPod and its accessories.
Drown out a jet engine Despite the insulation jammed into their walls, jets are noisy, inside and out. To enjoy more music and less noise, check out Sennheiser's $220 PXC300 noise-canceling headphones . These lightweight, closed mini headphones intelligently sample outside noise and cancel 80 percent of it by creating an inverse audio signal.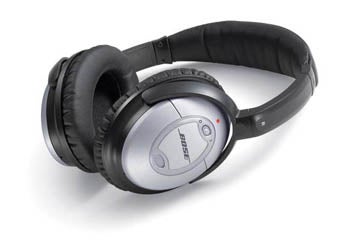 The QuietComfort2 Acoustic Noise Canceling Headphones from Bose offer comfort—and the elimination of outside noise—to the weary traveler.
We like the Sennheiser PXC300s for getting rid of monotonous noise, but they're not the most comfortable noise-canceling headphones on the planet. That honor goes to the Bose's aptly named $300 QuietComfort2 Acoustic Noise Canceling Headphones. Yes, these are those somewhat bulky 'phones you see folks in business- and first class pulling from their stylish attachés. Quite honestly, we prefer the audio quality of Sennheiser's noise canceling headphones, but you can't touch the Bose for coziness.
What else? So you've got your iPod, headphones, and an external battery to keep it alive. You forgot one thing—something to play on it. Before leaving on a jet plane, consider packing it with Leaving On a Jet Plane or any number of other tunes or videos available from the iTunes Music Store. A $100 gift certificate buys your frequent flyer the first seasons of Lost, Weeds, and Desperate Housewives with $10 leftover for The Best of Peter, Paul and Mary: Ten Years Together.
The only way to fly Face it, traveling by commercial airliner is a drag—long lines to check in, security hassles, bad food that you now have to pay for, and no leg room. Screw it. For the ultimate iPod flying accessory, do as Steve Jobs does and get yourself your own plane. Jobs slums it with the $40 million Gulfstream V. You can do better with the Gulfstream G550, a jaunty little model featuring a large cabin, a range of 6,750 nautical miles, a maximum cruising altitude of 51,000 feet, and speeds up to Mach .885. You can outfit one of these babies with any audio system you like. And if the crew complains about the volume, hand them a parachute and ask them to follow the lighted path to the nearest exit. The price? If you have to ask, you can't afford it.—CHRISTOPHER BREEN
Stuff for when you get there
The flight is over and you've caught a cab to your hotel (or got a ride from your uncle and find yourself in a relative's spare bedroom) and long for the comforts of home. Luckily, that same iPod that that helped you through a few legs and a longer-than-expected layover in Salt Lake City can also be your best friend when you've actually arrived at your destination. Here are some add-ons that you might want to keep in your travel bag for that next trek.
Go mobile Headphones are a necessity on an airplane, but when you reach destination, you might want something you can hear as you wander around the hotel room. A portable speaker set such as Logitech's $150 mm50 Portable Speakers for iPod . Although slightly bigger than the competition, the build and sound quality of these Logitech speakers are great—and a nice bargain as well. The speaker system even comes with a protective case and a wireless remote, so it's made for travel.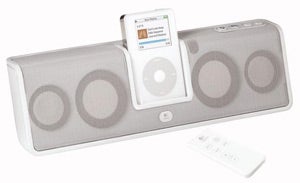 Besides featuring great sound, Logitech's portable mm50 speakers also com with a protective case and a wireless remote.
Still, sometimes you need to keep the noise down (like when your hosts have gone to bed). In that case, a good set of headphones is still needed. For something lightweight with excellent detail and midrange, as well as impressive bass, few headphones can compete with Sennheiser's $50 PX 100 . These headphones are sturdy, extremely comfortable, and fold up for storage in an included hard case for travel. (And for $10, you can buy a white, silver, and grey version to match the classic white iPod.)
Once you've gotten to where you're going, why keeping watching videos on the iPod's screen? The iPod AV cable lets you hook your portable player up to a television.
Get connected Viewing photos or watching videos on the fifth-generation iPod's crisp, bright screen is a joy when you're out and about. But if you've got access to a TV at your destination, why not take advantage of it? With Apple's $19 iPod AV Cable , you can connect to the standard composite inputs found on TVs and watch those TV shows and movies you've dropped onto your iPod without the need to squint. (You can also use the AV cable to connect the iPod to a stereo to enjoy your music aloud.)
Bundle up Sure, it's summertime now, but future travels might take you to some place chilly. And iPods are hard to control with frozen fingers. That's when you need PlayPoint's $35 tavo Gloves. Unlike normal gloves, these add a special "touch" patch to the tip of the index finger and thumb that mimics the electrical properties of human fingertips. The tavo gloves are thin—so best for keeping your hands warm when running or biking in the cold, and probably not for skiing—but they do provide some warmth, and include silicone "dimples" on the palms and fingers that offer an improved grip.—JONATHAN SEFF