The summer months are a time to get away and explore new places. No matter where you're headed—across the country, overseas, or just out to the beach—make sure that your trusty iPod is among your traveling companions. After all, one of the best things about having a truly portable player is the ability to take it anywhere.
Our Summer Gear Guide wraps up with suggestions on accessories and equipment that will help you get the most out of your iPod whether you're traveling by car or by plane. And we've also got suggestions on gear that will help you continue to enjoy your music and videos once you arrive at your getaway destination.
Part One: Gifts for dads
Part Two: Gifts for grads
Road trip gear
Few things are better in life than cruising the open road with your favorite music blasting from your car stereo. And few things are dicier than leaving the selection of your road-trip soundtrack up to the vagaries of over-the-air radio. One minute, you're speeding down the highway to one of your favorite songs, the next you're listening to the pops and hisses of a fading signal or—worse—the rantings of a moody talk-radio loner who's convinced that the martians are in league with the Prussians to ruin this year's wheat crop.
Fortunately, if you've taken along your iPod, the days of desperately searching the AM/FM dial for something remotely appealing are over. Before you hit the road this summer, make sure you have a handful of the following accessories within reach to keep the music playing long after you've left the city limits of your hometown.
Station to station The first thing you'll need for your road trip is a device that gets the music from your iPod onto your car stereo. If your car stereo has an auxiliary input jack on the front, you're set—you just need a simple cable, and you've got the best connection possible. If not, you have two relatively inexpensive choices—a cassette adapter or an FM transmitter.
Personally, I favor the cassette adapter, which is a cassette-sized device that pops into your car's tape deck with a cable that connects it to the iPod. Because the cable usually plugs into your iPod's headphone jack, cassette adapters tend to work with any model iPod, even older, non-dockable ones. And because you're not competing with FM radio signals for a space on the dial, cassettes give you a more consistent performance.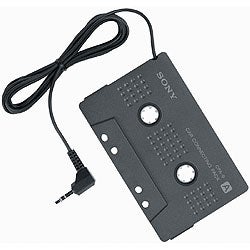 With its ability to play music from the iPod over your car's tapedeck, Sony's CPA-9C cassette adapter will be a welcome companion road trips.
One iPod-compatible cassette adapter is pretty much like another, so the thing you're really looking for is price; most sell for around $20. I've had a good experience with Sony's $20 CPA-9C , a black adapter that plugs easily into everything from an iPod mini to one of the more recent models. More aesthetically minded users might prefer an adapter that doesn't clash with their iPod's color. If you demand that all your accessories be as white as the driven snow, try XtremeMac's $20 Cassette Adapter for iPod or Monster Cable's $20 iCarPlay Cassette Adapter . At $30, Griffin Technology's SmartDeck costs a little more than other adapters . But it also does a little more— SmartDeck lets you jump from song to song using the tape deck's forward and rewind buttons as well as the pause and play controls. It's a lot handier reaching for your stereo interface than it is fumbling for your iPod while driving.
A final note about cassette adapters: make sure wherever you buy one has a clear return policy, as not every adapter is compatible with every car stereo system. I've sampled maybe a dozen adapters over the years, and only one has refused to work with my car stereo. That's a pretty good success rate—though that would be of small comfort if you get the one adapter that doesn't work, and you don't make that discovery until you're halfway to the middle of nowhere with only the Farm Report to keep you company. So take that cassette adapter out for a test drive before that lengthy road trip.
iPod shuffle owners have an FM transmitter to call their own, thanks to DLO's TransPod shuffle.
If you've got a car stereo without a tape deck, you'll want to give an FM transmitter a try. These devices plug into either the headphone jack or the docking port of an iPod. You dial in an FM frequency on the device—sync it up to the FM band on your car radio, and you can broadcast music from your iPod via your stereo system. For that reason, look for a transmitter that lets you select from as much of the FM band as possible, instead of just a few select frequencies.
Transmitter performance can vary from area to area—the stronger the competing signal from a radio station, the less likely you'll be able to cleanly transmit your own music. But we've had some success with Monster Cable's $80 iCarPlay Wireless Plus for dockable iPods. It's got an easy-to-read LED display plus a charger that connects to you car's cigarette lighter so that you're not draining the iPod's battery. Similarly, Kensington's $80 Digital FM Transmitter/Auto Charger for iPod combines an FM transmitter and power adapter; in Playlist's testing, the Kensington transmitter offered better sound quality than what we've come to expect from similar devices. And while many of FM transmitters are aimed at dockable iPods, shuffle owners need not feel abandoned. DLO offers the $60 TransPod shuffle . This version of the TransPod plugs into the cigarette adapter, allowing it to serve as a transmitter, charger, and shuffle mount in one tiny package.
Power up Having your iPod at your side for an extended road trip won't do you much good if you run out of juice before you even reach the halfway mark. You'll need a device that keeps your iPod powered up by drawing a charge from the cigarette adapter on your dashboard.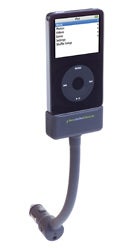 Plug TenTechnology's FlexibleDock has a 6-inch flexible arm to position your iPod at a usable height while you charge it via the cigarette adapter on your car's dashboard.
We've already talked about FM transmitters that also pull double-duty as chargers. But if you're looking for devices that focus solely on boosting battery life, consider TenTechnology's $50 FlexibleDock, which works with all dockable iPods. The FlexibleDock's 6-inch flexible arm positions your iPod at a useful height and stays in place, even when you hit the occasional bump in the road. Another solid option, Griffin Technology's $20 PowerJolt was covered by Derik DeLong in part two of our gift guide.
ezGear's $14 CarShare provides a clever solution to a potentially dicey problem—what if you want to charge more than one thing on those long drives? Just plug the CarShare into the cigarette lighter adapter—it offers two jacks so you can juice up your iPod and your cell phone at the same time.
Keep your place It may be tempting to have your iPod ride shotgun, but maybe the person seated next to you won't appreciate having to share a seat. Besides, you wouldn't want your iPod bouncing around every time you make a sharp left turn. Derik DeLong mentioned Belkin's TuneDok in a previous Gear Guide installment —that's the iPod dock that fits snuggly in a cupholder for easy access. But if you'd rather reserve your cupholder for stashing the 32-ounce cola you're drinking to beat the summer heat, you could turn to HandStands's $9 iSticky Pad . The sticky rubber pad promises to bind your iPod to any car dashboard—HandStands also says that the pad is washable, removable, and reusable.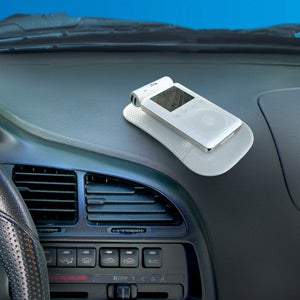 The iSticky Pad will hold your iPod in place as you motor down the highway.
You can also see that your iPod travels in style with the $70 Monster iCase Travel Pack from Monster Cable. The travel case features a durable nylon exterior. In addition to a place for securing your iPod, you also get pockets and storage compartments for stashing accessories. Two add-ons come with the case—a splitter for connecting two headphones in one jack and a battery charger.
Sing along with iPod If you're a long-time iPod user, you doubtlessly have an entire library's worth of tunes to accompany those extended drives. But if you're looking to augment your collection with some driving-appropriate background music, sample some of the iTunes Essentials playlists at the iTunes Music Store. The $73 Late Night Driving Songs can help those dusk-to-dawn drives go by just a little faster. The $72 Country Road Songs can put some pep into your pickup. And the $44 Kids Travel Songs will drown out those incessant cries of "Are we there yet?" with familiar tunes from The Wiggles and Dora the Explorer.—PHILIP MICHAELS
Note: When you purchase something after clicking links in our articles, we may earn a small commission. Read our affiliate link policy for more details.