When it debuted in late 2005, Apple's Front Row promised to give you control over your music, movie, and image files with just a click of the remote control. And for the most part, the media-management software that comes bundled with certain iMac G5s and all Intel-based Macs delivers—though not without a few quirks.
True, Front Row lets you watch movies and slideshows and listen to your music library, controlling the media more or less as you see fit. Periodic updates have fixed behavioral hiccups like not being able to shuffle songs by artist or album. But certain slideshow effects still work sporadically in Front Row and video playback can be inconsistent. And of course it's only supported on Intel Macs and the iMac G5.
It's only natural, then, that those left wanting by Front Row's feature set (and PowerPC-based Mac users who are barred from a fully-supported version of Front Row) would be eager to find an alternative. And stepping up to fill that void is MediaCentral from Equinux. MediaCentral is free and works with both PowerPC-based Macs (with an 800MHz or faster processor) or the Intel models.
But does it shine where Front Row sometimes stumbles? As part of my ongoing experiment to create the ultimate Mac-centric multimedia center, I spent some time taking MediaCentral out for a test drive. What I found was a home-media interface that, while not without promise, isn't yet ready for prime time.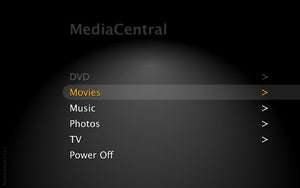 MediaCentral's main interface
The look
Just like Front Row, MediaCentral takes over your Mac's screen, displaying a gray background populated with large heading commands that can be easily seen from across the room. On the main screen, you find entries for DVD, Movies, Music, Photos, TV, and Power Off. These command don't exactly duplicate Front Row's features. For example, if MediaCentral doesn't find a DVD movie in the drive, it will look in your Documents folder for a Video_TS folder—a folder that holds a movie you've ripped from DVD—and let you play that movie.
If you've attached an Elgato Systems EyeTV 200, 300, 400, or 410 digital video recorder (DVR) to your Mac, MediaCentral's Movies screen offers the option to view movies stored in the EyeTV Recordings folder. The Movies screen also provides access to movies in your Mac's Movies folder and lets you preview many of the same movie trailers offered by Front Row. The TV command takes you to a screen where you can choose to play streamed television content from WebTV as well as view live TV from an EyeTV device (again, assuming you have one connected to your Mac).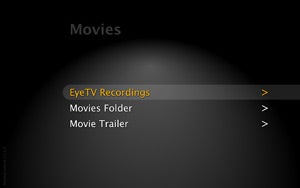 MediaCentral's Movies screen will display programs recorded using one of Elgato's digital video recorders if you have one connected to your Mac.
Using your Mac's keyboard to navigate, you use the Up and Down arrow keys to select items and press the Return, Enter, or Right Arrow key to activate the selection and move to the next menu screen. If you have an Intel-based Mac, MediaCentral can be controlled via the Apple Remote Control that ships with those systems. If you have an Intel Mac or PowerPC Mac, you can control most of MediaCentral's controls with a compatible remote control such as Keyspan's $40 RF Remote for Front Row. Equinux also addresses what kinds of remote controls MediaCentral supports in an FAQ about the program.
The performance
MediaCentral lacks some of Front Row's niceties. For instance, it won't play the videos you've purchased from the iTunes Music Store nor will it play movies from a shared volume. And there's no Shuffle command in evidence for shuffling through your music collection.
Regrettably, the program is riddled with inconsistencies. Although at version 1.2.1, MediaCentral is a beta in everything but name. Even though the program claims it can play live EyeTV programs, it's more miss than hit—MediaCentral routinely timed out when I asked it to show what was playing on my EyeTV 200. (It doesn't recognize the existence of the recently released EyeTV 250 ). When playing back music, multiple iTunes playlists of mine were grayed out and inaccessible.
MediaCentral's controls aren't standardized. When you play movies stored in the Movies Folder screen you can use the Right arrow key or a remote's fast forward button to jump ahead through the movie. Try the same thing with music tracks in the Music area or movies found in the EyeTV Recordings screen and MediaCentral zips back to the beginning of the movie. Temporary navigation and volume windows designed to disappear after awhile sometimes don't and when the program locks up (as it did a handful of times in my tests) there's no way out. Because MediaCentral dominates the screen and doesn't grant you access to the mouse, there's no way to invoke a Force Quit command. You must restart your Mac by pressing and holding the power switch.
The verdict
I salute Equinux for its initial attempt to bring a free alternative to those who are barred from the Front Row (or find its seats uncomfortable) and pray that those efforts will continue. MediaCentral has potential, but that potential is far from realized. Let's hope Equinux's engineers have the resources (and patience) to finish the job.