One of the most popular features of modern email clients is the preview pane, which provides an inline preview of a selected email message. Using the preview pane, you can view messages without having to open them in new windows.
Mac OS X's Mail application, the most-used email client on the Mac platform, includes a preview pane positioned below the message list: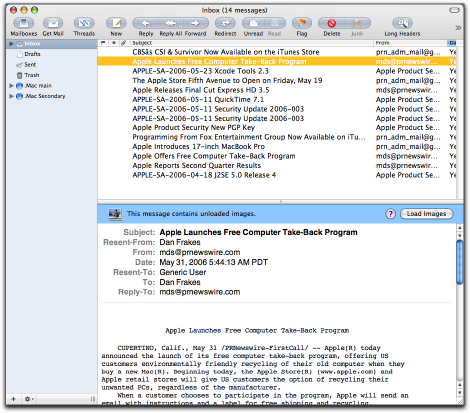 However, if commentary on the 'net is any indication, having the preview pane on the right —an option in Microsoft's Entourage and Mozilla's Thunderbird, and common in RSS readers such as Ranchero's NetNewsWire—is more popular among those who've tried both approaches. I know I prefer such an orientation, as it lets me view more of the selected message (provided I have a wide enough screen, of course), as well as a longer list of messages in the current mailbox or folder. (In fact, considering that Apple no longer makes a non-widescreen display, I'm surprised the company hasn't included such an option in Mail.)
After hearing enough requests for such a feature, Aaron Harnly, with inspiration from a thread in the Mac OS X Hints forums and another in the Ars Technica forums, has released the free Letterbox 0.16 , a .bundle add-on for Mail. Once you've installed Letterbox using the provided installer, Mail's preview pane appears on the right-hand side instead of on the bottom.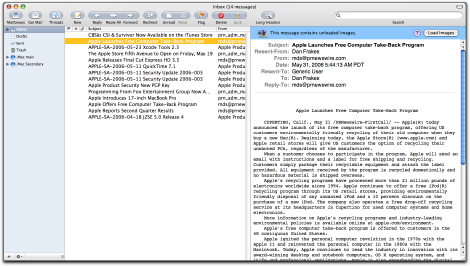 Just as with Mail's standard window layout, you can change the size of the preview pane by dragging the divider between it and the message list.
Letterbox is currently in the early beta stage, so it's still got a few bugs. For example, column handling isn't very good, so you can get stuck in a situation where certain columns (subject, from, to, date, etc.) are hidden or partially hidden and can't be revealed without quitting and relaunching Mail. And it would be great to be able to easily switch between views—preview pane on the bottom or the right. (You currently have to uninstall Letterbox to get your bottom-mounted preview pane back.) Still, more than a few Mail users are excited about Letterbox's potential.
Letterbox works with Mac OS X 10.4 (Tiger). Some users have had success using it with Mac OS X 10.3.9, but such use is not supported.