At a glance
Expert's Rating
Pros
Attached rotatable second screen
Folds to back of MacBook
Cons
Bulky and heavy
Niche use cases
Our Verdict
If you don't mind bulking up and weighing down your MacBook, and you have a real need for a foldable, portable second screen, the Dual Laptop Screen Extender may well be your solution. But most people would do better with a separate external display.
Price When Reviewed
From $299.99
Best Prices Today: CopGain Dual Laptop Screen Extender
MacBooks can quickly and easily hook up to external displays for greater desk-based screen space. While the plain M1/M2 MacBooks support just one extra screen, the 16-inch MacBook Pro (M2 Max) supports up to four monitors.
On its own, the built-in 16-inch screen is gigantic compared to that on the 13-inch MacBook Air, but rather poky when you're working on a complex spreadsheet or wanting to enjoy a big-budget streaming movie in more glory than in-flight entertainment.
What the large built-in laptop screen does offer, of course, is portability. You can't lug that 32-inch 4K Samsung display to your local coffee shop or fit it on your airplane-seat foldout tray. You can buy portable external displays at up to 17 inches—not much larger than the laptop's own. The INNOCN Portable Monitor 15.6-inch USB-C Laptop Monitor is one of the best.
But the CopGain Dual Laptop Screen Extender is something different: it's a screen that physically attaches to your laptop, rather than just linking by USB cable. You can then carry around your very own dual-screen laptop in one simple if rather bulky package.
Function over form
The CopGain Dual Laptop Screen Extender isn't a looker, but it's quite a head-turner. With this second screen extended, I've had people walking past stop and gape with curiosity at my two-headed mutant MacBook. It takes some getting used to and Jony Ive would probably attack it with a claw hammer, but it would be wrong to say that this Frankenstein's monster is ugly or doesn't at least try to fit the Apple aesthetic.
Foundry
The second screen measures 12 inches diagonally for 13-inch and 14-inch MacBooks and 14 inches for the 16-inch MacBook model. (I tested it with a 14-inch MacBook Pro.) Attaching the screen isn't difficult but the instructions could be a lot clearer, as most people have no doubt experienced when constructing flat-pack furniture. Basically, it attaches to the laptop with a bracket that can be firmly affixed to your MacBook with a removable nano-adhesive.
The screen is nowhere near as sharp and clear as the MacBook's own—available resolutions range from 960×540 to 1920×1080 at 60Hz. While the higher resolution offers a lot of virtual screen space, at 12 inches it is difficult to make out much. Using the lower resolution means you can see details more easily. Working with a complex Excel sheet on the second screen was a real help during video calls, or you could set it to play a movie while you work on something on the laptop's screen. However, you wouldn't want to work solely on the second screen or use it for editing in Photoshop.
The screen can be folded back into its special case and protected with one of two included magnetic covers—a metal cover that matches the MacBook's own coloring, and a gray faux leather cover. This makes it easy to carry, although it significantly bulks up the otherwise slim MacBook at over half an inch and 1.87 pounds (850g). The height of the MacBook more than doubles from 0.61 inches (1.55cm) to 1.38 inches (3.5cm), and weight increases massively from 3.5 pounds (1.6kg) to 5.4 pounds (2.4kg). That's the same heft as the original PowerBook G4 in 2001.
Foundry
As with an external display, you can control the brightness, contrast, sharpness, hue, dynamic contrast ratio, color temperature, and other aspects via a small onscreen panel. How to use these functions is not obvious—you'll need to work it out yourself by tapping and double-tapping the small scroll wheel on the screen mount.
The screen rotates about 200 degrees (less than the 270 degrees that the manufacturer claims), and will work even when folded back, meaning you could work on the MacBook's own screen while showing the second screen on the back of the laptop—ideal if you want to show off what you are doing to someone (in mirrored mode) or let your kid watch a movie while you work (in extended mode).
Like an external display, you can set the second screen to either mirror your laptop's screen or extend it for extra real estate. For example, in Slide Show mode presentations can be split across the two screens—one showing the full-screen slides and the other for the presenter with the next slide and notes. Just click Swap Displays in PowerPoint, depending on how you want it. This mode works best if you're presenting to people in front of your Mac, with the screen folded back to face them.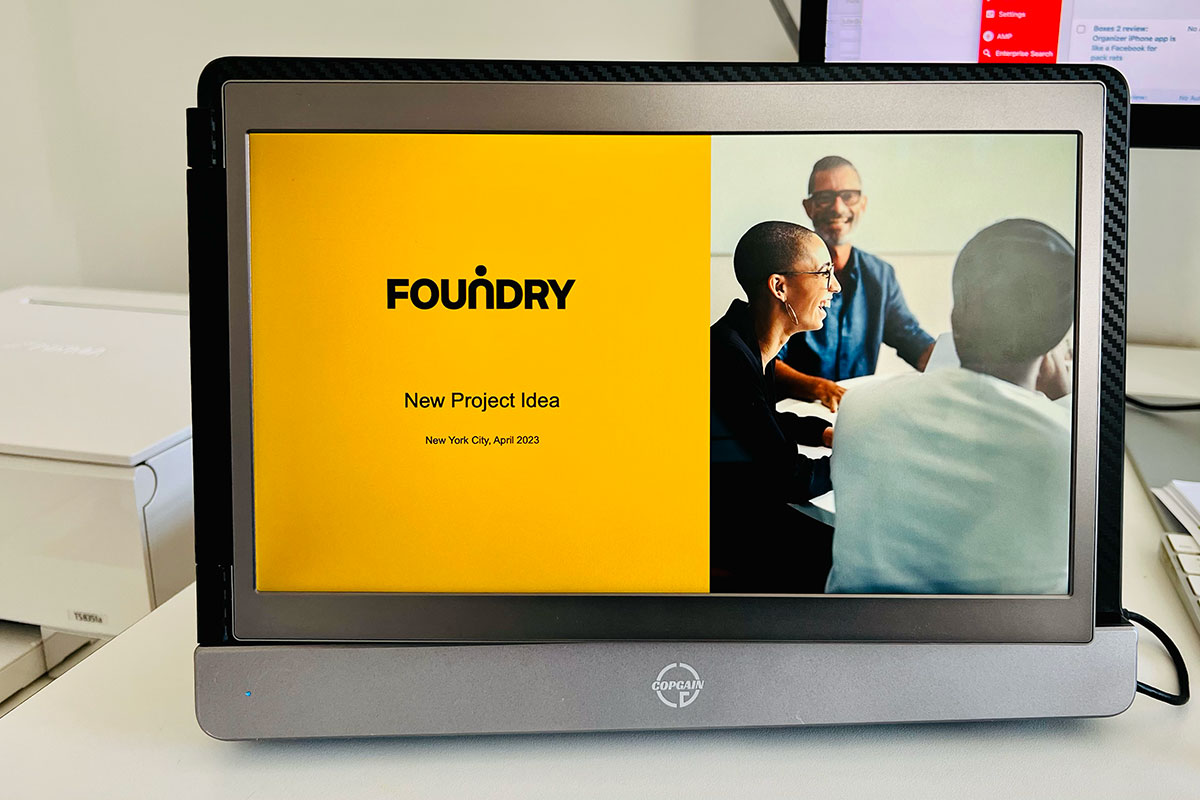 Foundry
Should you buy a CopGain Dual Laptop Screen Extender?
The CopGain Dual Laptop Screen Extender ranges from $299 to $339 depending on the size of the MacBook it will be attached to. That's expensive for a second screen—especially one this small—but you are paying for portability and convenience rather than screen acreage.
It's not a desktop solution. This dual-screen MacBook solution is perfect for small-group presentations and other specific on-the-move and in-meeting screen space extension needs. If you want a permanent larger screen at home or in the office, simply buy a bigger external display.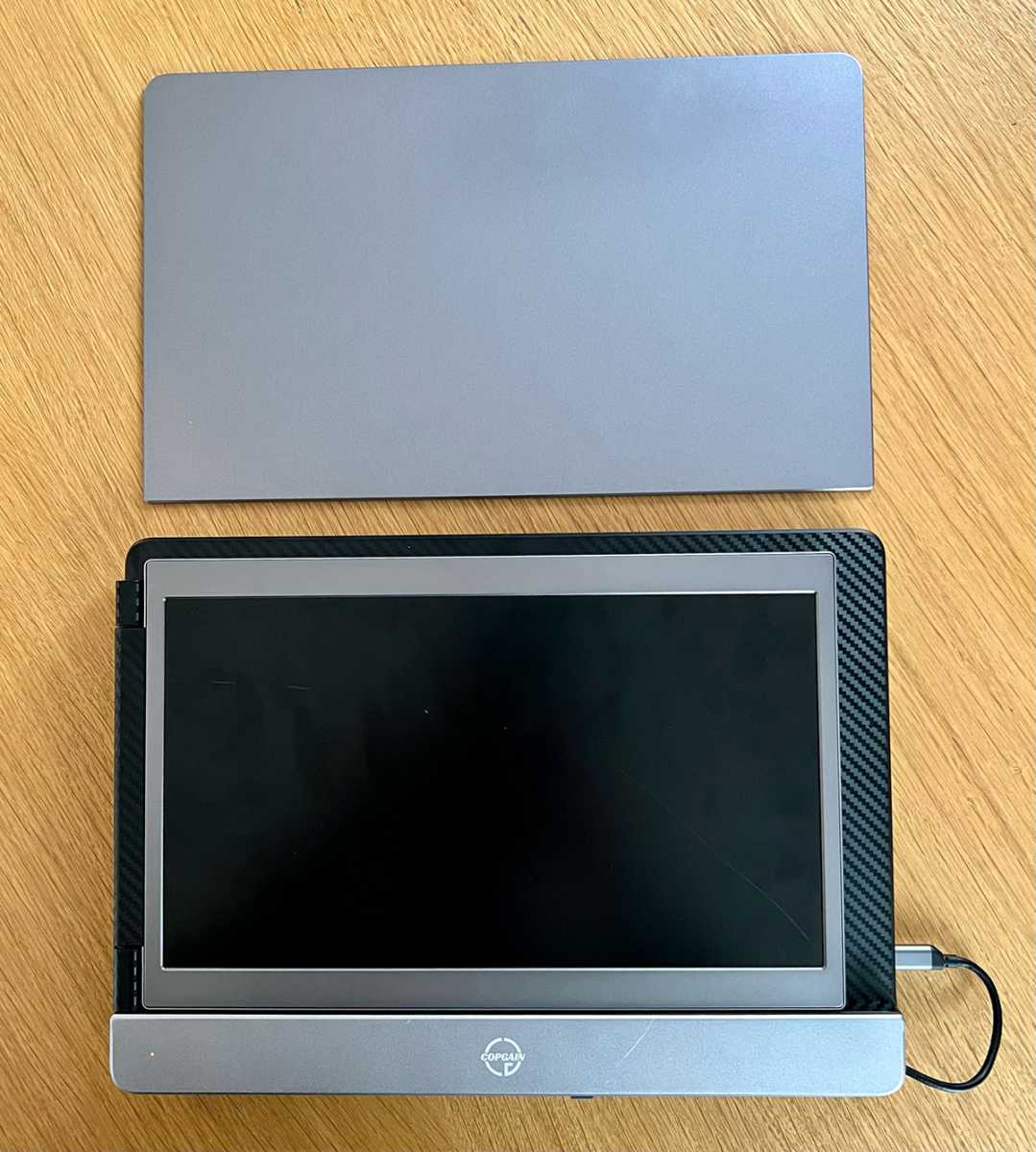 Foundry
If you don't mind bulking up and weighing down your MacBook, and have a real need for a foldable, portable second screen or want to share one laptop between two people at the same time, the Dual Laptop Screen Extender may well be your solution. It fits well and doesn't disgrace the MacBook's looks. But if you just need occasional extra screen space, we recommend a larger portable screen or a more permanent standard external display.