In addition to the Macintosh hardware and software that I write about, I also play with a lot of iPod-related accessories. Normally, these are very easy to review because it's usually a plug-and-play add-on that snaps easily onto the iPod.
This hasn't been the case with the latest iPod accessory I'm testing.
Last week I picked up a Harman Kardon 7.1 Surround Sound Home Theatre system. What makes this system unique is the The Bridge, a Harman-made add-on that allows users to control their iPod with a remote control.
Using The Bridge, users also get a visual display on the television (if it's on) and on the receiver, which is a large display that can be seen easily from across the room. While the bridge allows you access to music bought from the iTunes Music Store, it does not, unfortunately, provide access to videos as well.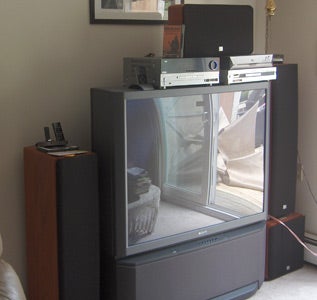 As part of the system, I also picked up two JBL Studio L floor standing speakers; a 12-inch 600 Watt powered subwoofer; a 4-way wall mount center speaker; and four 6-inch wall mount satellite speakers.
When I went to pick up these various parts, the delivery guy took me out back to the warehouse and I saw a big JBL box on a pallet. "Hey, that must be my box right there," I said. "No, that entire pallet is yours," the guy responded. You can see the vast expanse of equipment in the picture on the right.
It's not very often that I use the word "ultimate" to describe a product, but this is an incredible system. I'll be taking a more in-depth look at the system in the next few weeks, but I couldn't hold back my excitement anymore.