If you ever used the "classic" Mac OS (OS 9 or earlier), you likely remember Extensions Manager or its more advanced commercial alternative, Conflict Catcher. Both utilities let you enable or disable individual system add-ons—control panels, extensions, and the like—either at startup or before the next restart. (Conflict Catcher expanded on the types of files you could control, including such things as fonts and Startup Items.)
Why would you want to do this? Under Mac OS 9, one of the big reasons was to conserve RAM usage. But the other major appeal was to avoid—or to troubleshoot—conflicts that sometimes arose between startup items and applications or between startup items themselves.
These sorts of conflicts are much less common in Mac OS X, but it is still possible for system add-ons to conflict. And if you're having general stability problems, one of the first steps you should take is to disable third-party add-ons to see if the problem goes away; if it does, you need to narrow down which items are causing the problem. You could do this by manually moving such files out of (and later back into) their respective folders in /Library and ~/Library, but an easier way is to use the Mac OS X equivalent to Extensions Manager: Stéphane Sudre's free Diablotin 1.3 ( ).
Working as a System Preferences pane, Diablotin lets you disable and enable various system add-ons: contextual menu items, fonts, Internet plug-ins, iTunes plug-ins, menu extras, System Preferences panes, QuickTime plug-ins, screen savers, sounds, and StartupItems. Open the Diablotin pane in System Preferences and you see a list of file types; click the disclosure triangle next to a file type to view all currently-installed items of that type. (Selecting the add-on type itself gives you a short description of that type of item along with a summary of how many of that type of add-on are installed and how many are enabled.)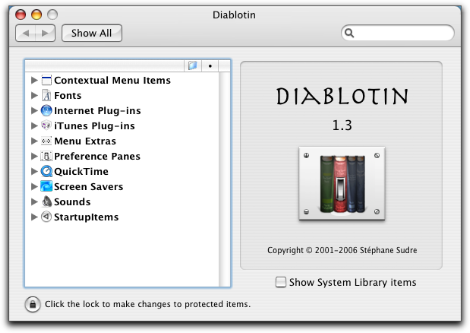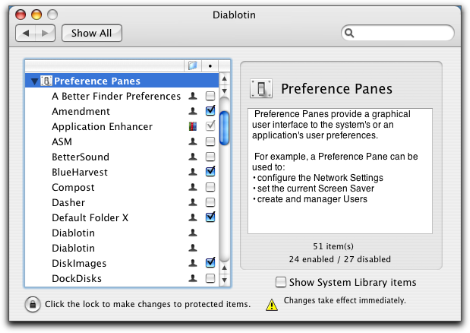 Selecting any individual item provides you with a bit more info about it.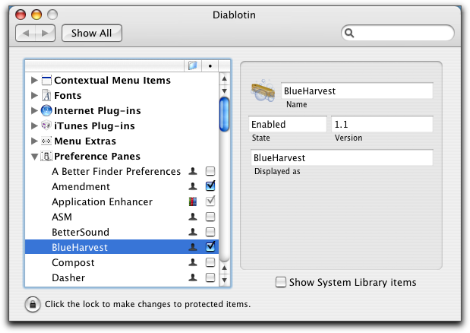 Items that reside inside your own account (usually in ~/Library) have a "person" icon next to them; you can simply uncheck the item's box to disable it. Those items that reside in the main /Library directory have a "bookshelf" (get it—a library?) icon and require administrative access to disable; click the padlock to provide an admin-level username and password.
Note that some changes may require you to log out and then back in for the changes to take effect—the item may be moved to a Disabled folder, but since the code is loaded at login, it remains in memory until its processes are actually stopped, as well. (What's actually happening, behind the scenes, is that Diablotin is creating a "Disabled" version of each item's host folder—in the same location as the original—and then moving disabled files of that type to the new Disabled folder. For example, Diablotin creates new folders named Preference Panes (Disabled) to go with the existing Preferences Panes folders in /Library and ~/Library.)
You may notice that system-level files—those located in /System/Library—are not listed in Diablotin by default. This is because you generally don't want to be messing with Mac OS X's own system components. However, if you're an advanced user who knows what he or she is doing, you can work with these files by clicking the "Show System Library items" box; after acknowledging the warning that appears, system-level files will be included in Diablotin's list. (Instead of a person or bookshelf icon, system-level files have a blue, Jaguar-esque "X" icon.)

One of my favorites features is Diablotin's Screen Savers preview window. If you're like me and you've installed scores of screen saver plug-ins, Diablotin lets you preview each screen saver and then disable the ones you don't like.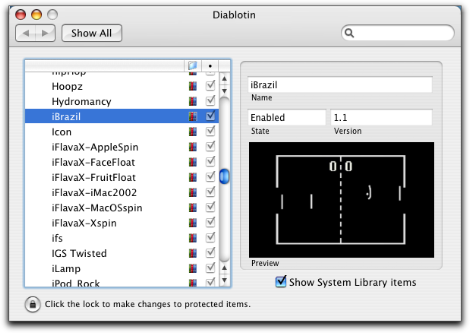 Diablotin does have a few drawbacks. The two most significant are that it doesn't let you manage Login Items or Dashboard widgets—in my experience, among the items you're most likely to want to manage—and that it doesn't provide an option to delete items outright. With respect to the latter limitation, although deleting certain files while they're in use could cause instability, there are files (such as screen savers) that you could safely delete. (To delete an item completely, instead of just disabling it, you'll need to disable the item and then go to its respective Disabled folder in the Finder, where you can drag it to the Trash.)
Diablotin isn't for everybody; rather, it's aimed at seasoned veterans of Mac OS X who know their way around a Library folder. But if you fall into that group, it's a handy tool to have around.
Diablotin works with Mac OS X 10.1 or higher and is a Universal binary.