At a Glance
Expert's Rating
Pros
Dynamic RT enables preview without rendering on a variety of Macs
Included Soundtrack 1.5 and LiveType 2.1 much improved
Full keyframe capability
Universal application runs on Intel Macs
Cons
Faster hardware needed for best performance
Our Verdict
How many shiny, new features make a software update worthwhile? A dozen? A handful? Three?
The quandary that potential purchasers face with Final Cut Express HD 3.5 , the new version of Apple's intermediate digital video editing software, is that it only has three significant new features—most cocktail recipes include more ingredients. However, the advances in this update, while few, make it a more compelling upgrade than the move from version 2.0 to 3.0.
Universal appeal
When Apple began the migration to Intel-based Macs, the company pushed hard to release a Universal version of its professional Final Cut Studio suite—but there was no mention of Final Cut Express. That wouldn't have been a big deal except that Final Cut Express wouldn't run on an Intel Mac, leaving videographers who were ready to buy new hardware with a choice: fall back to iMovie HD 6 ( ) or move up to the $1,299 Final Cut Studio.
The first shiny, new feature in Final Cut Express HD 3.5 is Universal compatibility, taking advantage of the new Mac Intel architecture. In my testing, the application worked well on an older 1.25 GHz PowerBook G4, a dual 2.3 GHz Power Mac G5, a 17-inch 2.16 GHz MacBook Pro, and a 1.83 GHz MacBook (the latter two models powered by Intel Core Duo processors, of course).
Dynamic RT
Shiny feature number two is Dynamic RT, which promises to speed up your work—or at least get rid of the time you spend waiting for Final Cut Express to render footage.
Although Final Cut Express 2 ( ) introduced RT Extreme, the real-time effects preview that it offered applied to many—but not all—transitions and effects, depending on the speed of your computer. Dynamic RT, by contrast, provides real-time previews for everything.
Dynamic RT scales performance to maintain playback in real time without stuttering, depending on the Mac's capabilities. A sequence with multiple layers of video, for example, played back with little difficulty on the Power Mac G5 and the MacBook Pro. On the PowerBook G4 and the MacBook, Dynamic RT reduced the resolution and frame rate of the video in the Canvas to compensate for the reduced processing power of those systems. The result isn't the same as if you were to render the footage, but it's good enough to give you a sense of whether the sequence works to your liking, and you don't have to re-render it with every edit.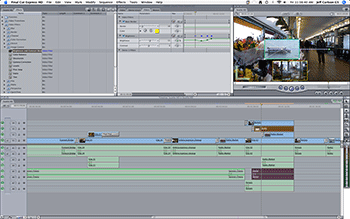 The orange bar above the timeline in this scene indicates that Dynamic RT will play back a preview of the composition in the Canvas without rendering it. (Click image to open full screenshot)
Keyframing
The third new feature in Final Cut Express HD 3.5 is the addition of full keyframe effects control, which lets you apply specific settings over time by defining them at a particular point on the timeline; this capability was previously reserved for Final Cut Pro. Earlier versions of Express supported some basic motion and audio keyframing, but now you can apply the technique to transitions and effects as well.
For example, you can now add keyframes to the Brightness and Contrast video effect to compensate for uneven lighting in a scene, or change the opacity of a clip over time.
Soundtrack 1.5 and LiveType 2.1
In addition to these three new features, the inclusion of improved versions of Soundtrack 1.5 and LiveType 2.1 helps enrich the Final Cut Express HD package.
Soundtrack 1.5 is actually not a revision of Soundtrack 1.2, which was included in the last release of Final Cut Express HD; instead, it is a new application built from the code base of Soundtrack Pro ( ). In the same way that Final Cut Express is essentially Final Cut Pro with many of the pro-level features removed, Soundtrack 1.5 adopts the interface and basic functionality of Soundtrack Pro.
Welcome features include real-time audio effects processing and a multi-take recording mode that's helpful for creating voice-overs: specify a duration for the voice-over and start recording; when you reach the end of the clip, Soundtrack jumps back to the beginning so you can immediately record another take. You can then choose which version to use.
Instead of just a dedicated application for creating titles, LiveType 2.1—with 10 GB of new templates, effects, objects, and textures—now feels like a lite version of Motion, Apple's professional motion-design application. The new LiveFonts (animated stylized fonts) in this version are vector-based and easily scale up to sizes that accommodate high-definition formats.
Macworld's buying advice
While the number of changes in Final Cut Express HD 3.5 since the last version are few, the improvements are substantial. Dynamic RT alone makes editing easier for those of us who get fidgety while waiting for footage to render. The fact that the included programs are both much improved and Universal means you can budget for a new Intel-based Mac without adding the expense of the full Final Cut Studio suite.
[ Jeff Carlson is managing editor of TidBITS and the author of iMovie HD 6 and iDVD 6 for Mac OS X: Visual QuickStart Guide (Peachpit Press, 2006). ]