Editor's Note: The following article is an excerpt from Take Control of Fonts in Mac OS X, a $20 electronic book available for download from TidBits Electronic Publishing. The 255-page ebook contains previously unpublished information about Mac OS X's font handling, including details about supported font types, font storage locations, load order, managing fonts, dealing with legacy fonts, Unicode, and more. This excerpt focuses on removing fonts you don't want.
There are two pressing issues of font removal: how to remove fonts, and which ones to remove (an art explained in Trim the Excess Font Fat ).
When you don't want to use a font, and won't want to use it again in the foreseeable future, you remove it. When you want it hanging around for easy access or a recurring project but don't want it cluttering your Font menus in the meantime, you can disable it instead. (For details on disabling fonts, see the discussion in the full ebook.)
Use Font Book to remove fonts
To remove a font, select it in Font Book's Font list, and press Delete or choose File -> Remove FontName. The font file is (usually) moved to the Trash, so if you don't want it erased the next time you empty the Trash, you have to drag it out and store it someplace. This isn't so draconian when you consider that a copy of the font file was placed in the target folder during installation, with the original left in place; so, you should already have a copy of any of your user-installed fonts. For system-installed fonts, you have to be more careful because there's no easy way to get fresh copies.
I said the font file is "usually" moved to the Trash, because there are exceptions:
A system font—one in /System/Library/Fonts —is removed only from Font Book's Font list; the font file is not removed from its folder. (See Remove or Replace System Fonts.)
If you don't have administrative privileges, removing something from the Computer library in Font Book (regardless of whether the font's in /System/Library/Fonts or /Library/Fonts ) removes it from the Font list, but the font file remains in its folder.
A font from a user-defined library remains in its original location—which seems fair, since a copy of it was never placed in any Fonts folder in the first place.
Even when a deleted "font" is sent to Trash, which font files are deleted—and the effect on some of your other installed fonts—depends on what you've selected in the Font list and what kind of file(s) are related to the selection:
PostScript Type 1 fonts: Removing a PostScript font moves all its printer files and the bitmapped suitcase to the Trash.
Suitcases: If you remove a font that's in a suitcase (a TrueType font or a bitmapped font companion for a Type 1), all fonts in that suitcase are also removed—one of the gotchas of using suitcases with more than one family inside.
OpenType families: Many OpenType fonts have separate files for each typeface; selecting the family name and deleting it puts all the related files in the Trash.
Individual typefaces: You can use the Remove command on a selected typeface (instead of a family). If the typeface is a separate file, that's the only one removed; if all the faces are in the same file, the entire family is removed.
Duplicate fonts: If you select the family name of a font with duplicates and remove it, all the copies showing in the Font list are removed. So, if All Fonts is the current library, every copy of a duplicated font is removed; if Computer is selected in the Collection list, copies in both /System/Library/Fonts and /Library/Fonts are removed; if User is selected, only the copy in ~/Library/Fonts is deleted.
Collections: Deleting a collection from the Collection list doesn't remove any fonts at all, since a collection is merely a convenient way of looking at a subset of installed fonts.
Libraries: Deleting a user-defined library from the Collection list removes the library and its list from Font Book, and removes the fonts in the library from use. The font files themselves, however, remain wherever you've been keeping them because they were never installed in a Fonts folder.
Font removal from Fonts folders: You can remove a font directly from its Fonts folder; its absence is reflected in Font Book's list almost immediately. But Font Book deletion is a better option because you can see whether you still have a copy of that font available in a different Fonts folder, and, in the case of PostScript fonts or OpenType families with separate typeface files, you won't have to select the multiple files yourself.
Tip: Un-remove the Remove warning!
As you can imagine, during the course of writing Take Control of Fonts in Mac OS X , I gave Font Book quite a workout, adding and removing many fonts many times. I got tired of the confirmation dialog "Are you sure you want to remove this font?" making every font removal a two-step process. So, I finally checked Do Not Ask Me Again in the dialog. It wasn't long before I selected a font and, as I hit Delete, realized I had mis-clicked and selected the wrong font in the list. But Delete was already pressed, and, with no confirm dialog popping up, it was too late.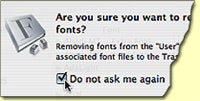 Font Book's font removal warning
And then came another one of those annoying little interface problems. The Do Not Ask Me Again checkbox is only in the confirm dialog; since the dialog doesn't show up after you turn it off, you can't uncheck the checkbox to turn the warning back on. If you've already made the same mistake (or do so in the future despite this warning), the solution is to quit Font Book and delete ~/Library/Preferences/com.apple.Fontbook.plist. Prior to Tiger 10.4.3 with its Font Book 2.0.2, this would also make Font Book forget about any disabled fonts, re-enabling every single one of them, but that's no longer an issue.
Remove or Replace System Fonts
If you've used Font Book to remove a system font, reinstalling it is tricky: although the font name disappears from Font Book's Font list, the font file remains in its folder—and how do you install a font where it already exists? (And where do you get it from?). In addition, Font Book doesn't provide any way of installing to /System/ Library/Fonts anyway; items put in Font Book's Computer library go to only /Library/Fonts.
Warning! Do not remove these system fonts—some of which don't even appear in Font Book:
Keyboard.dfont
Geneva.dfont
LastResort.dfont
Monaco.dfont
LucidaGrande.dfont
Helvetica.dfont
The following section provides details about these, and other fonts that you can, but probably don't want to, remove; for a roundup, see Do Not Remove or Disable These System Fonts.
Here's how to get a "removed" system font back in play:
Close Font Book.
In the Finder, open /System/Library/Fonts.
Drag the font file in question directly to the Trash. If you drag it anywhere else, a copy appears in the target spot, and the original stays in place.
Type your administrative password in the dialog that appears. The font goes to the Trash.
Open the Trash, and drag the font back into the Fonts folder. This triggers a dialog saying you can't do it because the folder can't be modified, but don't worry about that because it can be.
Click the Authenticate button and type in your administrative password.
Open Font Book (or, if you skipped the first step, close it and then reopen it) and you'll see the font back in action.
Note: When you purchase something after clicking links in our articles, we may earn a small commission. Read our affiliate link policy for more details.