At a Glance
Expert's Rating
Pros
Ability to sync with Apple's Address Book
Excellent sound quality
Searchable user directory
PC-to-phone calling ability
Convenient call history
Cons
No videoconferencing support for Mac version
Our Verdict
Voice over IP, or VoIP, is an emerging technology that allows you to use your broadband Internet connection to place and receive voice and videophone calls. Internet-based calls are less expensive than traditional calls (sometimes they're even free), and many VoIP-based communication services are compatible with the old-fashioned global phone network, so you can use these new VoIP tools to place calls to and receive them from traditional phone numbers. By adding some desktop VoIP software tools to your Mac, you, too, can take advantage of Internet calling.
We've reviewed four Mac-compatible desktop VoIP applications: Apple's iChat AV 3.1.4, SIPPhone's Gizmo Project 1.3.2, SightSpeed 4.5, and Skype 1.4. We also checked out a unique product called WengoPhone; still in beta for the Mac, this VoIP plug-in for Mozilla Firefox lets you make and receive calls via the browser.
While each program has strengths and weaknesses, they all do basically the same thing: they present you with a buddy list like the one in an instant-messaging (IM) program, and they allow you to communicate by voice (and sometimes video) with the folks in that list. Perhaps the best thing about these VoIP apps is that they're free downloads and aren't shareware, so they won't time out or periodically nag you to register. Since these programs are free, their makers do charge for some premium features.
To get started using VoIP, you'll need a broadband Internet connection (cable or DSL) and a Mac running OS X 10.3 or 10.4 (some of these tools—iChat AV and Skype, for instance—offer additional functions to Tiger users). You'll also need a microphone and a pair of speakers or headphones. Serious desktop VoIP users will opt for headphones or even a headset-microphone to eliminate echo, one of the negative side effects of using freestanding speakers.
Cross-platform connections
Some VoIP products, including Skype and Gizmo Project, run on Windows and Linux, while Apple's iChat AV runs only on OS X.
Skype, SightSpeed, Gizmo Project, and iChat AV allow you to host either multiparty voice or videoconference calls. Unlike expensive high-end conferencing systems designed for large businesses, which are often connected to a telephone system, these simple desktop VoIP apps can make conferencing easier—and more affordable. All of these applications allow you to call other Internet users for free. But if you want to call somebody using his or her telephone number, as permitted by Skype, Gizmo Project, and the Wengo plug-in, you'll pay a basic, per-minute fee. At this writing, neither iChat AV nor SightSpeed permits computer-to-phone calling.
Advanced features cost money
While you can make basic calls for free, more-advanced features will cost you. For instance, Skype's voice-mail feature carries a small monthly charge. Obtaining a permanent phone number from Skype (called a SkypeIn number) involves an additional fee. Also for a fee, Gizmo Project allows you to forward your incoming calls to another telephone, such as your cell phone, and SightSpeed offers extended conferencing and video-messaging features for paid subscribers. iChat AV users can't call traditional phone numbers, but they can call each other, using securely encrypted audio channels on the Internet if all participants are .Mac subscribers.
Once you become accustomed to a desktop VoIP tool, you may find that VoIP calling becomes a part of your daily routine. After all, it's a lot easier to dial a Skype buddy by double-clicking on a name than it is to look up a number in Address Book and manually punch it in on your telephone's keypad. If you're into multiplayer Internet games, using a tool like Skype to keep in touch with your teammates is nice, as it relieves you from having to type text-chat messages during the game. And if you have relatives in other countries, talking to them over the Internet will cost you a lot less than placing international long-distance calls.
Some downsides
Despite the benefits of VoIP software on the Mac, a traditional phone is still necessary in some situations. Chief among them is emergency calling. None of the apps we looked at can properly route a 911 call to your local emergency dispatcher, though they'll probably have this ability in the future. Some services that require entering digits—such as telephone banking or certain corporate phone menus—may not work properly with the computer-to-phone features of Skype and Gizmo Project, due to differences in the way VoIPsupports dialed touch tones.
Discovering which VoIP app is right for you involves a combination of research, experimentation, and (hopefully) a little fun.
VoIP Software Compared
| | Videoconferencing | Encrypted audio | PC-to-phone calling | Supports calls to Windows users | Pricing for pay features | Webcam support | Permits calls to other VoIP services | Voice quality |
| --- | --- | --- | --- | --- | --- | --- | --- | --- |
| Gizmo Project | No | Yes | Yes | Yes | prepaid credits | N/A | Yes | Good |
| iChat AV | Yes | .Mac users only | No | No | .Mac, $99/year | Firewire Only | No | Good |
| SightSpeed | Yes | No | No | Yes | Fixed monthly fee | USB and Firewire | No | Good |
| Skype* | No | Yes | Yes | Yes | prepaid credits | N/A | No | Excellent |
* Top product. N/A = not applicable.
iChat AV 3.1
Most Mac OS X users already have a great VoIP tool installed. Apple's iChat AV comes with every Mac and, as of the current version (3.1.4), offers good voice-chatting and videoconferencing features. This program began life as a simple text-messaging tool for use with the AOL Instant Messenger (AIM) network, but it has evolved into a full-blown desktop teleconferencing tool. When used alongside Apple's excellent iSight video camera (now built into new iMacs, MacBooks, and MacBook Pros), iChat provides the richest videoconferencing experience available on an OS X machine.
iChat also supports Jabber, an open-source IM protocol, so you can use iChat with Google Talk (a Windows-only IM program). And Bonjour, Apple's zero-configuration networking technology, enables iChat to seamlessly discover potential partners connected to your LAN. iChat also works with Apple's iChat Server, so you can maintain your own private network of iChat users. This is ideal in an office setting where you don't want private communication traversing the public Internet.
iChat's user interface resembles that of an IM application. Like Skype and other IM apps, iChat has a buddy list that tells you the current status of each of your buddies, so you know if it's a good time to call or text-message them. iChat also offers something unique among these VoIP tools: icons accompanying each buddy in the list tell you whether he or she has the right hardware—in this case, a camera and a microphone—to accept video or voice calls.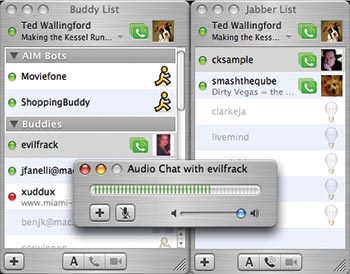 Other Messengers iChat's VoIP features let you have audio and video chats with other iChat participants who use the AIM and Google Talk IM services.
In addition to offering one-on-one calling, iChat supports multiparty cross-platform conferencing for voice and video. Voice conferences can include up to ten participants. While iChat is limited to four video participants at a time, it's hard to beat iChat's cool 3-D video display, which makes it appear that the people in the conference are actually facing one another. Apple's adoption of the H.264 video codec means that you'll see very clear, high-quality video, too, but H.264 is supported only in OS X 10.4 or later. The latest release of iChat, which requires OS X 10.4.6, even allows voice and video calls with AIM users on Windows.
Despite iChat's achievements, Apple's desktop VoIP program falls short in several areas. Unlike Skype and Gizmo, iChat doesn't allow you to place computer-to-phone calls. Although iChat is compatible with the Google Talk IM application for Windows, voice calls to Google Talk users won't work. iChat doesn't support USB cameras, but shareware utilities such as Ecamm's iChatUSBCam can help you get around this limitation. Finally, iChat offers secure, encrypted communications only between users of .Mac, Apple's $100-per-year Web service.
iChat is remarkably easy to use, but its feature set is beginning to lag behind those of other VoIP communication tools. Of course, if you don't need computer-to-phone calling and you chat only with Mac users, especially .Mac subscribers, iChat is probably your best choice.
Macworld's buying advice
iChat AV 3.1.4 has made VoIP chatting simple but still doesn't support computer-to-phone calling. People who need a VoIP conferencing tool that supports this should consider Skype or Gizmo Project instead.
Gizmo Project 1.3
SIPPhone's Gizmo Project 1.3.2 has more bells and whistles than any other desktop VoIP tool for the Mac. In addition to standard text messaging and one-on-one voice- chat features, which are common to all of the VoIP tools we looked at, Gizmo offers a searchable user directory, a publicly accessible party-line conference room, and computer-to-phone calling. Gizmo's interface is a bit more cluttered than Skype's or iChat's, but this is forgivable: Gizmo offers a lot more goodies than your typical text- and voice-chat application.
Whether you run Gizmo on OS X, Windows, or Linux, you get the same feature set, the same user interface, and roughly the same performance. This is obviously important to folks who jump back and forth between platforms frequently.
Gizmo implements basic text- and voice-chat features much as its competitors do, and it offers built-in one-click call recording. Just click on the Record button while a call is in progress, and Gizmo will save it as an audio file. Gizmo lets you customize your hold music so that when you place a call on hold, the waiting person will actually hear what you want him or her to hear. Any WAV file will do (although unfortunately only this Windows format will work); Gizmo also comes equipped with a selection of ready-made WAV music loops.
Gizmo includes a feature called Call Quality Assistant, which mimics a cell phone's signal-strength indicator. This unique tool lets Gizmo gauge the quality of your Internet connection, giving you some idea of how good your VoIP calls will sound. On a fast Internet connection where Gizmo has the entire pipe to itself, the quality of VoIP calls is quite good, so the Call Quality Assistant tool isn't much use. But when you're using slower Internet connections, such as certain low-performance DSL services, or running a few FTP downloads in the background, it certainly is helpful to know in advance if your call will have audio problems.
Gizmo also offers something you won't find in any of the other Mac desktop VoIP tools: direct dialing of SIP URIs (Session Initiation Protocol Uniform Resource Identifiers). This powerful feature enables you to place calls to people by dialing a string (called a URI) that resembles an e-mail address, like this: user_namesip.macvoip .com. Using this string, the Internet can route your call via DNS (Domain Name Service), as it would traditional Internet apps such as e-mail. Some VoIP experts believe that a SIP URI, which resembles an e-mail address, will one day make you reachable via any service, including VoIP, fax, cell phone, and e-mail. Gizmo is leading the way on this.
As a Gizmo user, you have the option of placing calls to traditional phone numbers. This service, dubbed CallOut, lets you make computer-to-phone calls in a manner similar to how you'd do it in Skype. Likewise, you can obtain a permanent CallIn phone number from Gizmo. This standard phone number lets people call you from a land line or a cell phone. You can elect to have this number simultaneously ring a traditional phone (your home or cell phone) and Gizmo, so you can answer the call on either your Mac or your phone.
Gizmo has a couple of negatives, though: it has no video capability, and its conference calling isn't as seamless as Skype's. Also, Gizmo's user community is far smaller than Skype's, so you're less likely to find your contact on Gizmo than on Skype.
Macworld's buying advice
Gizmo Project is the most advanced Skype competitor on the market, and its many unique features make it worth a serious look. For business users, Gizmo has the edge with its configurable hold music, built-in call recording, and simultaneous ring options.
SightSpeed 4.5
SightSpeed 4.5 is a VoIP communication application that lets users chat via text, voice, and video with other SightSpeed users, whether they're running the Mac or Windows version of the software. You can also send and receive traditional voice mails and video-mail messages with other SightSpeed users. Like its competitors, it requires a microphone for voice chat and a desktop Web camera—such as the iSight—for video chat.
While the basic version of SightSpeed is free, you'll need the premium version if you plan on using its advanced features, which include multiparty videoconferencing. The free plan includes basic calling features such as unlimited computer-to-computer video and voice chat, and video-mail messages that are up to 30 seconds long. You can store these messages on SightSpeed's server for up to 30 days. The Pro plan, which costs $4.95 per month, adds unlimited video-mail storage and allows you to send video messages that are up to one minute long. You also get multiparty videoconferencing with the premium service. Neither plan supports computer-to-phone calling.
You must set up an account to use SightSpeed. To do so, visit SightSpeed's Web site, where you can enroll in either the free or the premium service plan. SightSpeed offers a free Webcam to Windows users who pay in advance for a full year of pre-mium service—an up-front fee of $50. Unfortunately, you can't use the Webcam with a Mac, so SightSpeed recommends a Mac-compatible camera such as the iSight. Interestingly, if your chat partner's camera supports pan-tilt-zoom controls, you can actually control the angle and zoom of that camera with your Mac SightSpeed software. SightSpeed touts its video-mail recording capabilities as an advantage for video bloggers, but serious vloggers may chafe at the one-minute recording limit.
The SightSpeed Challenge Though SightSpeed's interface is very different from iChat's, its video quality and parental controls make it a great challenger to Apple's aging chat program.
The quality of SightSpeed's sound and video is similar to that of other VoIP chat tools. Though you can't resize its main window, you can detach its video display from the main window and resize it to your liking. This program's un-Mac-like interface makes it seem oddly out of step with most contemporary Mac software. (However, some users may appreciate the fact that SightSpeed's interface is identical on Mac and Windows.) In spite of these quibbles, SightSpeed is easy to use, so first-time video-chat users might want to check it out.
SightSpeed's community feature (in beta at press time) lets users easily find other people to chat with. When you join the SightSpeed community, you can create a profile that other community members can view. To keep your kids away from potentially inappropriate audio- and video-chat contacts within the community, SightSpeed allows you to create a parental-control password. There seems to be no way to view a particular user's profile or to search profiles from within the SightSpeed software, which can be frustrating if you're looking for somebody who shares your interest in a topic or who comes from a certain part of the world.
Macworld's buying advice
SightSpeed offers a unique combination of cross-platform voice and video features. If you're looking for a video-chat tool that has stronger community features than iChat, give SightSpeed a try.
Skype 1.4
Perhaps the most popular desktop VoIP communication tool, Skype 1.4 evolved from the controversial peer-to-peer technology that powers the Kazaa file-sharing application for Windows.
Skype is a highly refined VoIP application that is compatible with OS X, Windows, and Linux. It permits users to send text messages and make voice calls to other Skype users, as well as place computer-to-phone calls to traditional telephone numbers. The active Skype user community is said to number around six million simultaneous users at any given time. This is good, because it means you're more likely to find your contact on the Skype network than on any other computer-to-computer calling system.
Skype's efficiently designed user interface resembles that of a traditional IM application such as iChat or Yahoo Messenger: essentially, it's a list of your contacts and a call history. You can access basic features, such as changing your status and placing calls to someone in your contact list, using a menu-bar icon that appears whenever Skype is running. If the Skype window is active, you just double-click on a contact's name to place a call.
Like other VoIP calling tools, the Skype software is free. If you choose to call (or receive calls from) a traditional telephone number, you'll pay per minute, using prepurchased credits called SkypeOut minutes. Skype also offers other premium features, including voice mail. This feature works more or less like traditional voice mail, answering your calls with a recorded greeting when you're not around and capturing a voice message from the caller for you to retrieve later on. Skype offers conference calling too, so you can have a voice chat with as many as five participants at a time.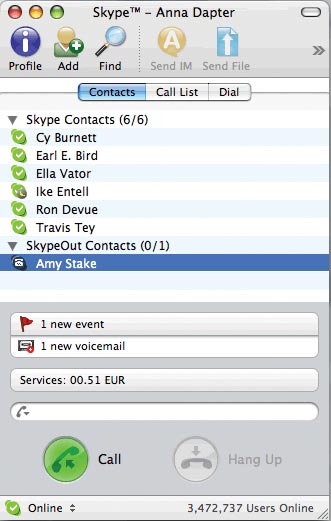 Derived from IM With its contact list, Skype looks a lot like a traditional IM application, such as iChat.
Once you become a Skype user, you can also obtain a SkypeIn number that users of traditional land-line and cell phones can reach you at. When they call this number, Skype connects calls to the Mac where you've logged on to your Skype account. This SkypeIn number could save you a lot of money on international long distance. If you are always receiving calls from family in, say, Poland, then you could get a Polish SkypeIn number to reduce the charges your family incurs by calling you. Skype offers SkypeIn numbers all over the world. Using Skype's call-forwarding feature, you can easily forward your unanswered calls to another Skype user or to a phone number of your choosing.
The computer-to-computer calls offer extremely high-quality audio, thanks to Skype's choice of a proprietary sound standard and a commercially licensed audio encoder. Skype also secures calls through a very strong encryption scheme, making it nearly impossible for would-be eavesdroppers to monitor your calls. It allows you to customize your ring tones, and it will even automatically pause a current iTunes track when you receive an incoming call.
Skype is well integrated with OS X. For example, you can use Skype's Import function to populate your Skype contact list with the phone numbers in your Apple Address Book. Skype also supports AppleScript, so you can tie it into other applications to build specialized telephony functionality—for example, a FileMaker sales-contact database that automatically dials prospects on a predetermined callback schedule. Unfortunately, the Mac version of Skype does not support videoconferencing.
Macworld's buying advice
Skype is a mature, reliable, and popular VoIP communications tool. Though the Mac version lacks video features, it offers unmatched sound quality, convenience, and ease of use. If you need a desktop VoIP tool that also allows you to dial traditional phones, there's nothing better than Skype.
[ Ted Wallingford is the author of Switching to VoIP and VoIP Hacks (both O'Reilly, 2005) and an independent technology consultant based in Elyria, Ohio. He updates the Web site www.macvoip.com semiannually. ]