If you love music, then iTunes likely logs more hours on your desktop than most applications. iTunes may have a well-designed interface and tight integration with the iPod and the iTunes Music Store, but that doesn't mean it's perfect. There are many ways to add cool functionality to iTunes to make it even better. Here are some handy helper applications and plug-ins that will help you take iTunes to the next level.
Super scripts
AppleScripts are useful for all sorts of Mac tune-ups, and iTunes is the perfect application to take advantage of them. The ultimate repository of iTunes scripts can be found at Doug's AppleScripts for iTunes Web site, which holds nearly 400 free scripts for iTunes and your iPod. These are some of my favorites.
Improperly deleting or moving files can leave iTunes full of exclamation points—markers of orphaned tracks still listed in your library. iTunes doesn't have an efficient way to remove all of these at once, but the Super Remove Dead Tracks 1.5 script will quickly send all of those ghosts to the boneyard where they belong.
If you want to add a track or album to your iPod but not to your iTunes library, then check out Rip To iPod 1.5. This script immediately adds tracks to your iPod as you rip them from a CD, and deletes them from your iTunes library.
Although iTunes has a built-in feature for finding duplicate tracks, it leaves much to be desired. iTunes only looks to see that tracks have the same name and artist. If you have multiple versions of the same song by the same artist—a studio version and a live version, for example—iTunes' Show All Duplicates command displays them as duplicate tracks, even if none are actually identical. The Corral iTunes Dupes script lets you define which parameters—name, artist, album, size, kind, and bit rate—to compare when searching for duplicates. It then puts these songs into a Dupes playlist for you to sort through at your leisure.
Sound stabilizers
Although iTunes has a Sound Check feature to equalize track volume, anyone who listens to music through headphones knows that it could stand improvement. Manfred Schwind's $15 iVolume 2 uses a different algorithm to calculate the proper volume. Plantronic's $20 Volume Logic also stabilizes your volume but takes things a bit further, balancing out the bass, raising low levels, and essentially remastering your tracks in real time to give even the most diverse playlist a coherent feel.
Artistic assistants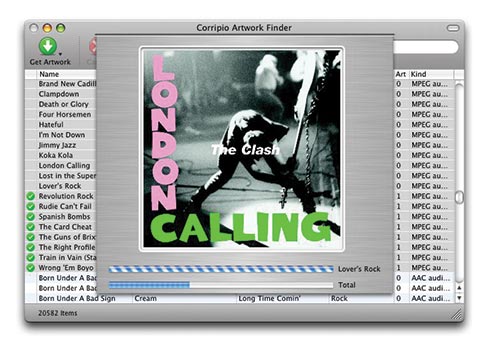 Cover Me Missing art for your songs? Let Corripio scour the iTunes Music Store for you.
Album art can enhance the enjoyment of the music you love and give you visual cues to associate with your tunes. But unless you've bought all your music from the iTunes Music Store (iTMS), you probably have a ton of tracks without artwork. Fortunately, several free specialists would love to serve as your personal curator. nClass Software's Corripio 0.3 searches the iTMS for album artwork and automatically downloads and adds it to your tracks (see screenshot). Many Dashboard widgets and Sprote Rsrch's Clutter are also great free solutions for adding artwork.
If you're looking for more-dynamic artwork, iTunes supports what Apple calls visualizers —basically, personalized light shows that move in time to the music. iTunes comes with a few visualizers, but for mind-blowing 3-D effects, look to some third-party plug-ins. Forrest Briggs's $10 Ultragroovalicious iTunes Visualizer creates 3-D soundscapes in an array of psychedelic patterns and colors. Another awesome iTunes plug-in is SoundSpectrum's G-Force Visualizer (basic version, free; Gold version, $20; Platinum version, $30), which offers lush colors, patterns, and movements that are entirely customizable.
Better browsing
iTunes has a great interface, but sometimes you prefer to look at things from a different perspective. Although it has some rough edges, Amphonic Designs' $9 viewTunes 2.0 provides an interesting visual approach to your library. It pulls album art from iTunes and organizes it in a central window, letting you browse your library and create playlists based on album covers rather than track names (see screenshot). You can also access concert data on Pollstar, artist videos on YouTube, and relevant entries on Wikipedia by control- or right-clicking on any album cover.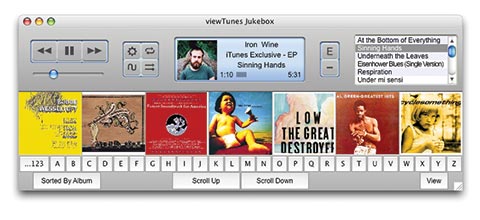 A Different Light viewTunes takes a visual approach to your iTunes library.
Clutter (mentioned earlier) also takes a visual tack, literally cluttering your desktop with album art images. Clutter also lets you browse your library by album art, and even pulls missing art from Amazon.com and adds it to your library. Steel Skies' free CoverFlow 1.9 is another excellent browse-by-album cover application. CoverFlow presents your music in a way that's akin to flipping through CD covers or browsing a jukebox full of discs. It, too, can download album art for you.
If you're more concerned about seeing your collection online, another favorite iTunes add-on is KavaSoft's $25 iTunes Catalog. This application catalogs your library and then lets you publish it online in an interface that looks just like that of the iTMS or an iPod. Anyone can search through your catalog, and if you share your music via the Personal Web Sharing option in the Sharing preference pane, you can even stream your tracks with links to the iTMS. And no iTunes library is complete without Audioscrobbler, a free plug-in that uploads your iTunes statistics to a user page on the company's Last.fm site (a social networking site that lets you link up with friends to discover new music).
Widget wonderland
If you're not a widget watcher, you might not be familiar with the Dashboard Widgets Web site. That's too bad, since it's a treasure trove of iTunes tools. Alastair Tse's free Album Art 2.6 widget displays artwork from the current iTunes track, finds it online for you if it's missing, and takes you to the iTMS. Want to know how many total hours you've spent listening to iTunes, how many songs you've got with no artist or album information, or a host of other stats that iTunes doesn't readily tell you? The free iTunes Stats 0.2b ( ; Mac Gems ) turns Dashboard into your own personal Billboard. If you let others connect to your library via Bonjour, keep tabs on who's listening in and what they're playing with Jason John Yee's free iTunes Connection Monitor 1.6. For those of you who like to sing along with the music, you'll appreciate mindquirk software's free Harmonic 1.0.4, which finds song lyrics for you.
Just for fun
If you sometimes feel that usefulness is overrated, here are a few iTunes add-ons to give a whirl. Jason Freeman's free iTunes Signature Maker is a JavaScript Web application that creates an aural collage of your iTunes library (non-iTMS tracks only) based on play counts, ratings, date added, or last play date. The result is a multilayered snapshot of your musical ID that's fun to share and compare with your friends.
If you like starting your day off with a song but don't trust your local radio stations, try waking to the sounds of your favorite playlist instead. iTunes alarm clocks, such as Embraceware's $9 Awaken 2.5 and Sanity Software's $10 PowerController 2.1, let you kick off your day with your favorite music—without the zany morning DJ chatter.
Finally, Specere Software's $13 Menuet 1.1 is an iTunes remote whose appearance is completely customizable (or skinnable ), so you can let your imagination run wild and give it a look all your own. Not artistically inclined? No problem—the whimsical Monkey Bars skin leaves a blinking purple buddy hanging from your menu bar.
[ Mathew Honan writes about technology for The National Journal Technology Daily, Salon.com, and Wired. He keeps a Mac-oriented Weblog at mac.honan.net. ]