Most desktop VoIP communication tools are stand-alone applications that operate independent of other software on your Mac. But the newest beta version of WengoPhone Firefox Extension, (0.68), an extension to the Mozilla Firefox browser, lets you tap into the world of VoIP calling from within Firefox. The WengoPhone beta is the first and only browser-based VoIP product for the Mac.
Once installed, this plug-in logs you on to Wengo's VoIP network and lets you call other Wengo users, as well as traditional phone numbers, from a buddy list located in the left sidebar of the browser window.
Like other VoIP-calling tools, Wengo allows you to set a status message (away, do no disturb, and so on). You can send your buddies text-chat messages, SMS (simple messaging system) messages, Internet voice calls, and computer-to-phone calls, for which Wengo provides an on-screen ten-button keypad like that of a traditional telephone.
All calls placed via WengoPhone are free except for computer-to-phone calls, which incur a by-the-minute fee billed in euros.
WengoPhone is probably useful only to people who spend most of their browsing time in Firefox. If you do a lot of calling from numbers on Web pages, WengoPhone could save you time with its Click-to-Call feature, which lets you instantly call any phone number you see on a Web page, via a right-click (or a control-click) pop-up menu.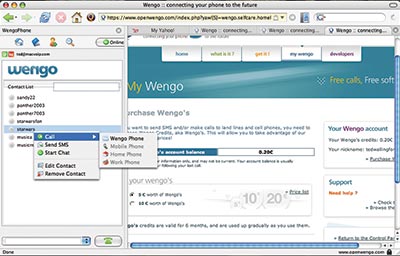 Stay in the Browser WengoPhone's user interface is a Firefox sidebar, which is great—if you spend most of your time in Firefox.
But living your telephony life totally inside the Firefox environment isn't a walk in the park. The WengoPhone sidebar is too wide and takes up too much space in the window. Wengo's account-management pages, which appear in the browser while WengoPhone is running, are too large to display properly on a 1,024-by-768 monitor unless you close the sidebar. Windows users can run WengoPhone as a stand-alone application, but Wengo hasn't released a stand-alone Mac version.
Placing computer-to-computer calls was no problem with Wengo, but computer-to-phone calls were hit or miss. Sometimes outbound calls could not connect, yet Wengo would not advise me of that. Calls that did connect successfully had consistent, usable audio quality, and I was never disconnected once a call was in progress.
WengoPhone shows a lot of promise, but its execution of desktop VoIP features is compromised by the fact that it's tethered to Firefox.
[ Ted Wallingford is the author of Switching to VoIP and VoIP Hacks (both O'Reilly, 2005) and an independent technology consultant based in Elyria, Ohio. He updates the Web site www.macvoip.com semiannually. ]