Finding great software for your Mac can sometimes feel like a gamble. But Macworld is here to help. Every week, in the Mac Gems Weblog, I profile the best low-cost software that delivers big-time returns. (We also profile these software gems each month in the pages of the magazine.) As we approach the discovery of our 500th gem, I thought I would showcase my all-time favorites—the greatest applications I've uncovered in my search for low-cost software, from -favorites to – and -rated apps that also deserve some recognition.
Let's begin our week-long look at the Mac Gems Weblog's greatest hits with 18 enhancers that will help you optimize Mac OS X. On the next page, I feature 14 of my favorite maintenance, tweaking, and troubleshooting applications.
(Note that version numbers are current as this article was posted. However, given the nature of software development, it's likely that some of these apps will see frequent updates, and more recent versions could be available by the time you read this. The apps we've listed work with the latest version of OS X, but you're advised to double-check the system requirements at the developers' Web sites to make sure that your make will run these programs. You can find full reviews of these gems in our Mac Gems catalog.)
Permissions editor: FileXaminer 2.5.6

Among the myriad utilities that help you edit file information and permissions, FileXaminer 2.5.6 ( ) stands out. In addition to an easy-to-use interface for modifying file permissions and attributes, it provides Super Delete and Force Empty Trash functions—accessible from the application's Dock-icon menu, Finder contextual menus, or within the application—for getting rid of stubborn files. It also has a batch mode for working with multiple files simultaneously; Finder integration (Command-option-I to get info or Command-option-C to copy a file path to the Clipboard); and systemwide support for contextual menus. Other features let you resize and convert images, edit icons, and edit text files as the root user. FileXaminer even lets you create and delete user groups without having to delve into NetInfo Manager. ($10; Gideon Softworks )
Default application setter: RCDefaultApp 2.0

RCDefaultApp 2.0 ( ) lets you choose your preferred helper application for each of the main Internet protocols (Web, e-mail, newsgroups, and TP) and for each URL protocol—from AFP (Apple Filing Protocol) to WHOIS and everything in between (such as HTTP, HTTPS, MS, and SSH). The utility's MIME Types settings let you choose the default application for each kind of MIME content—such as the Windows Media videos and PNG images you encounter on the Web. RCDefaultApp also lets you choose the application that should be used to open files with particular file-name extensions and file types. Unlike similar utilities, RCDefaultApp lets you disable types of files or protocols (such as URL schemes that pose security risks), providing you with a one-stop solution for customizing default application preferences. (free; Rubicode )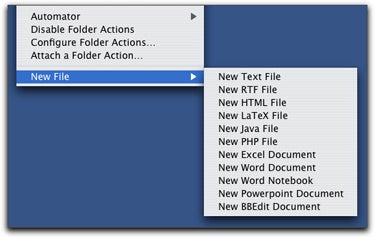 New document (here) Using NuFile, you can create a new document of your choosing right from the Finder's contextual menu.
New document creators: Document Palette 1.0 and NuFile 1.8
One feature missing from OS X that Windows users have long enjoyed is the ability to create a new document in the Finder; instead, you have to launch the appropriate application, create a new document, and then save it in the desired folder. Document Palette 1.0 ( ) and NuFile 1.9 ( ) skip all that, letting you create a new document in the current Finder folder via a keyboard shortcut or the Finder's contextual menu, respectively. Both programs include a few common document formats, but you can add other document types and your own templates. (Document Palette: $8; Vertical Eye; ,NuFile: payment requested; Piti Ongmongkolkul )
Cursor enhancer: Mouseposé 1.3
Spotlight effect Mouseposé makes it clear to your audience exactly what you're demonstrating, with a handy spotlight.
When giving an on-screen demonstration, you want to focus your audience's attention on exactly what the cursor is doing. Mouseposé 1.3 ( ) does this by spotlighting the mouse cursor when you press a hotkey. For example, if you're showing your audience where to click in a dialog, Mouseposé will darken the screen except for a small circle around the cursor, making it obvious what you're attempting to demonstrate. (free; Boinx )
File manager: Path Finder 4.1.1
The Finder has improved in each version of OS X, but some users still wish it had a few more features—or at least more flexibility in using the features it already has. Path Finder 4.1.1 ( ), a Finder alternative, can help. It gives you more viewing options, such as tabbed windows, file owner and group columns in list view, and the ability to sort in column view. Path Finder's windows include a handy Drop Stack area, which lets you temporarily store files and folders. You can even view many files with Path Finder's built-in text editor and PDF viewers, and create disk images and compress files directly from Path Finder windows. If you decide that you like using Path Finder more than the Finder itself, you can have Path Finder quit the Finder and take its place. ($35; Cocoatech )
Window shade effect restorer: WindowShade X 4.0.2
WindowShade X 4.0.2 ( ) brings Mac OS 9's popular Window Shade effect to OS X. Double-click on a window's title bar, and the window rolls up and out of the way—complete with the "swoosh" sound you would expect if you were a classic Mac user. If you prefer, you can determine whether the window becomes partially or completely transparent, minimizes in place instead of to the Dock, or hides completely. ($10; Unsanity )
Dialog-box enhancer: Default Folder X 3.0
Default Folder X 3.0 ( ) adds much-needed improvement to OS X's Open and Save navigation dialog boxes. As the name implies, it lets you assign a default folder for each application. In addition, it makes recently used and favorite files and folders, as well as open Finder windows, easily accessible—while you're in any navigation dialog box, you can click on a Finder window (or choose it from Default Folder's X's Windows menu) to immediately switch the dialog box to that directory. Add to that Default Folder X's ability to make Open and Save dialog boxes remember the last folder and file you worked with in each application, as well as the size and position of each dialog box. ($35; St. Clair Software )
Other top enhancers
If you're using a Windows keyboard with your Mac—or just wish your Mac keyboard was laid out differently— DoubleCommand 1.6.1 ( ; free; Michael Baltaks ) lets you remap special keys, such as turning a Windows keyboard's Alt key into an option key. (Tiger provides this capability as well, though DoubleCommand offers many more options.) A simple yet effective tool is EraseCMPlugIn 1.3.1 ( ; free; soft 'O' matic )—it gives you the ability to erase a CD-RW disc from the Finder's contextual menu instead of having to delve into Disk Utility. GeekTool 2.1.2 ( ; free; Tynsoe ) allows you to place the output of a Terminal command, the contents of a file, or an image (such as a Webcam snapshot) on your desktop. PrintWindow 3.1.5 ( ; standard version, free; advanced version, $15; Searchware Solutions ) restores the ability to print a Finder window's contents to OS X while also letting you choose what to print—for example, complete file and folder information, just names and the visible contents of a folder, or all subfolders.
If you want to change the default format and location for screenshots without having to mess around in Terminal, Screenshots Preference Pane 1.0 ( ; $2; EGO Systems ) adds a useful pane for doing just that to OS X's System Preferences. Service Scrubber 1.1.3 ( ; free; Peter Maurer ) puts you in control of OS X's Services feature—a necessary task for anyone who struggles with a bloated Services menu. To take your Mac laptop's trackpad to the next level, SideTrack 1.4.1 ( ; $15; Raging Menace ) is a replacement trackpad driver that lets you adjust speed, acceleration, and calibration, as well as assign hot corners that perform particular actions when you tap them.
Anyone who enjoys tinkering with their system should embrace TransparentDock 2.3.8 ( ; $8; Free Range Mac ), which lets you customize everything about your Dock, from how it looks to how it behaves. WinSwitch 3.2.1 ( ; free; Wincent Colaiuta ) is a handy customization tool that lets you choose the appearance of the Fast User Switching menu, assign a keyboard shortcut to the login window, and—most impressive—automatically open documents or launch applications when you switch to and from specific accounts. X-Assist 0.7 ( ; free; Peter Li ) recreates OS 9's Application menu, adding useful features such as a Shortcuts submenu for quick access to preference panes.
Make no mistake—the Mac is a pretty reliable computer. But anything built by human hands is destined to run into some sort of trouble. And when trouble hits your Mac, many of the troubleshooting utilities listed below will leap to your rescue and have your Mac working again in short order. Even better, some of the programs I've selected will help you identify trouble spots before they flare up. Finally, I've included a few titles aimed at helping you tweak your Mac to run the way you want it to.
Custom installer: Pacifist 2.0

Have you ever wondered exactly what an installer package (a file with a .pkg or .mpkg extension) installs? Or have you wanted to install just a single file or subset of files from such a package? If so, Pacifist 2.0 ( ) is just what you've been looking for. Drag an installer package onto the Pacifist icon, and the utility presents you with a list of all the files in the package, organized by the target installation directory. You can also see detailed information about each file, including its permissions, size, and file type. This functionality alone can be very helpful for previewing installations, but Pacifist also lets you verify installations and extract or install any file from within a package. Pacifist 2.0 adds the capability to read DMG disk images; .pax, .tar, .tar.gz, and .tgz files; and the ReadMe files and installation scripts inside a package. ($20; CharlesSoft )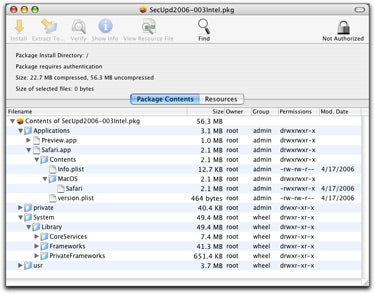 Under the wrapper Pacifist can tell you what's inside installer packages and can even install individual package files.
Device monitor: Peripheral Vision 1.6.3

OS X's System Profiler application is helpful if you want to see what is connected to your Mac at a given moment—but maybe you want to know when devices have connected or disconnected successfully. Peripheral Vision 1.6.3 ( ) monitors FireWire, USB, Bluetooth, and network connections, and notifies you when a new device is connected and when a connected device is no longer available. It's a helpful tool for diagnosing problems. You can set up different notifications—visual or audio—for each type of device, as well as for connections and disconnections. And if you find the official name of a device to be uninformative—for example, Jargy USB—you can change how it appears when it's detected (to, say, 4-Port USB Hub). ($7; Granted Software )
Cloning utilities: Carbon Copy Cloner 2.3 and SuperDuper 2.1.2
Bootable backups SuperDuper makes creating a bootable clone of an OS X drive a simple process.

A useful backup approach is a bootable clone —an exact copy of your hard drive on another drive—which lets you get back up and running in no time should disaster strike. Unfortunately, thanks to permissions, invisible files, and other issues, you can't just copy an OS X drive via drag and drop. What you need is a cloning utility that understands all of OS X's peculiarities. Carbon Copy Cloner 2.3 ( ) and SuperDuper 2.1.2 ( ) are two of the best. Both make it easy to choose a source drive and a destination drive and then start the copy, and both allow you to synchronize your clone with changes you made to the original. SuperDuper adds one of the best interfaces I've seen in a backup utility, as well as a number of more-advanced—but still accessible—features such as easy-to-use scheduling, numerous copy options, package installation, post-clone actions, and the ability to easily save backup procedures as scripts. (Carbon Copy Cloner: payment requested; Mike Bombich; Super Duper: $28; Shirt Pocket )
Tweaking tools: TinkerTool 3.61 and TinkerTool System 1.51
Many utilities for tweaking hidden settings and performing maintenance let you access OS X settings and features that aren't otherwise easily available. Among these products, TinkerTool 3.61 ( ) and TinkerTool System 1.51 ( ) are my favorites. TinkerTool and TinkerTool System provide access to many secret settings—for the Finder, the Dock, Exposé, system appearances, and much more—as well as scores of system maintenance and customization options. But developer Marcel Bresink has taken much of the risk out of using these utilities by separating safe actions from potentially risky ones. User-level preference settings are available via TinkerTool (which any user can run), whereas system-level and administrative settings and actions are limited to TinkerTool System (which only an administrator can run). (TinkerTool, free; Tinker Tool System, €7; both from Marcel Bresink )
Other top maintenance and troubleshooting tools
AppleJack 1.4.2 ( ; free; The Apotek ) can repair your hard drive, repair permissions, delete cache files, and validate preference files; more important, it does all of this via single-user mode at startup, making it available for use even if a problem prevents you from booting into OS X. GrandPerspective 0.95 ( ; free; Eriban ) examines a volume or folder you've selected and creates a visual representation of the space each file occupies—letting you easily see what's taking up most of the space on your hard drive. MemoryStick 1.5 ( ; free; Matt Neuburg ) lets you know if you're running short on RAM or if you've got too many apps open, by displaying your Mac's memory allocation. Memtest 4.13 ( ; free; Tony Scaminacic ) is just about the best way to diagnose defective RAM, outperforming even Apple's Hardware Test.
NetRestore 3.2 ( ; free; Bombich Software ) has won the hearts of network administrators for its ability to restore a master disk image to target Macs, whether over a local network or the Internet. Pseudo 1.2.3 ( ; $15; Brian Hill ) hasn't been updated since 2002, but don't worry—this tool still works great with newer versions of OS X. For the times you need to launch applications as the root user to edit restricted files, Pseudo is the way to go. SMARTReporter 2.1.5 ( ; free; Julian Mayer ) monitors the SMART (for Self-Monitoring Analysis and Reporting Technology) status—verified, unknown, or failing—of all supported drives connected to your Mac and alerts you if there's a problem. A similar utility to GrandPerspective, WhatSize 10.3.9 ( ; free; ID-Design ) scans the selected drive and provides a size-sorted, hierarchical display of its files and folders.
[ Senior Editor Dan Frakes is Macworld 's Mac Gems columnist as well as the product review editor for Playlist. ]