If you back up your Mac laptop only when you're at home or in the office, you may be living dangerously. After all, a bad crash or a hard-drive failure can happen just as easily when you're traveling as when you're at home. Sure, backing up while on the road presents challenges: you might have to pack extra accessories or find an Internet connection. But isn't keeping your data safe worth the effort?
Trip prep
Before you leave, make sure you have the right tools.
Backup Media Some people may want to back up over the Internet while others may prefer to tote a storage device such as a portable hard drive, a flash drive, or an iPod. No matter which backup option you pick, always pack some recordable DVDs or CDs—having an alternative way to back up can never hurt.
Backup Software If you need to back up only a few files, you can just drag and drop. Beyond that, you should use a backup utility, which can automatically scan selected folders for files you've changed or created since your last backup. Good utilities include EMC Insignia's $129 Retrospect Desktop ( ), Prosoft Engineering's $59 Data Backup, Intego's $70 Personal Backup X4, and Apple's Backup, which is included with a .Mac membership ($100 per year).
Whatever software you use, you've probably got limited time, limited storage space, and an unknown amount of Internet bandwidth, so don't do full backups. Instead, configure your backup software to copy only necessary files, such as documents you're actively working on, e-mail messages, calendar and contact information, or digital images from your trip. (For more on choosing a backup strategy, see "Pick your approach." )
Startup Disc If your laptop's hard drive fails, you'll need to start up from another volume to repair it. Pack your OS X Install DVD, or a startup disc from a program such as Alsoft's $80 DiskWarrior ( ) or Micromat's $98 TechTool Pro.
Tip Before you leave town, perform a full backup. If disaster strikes, you can at least restore your Mac to its pre-trip state.
Internet backups
Many hotels and airports offer high-speed Internet access, often wireless and occasionally free. The biggest advantage to backing up onto the Internet is that your files are stored in a safe place—if your laptop is lost or stolen, your data remains accessible. The disadvantage is that hackers can intercept your data during transmission (even if you're using a protected wireless network).
If you back up files over a wireless connection, encrypt them first. Some backup programs, such as Retrospect Desktop, Data Backup, and Personal Backup X4, have built-in encryption. Or you can use a utility such as Allume's $80 StuffIt Deluxe ( ) to encrypt files before sending them over a wireless network.
Alternatively, you can use a Virtual Private Network (VPN) to encrypt data that travels between your Mac and a server. Your employer may offer VPN access, or you can purchase VPN service from a company such as PublicVPN, which charges $6 a month or $60 a year. From there, all you have to do is enter the settings supplied by your VPN provider into Apple's Internet Connect application.
If you go the Internet route, you can choose from several destinations for your backups.
Phone Home If you have a network-based backup system at home or at work, you may be able to connect to it from the road. But this isn't as easy as it sounds; success depends on many variables, including your backup software, your firewall and router settings, and ISP restrictions. Make sure you do a trial run-through from a friend's house or a cybercafé before leaving on a trip.
If you've enabled Personal File Sharing on your home Mac (System Preferences -> Sharing: Services), you can try mounting its hard drive on your laptop and copying files to it. To mount a remote hard drive, choose Go -> Connect To Server in the Finder, enter the IP address or domain name of the computer, click on Connect, and supply your user name and password. The machine you connect to must have a public IP address; you can't ordinarily access servers with private addresses supplied by a router, although there are sometimes ways to do so.
Use iDisk Subscribers to .Mac can back up to iDisk, by manually copying files or by using Backup or another application. There are limitations: Backup doesn't offer encryption, and a standard .Mac membership includes only 1GB of storage (you can upgrade to 2GB or 4GB for an additional $50 or $100 per year, respectively).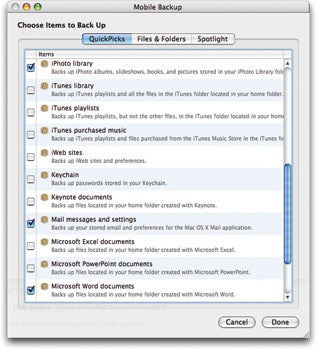 Apple's Backup includes a QuickPicks feature, which lets you select common backup options with one click.
To use Backup, choose Plan -> New Plan and select Custom. To add files, click on the plus-sign (+) button under the Backup Items list. You can manually choose files and folders or use the QuickPicks pane to select groups of files, such as Address Book data or Word documents. Next, mount your iDisk in the Finder (Go -> iDisk). To select it as your backup location, click on the plus-sign button under Destination And Schedule, and choose iDisk from the Destination pop-up menu. You can schedule specific times for your backup, or deselect the Automatically Back Up At The Following Times option to run the backup manually.
Hire a Service Another option is to subscribe to an Internet backup service such as Backjack.com or Prolifix. Both provide backup software (including encryption) and store your backups safely on their servers. Prices vary, depending on the amount of storage. For instance, Backjack.com charges $12.50 per month for its basic service and 2GB of storage, and Prolifix costs $10 a month for 500MB.
Local backups
If you're traveling somewhere without high-speed Internet access, you'll need to copy files to a physical medium. Whichever medium you choose, keep it separate from your laptop, preferably in a safe place (such as a hotel's safe deposit box).
CD or DVD One option is to burn files to disc. Insert a blank disc into your laptop's optical drive. Select Open Finder in the window that appears, and click on OK. Drag your files onto the disc icon on your desktop. When you're done, select the disc and choose File -> Burn Disc.
Portable Hard Drive Pocket-size hard drives from companies such as LaCie and OWC provide the speediest backups when you're on the road. Using Shirt Pocket's $28 SuperDuper, for instance, you can even create a bootable backup on that drive, so you can keep working if your laptop's drive dies.
To use your iPod as an external hard drive, make sure you select Enable Disk Use in iTunes' iPod Preference pane.
iPod Your iPod can pull double duty as a music player and backup device. To use it as an external drive, open iTunes and choose iTunes-> Preferences. Go to the iPod pane and select the Enable Disk Use option. Your iPod will mount on your desktop, allowing you to copy files to it. While Apple doesn't recommend booting your machine from an iPod, it can be done (see this month's Mac 911 ).
Flash Drive Keychain-size USB drives—available from Lexar, SanDisk, and others—can store as much as several gigabytes of data. However, these tiny drives are easy to lose, and on a per-gigabyte basis, they cost more than a hard drive.
Different types of road warriors will need different backup strategies.
Executive If you're mainly working with e-mail messages, text files, spreadsheets, and other small documents, consider an Internet backup service. It's fast, safe, and reasonably inexpensive.
Creative Pro If you create large multimedia files, go with an external hard drive. Consider archiving your work to DVD every few days as a secondary backup—you can never be too careful with irreplaceable files.
Vacationer If you have just a few photos and videos that you want to back up while vacationing, store them on your iDisk. If you're a serious shutterbug, consider backing up to DVD every few days and mailing yourself the discs.
[ Joe Kissell is the senior editor of TidBits and the author of the e-book Take Control of Mac OS X Backups. ]