After profiling system enhancers and troubleshooting apps, our look at the best bargain software turns to the fun side of the Mac, with programs that will help you get the most out of your digital lifestyle. Below, I share 10 of my favorite multimedia programs—everything from image-editing tools to special effects generators. On the next page, we'll look at five must-have programs for managing iTunes and your iPod, as well as two top podcasting helpers.
All version numbers for the programs below are current as this article was posted; however, with the rapid nature of software development, it's possible that some of the programs may be updated by the time you read the article. And while the apps I've listed here work with the latest version of OS X, you should double-check the system requirements at the developers' Web pages to make sure the program will run on your Mac. (I've included links to the developers' pages in each write-up.)
Comic book creator: Comic Life 1.2.6

All the world's a comic book for Comic Life 1.2.6 ( ), which lets you use your own photos as panels in homemade comic strips. The simple interface—similar to iPhoto's Book feature—lets you choose your strip layout; images; and visual elements such as text bubbles and boxes, thought balloons, and sound effects (those pows , smacks , and thuds that are often found in comic books). If you've already got an iPhoto album you want to transform into a comic strip, a click of a button brings it into Comic Life and lays it out for you; you just need to add text. And basic photo tools let you edit cells and apply Core Image filters. When you're done creating, you can print your comic or export it as a Web page, iPhoto album, or QuickTime slide show. A Deluxe version of the program is available from Freeverse. ($25; Plasq; Deluxe edition, $30; Freeverse )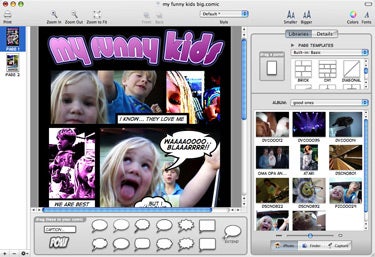 Comic-art imitates life You can turn your photo albums into comic books with Comic Life.
Image editor and converter: GraphicConverter X 5.9.1
Sometimes you need more photo-editing functionality than iPhoto provides, but not so much that you're willing to shell out big bucks for Adobe Photoshop. GraphicConverter X 5.9.1 ( ) is a nice compromise. As its name implies, it's adept at image conversion: it can read 190 graphics formats and export to nearly 80. But GraphicConverter also includes an extensive set of image-editing and drawing tools, a robust image browser, the ability to batch-convert and batch-edit multiple images, AppleScript support, TWAIN scanning, a slide show mode, and hundreds of other features. Its interface is a bit confusing at times, but you can't beat the features for the price. ($30; Lemke Software )
Special effects: Slick Volumes 1-10
Getting bored with iMovie's selection of transitions and effects? Gee Three's Slick Volumes 1-10 ( ) are iMovie plug-in packs featuring scores of advanced titles and captions, inter-scene transitions, color and light correction tools, video and audio effects, and even clever overlays such as sports scoreboards. Once installed, the Slick options appear in iMovie's Editing pane, ready for you to apply to your movies just as you would iMovie's own options and effects. ($30 to $70 per volume; also available in discount bundles; Gee Three )
Multimedia player: VLC media player 0.8.5
Picking up where Apple's built-in multimedia technology leaves off, VLC media player 0.8.5 ( ) will be especially welcome if you've ever had problems playing media files your PC friends handle with ease. VLC lets you play video files in formats such as DivX and MPEG-1, -2, and -4 without a hitch. That's something QuickTime can't do easily. With a pleasing interface, support for playlists, and customizable hot keys, VLC is media manna for people who want to play many of today's popular video formats on their Macs. (free; VideoLAN )—JONATHAN SEFF
Other top multimedia tools
Amadeus II 3.8.7 ( ; $30; HairerSoft ) is a low-cost two-track app for recording and cleaning up cassettes and LPs, or for editing existing audio files. It has added support for the MP4, M4A, AAC, and FLAC formats since our last review. iStopMotion 1.10.1 ( ; $40; Boinx Software ) adds to an amateur moviemaker's bag of tricks, with stop-motion animation and time-lapse recording features.
When it comes to adding watermarks to photos you own, there's no better tool than iWatermark 3.0.7 ( ; $20; Script Software ), thanks to its ease of use and functionality. QuickImage CM 2.4 ( ; free; Pixture Studio ) provides a quick way to view all the pictures you get via e-mail or download off the Web. Its contextual menu lets you view (and edit) images in a floating window in the Finder.
Your laptop can be a great portable entertainment center, but playing DVDs drains battery power something fast. Extend your playback time by copying DVDs to your hard drive using MacTheRipper 2.6.6 ( ; free; Geezerbuttz ). Netflix Freak 2.4.1 ( ; $15; The Little App Factory ) gives Netflix patrons a better interface than Netflix does for managing and searching for DVD rentals from the online service.
Need to get more control over iTunes? Do you want to stream audio from any application across your wireless network? Or maybe you'd just like a way to get the music stored on your iPod back onto your Mac. The five iPod and iTunes helpers listed below offer all that and more. Plus, we've included a pair of podcasting aides for those of you looking to create audio content more easily.
iTunes enhancer: Synergy 2.9

There are many iTunes controllers and information displays out there, but none work as well as Synergy 2.9 ( ). It provides systemwide hot keys for playback and volume control; a snazzy, translucent informational display (track, artist, album cover, and so on) that fades in and out at the start of each track (or at your command); and optional playback controls in the menu bar. A systemwide menu lets you choose playlists and recent tracks. Synergy will even grab album art from the Internet if it's not already in your library. Support for Growl (a global notification system for OS X) has recently been added, as well as the ability to run AppleScripts on track changes. (€5; Wincent Colaiuta )
Audio-networking tool: Airfoil 2.0.3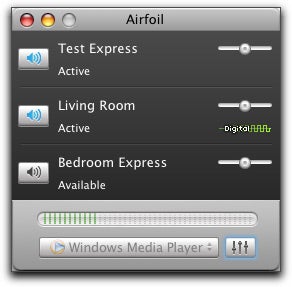 Simultaneous streaming Airfoil lets you broadcast any audio on your Mac to multiple AirPort Express base stations.
Although iTunes 6's AirTunes technology allows you to stream music playing in iTunes to multiple AirPort Express base stations, it can stream only music playing in iTunes. Airfoil 2.0.3 ( ) opens up AirTunes to let you stream any audio from any application on your Mac. A simple interface lets you choose the audio source—for example, Windows Media Player, Real Player, a Web browser, a Dashboard widget, connected audio devices (line/mic-in, digital-in, USB audio, and so on), or all audio playing on your Mac—and the destination AirPort Express base stations. You can control the volume level of each Express via Airfoil or, if you prefer, you can set Airfoil's preferences so that it links remote speaker levels to your Mac's volume control. ($25; Rogue Amoeba )
iPod-to-iTunes transfer tools: iPodDisk 1.3 and Senuti 0.33
Although Apple makes it difficult to get music from an iPod to a Mac, there are times when you may have a legitimate need to do so. For example, if your hard drive crashes and you don't have a backup, you would otherwise need to re-rip all your CDs and hope Apple lets you re-download your iTunes Music Store purchases. Thankfully, there are easier solutions: two of the best are iPodDisk 1.3 ( ) and Senuti 0.33 ( ). Both let you copy music and iTunes playlists from an iPod to a Mac; the difference is in how they do so. Senuti uses a familiar, iTunes-like interface, and even lets you preview tracks. iPodDisk mounts your iPod's hard drive in the Finder and lets you browse it by album, artist, genre, and playlist; you can copy files and folders from your iPod to your Mac via drag and drop. (iPodDisk: free; Isaac Huang; Senuti: free; Whitney Young )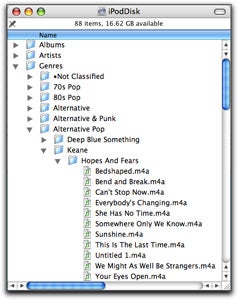 Music rescue iPodDisk lets you retrieve music from your iPod via the Finder.
Music-tag editor: Media Rage 2.5
When your music collection grows to tens—or hundreds—of gigabytes, organization becomes essential. Media Rage 2.5 ( ) makes it easy to add and edit the metadata for music file formats as varied as MP3, AAC, Apple Lossless, FLAC, and Ogg Vorbis, as well as tracks purchased from the iTunes Music Store. A suite of tools lets you quickly add missing info—including album art and lyrics—to multiple files at once. Media Rage's Quick Edit function lets you rapidly make both individual and universal changes to a folder of media files via the use of pins —markers that selectively change particular tag data in all the files in the folder you are editing. By setting a pin for certain fields, such as genre or artist name, you can make changes to those fields in all files in one fell swoop, while changing the rest of the fields individually. ($30; Chaotic Software )—MATHEW HONAN
Podcasting tools: Cast Easy 1.3.5 and Podcast Maker 1.2.6

Podcasting has come a long way since it became mainstream two years ago, with many tools promising to make it easier to create audio content for the masses. Two programs that deliver are Cast Easy 1.3.5 ( ; Cast Easy, www.casteasy.com ) and Podcast Maker 1.2.6 ( ; $30; Potion Factory ).
(Since our Best of Gems feature went to press for the August 2006 issue of Macworld , Cast Easy (the company) has been reborn as Meddie Cat Software, and the application has been replaced by a new program called Cast Life. We'll take a look at this new app in a future installment of the Mac Gems Weblog.)
Both products help with the mundane parts of podcast publishing, such as putting in ID3 tags, uploading a podcast to a Web server, and making sure XML files are configured properly. My preference, though, is Podcast Maker. Its interface puts all your podcasting options at your fingertips and streamlines the creation process. More impressive, Podcast Maker makes it easy to create enhanced podcasts —podcasts recorded in Apple's AAC format with chapter breaks that the iPod will recognize. And for listeners with iPods that can display photos, Podcast Maker lets you link photos to various points within your podcast to enhance the finished product with visuals that illustrate what you're talking about.—CYRUS FARIVAR
[ Senior Editor Dan Frakes is Macworld 's Mac Gems columnist as well as the product review editor for Playlist. Other contributions to this section came from Senior News Editor Jonathan Seff, Assistant Editor Cyrus Farivar, and frequent Macworld contributor Mathew Honan. ]