After profiling system enhancers and troubleshooting apps, our look at the best bargain software turns to the fun side of the Mac, with programs that will help you get the most out of your digital lifestyle. Below, I share 10 of my favorite multimedia programs—everything from image-editing tools to special effects generators. On the next page, we'll look at five must-have programs for managing iTunes and your iPod, as well as two top podcasting helpers.
All version numbers for the programs below are current as this article was posted; however, with the rapid nature of software development, it's possible that some of the programs may be updated by the time you read the article. And while the apps I've listed here work with the latest version of OS X, you should double-check the system requirements at the developers' Web pages to make sure the program will run on your Mac. (I've included links to the developers' pages in each write-up.)
Comic book creator: Comic Life 1.2.6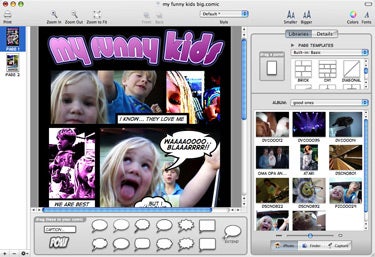 Comic-art imitates life You can turn your photo albums into comic books with Comic Life.
Image editor and converter: GraphicConverter X 5.9.1
Sometimes you need more photo-editing functionality than iPhoto provides, but not so much that you're willing to shell out big bucks for Adobe Photoshop. GraphicConverter X 5.9.1 ( ) is a nice compromise. As its name implies, it's adept at image conversion: it can read 190 graphics formats and export to nearly 80. But GraphicConverter also includes an extensive set of image-editing and drawing tools, a robust image browser, the ability to batch-convert and batch-edit multiple images, AppleScript support, TWAIN scanning, a slide show mode, and hundreds of other features. Its interface is a bit confusing at times, but you can't beat the features for the price. ($30; Lemke Software )
Special effects: Slick Volumes 1-10
Getting bored with iMovie's selection of transitions and effects? Gee Three's Slick Volumes 1-10 ( ) are iMovie plug-in packs featuring scores of advanced titles and captions, inter-scene transitions, color and light correction tools, video and audio effects, and even clever overlays such as sports scoreboards. Once installed, the Slick options appear in iMovie's Editing pane, ready for you to apply to your movies just as you would iMovie's own options and effects. ($30 to $70 per volume; also available in discount bundles; Gee Three )
Multimedia player: VLC media player 0.8.5
Picking up where Apple's built-in multimedia technology leaves off, VLC media player 0.8.5 ( ) will be especially welcome if you've ever had problems playing media files your PC friends handle with ease. VLC lets you play video files in formats such as DivX and MPEG-1, -2, and -4 without a hitch. That's something QuickTime can't do easily. With a pleasing interface, support for playlists, and customizable hot keys, VLC is media manna for people who want to play many of today's popular video formats on their Macs. (free; VideoLAN )—JONATHAN SEFF
Other top multimedia tools
Amadeus II 3.8.7 ( ; $30; HairerSoft ) is a low-cost two-track app for recording and cleaning up cassettes and LPs, or for editing existing audio files. It has added support for the MP4, M4A, AAC, and FLAC formats since our last review. iStopMotion 1.10.1 ( ; $40; Boinx Software ) adds to an amateur moviemaker's bag of tricks, with stop-motion animation and time-lapse recording features.
When it comes to adding watermarks to photos you own, there's no better tool than iWatermark 3.0.7 ( ; $20; Script Software ), thanks to its ease of use and functionality. QuickImage CM 2.4 ( ; free; Pixture Studio ) provides a quick way to view all the pictures you get via e-mail or download off the Web. Its contextual menu lets you view (and edit) images in a floating window in the Finder.
Your laptop can be a great portable entertainment center, but playing DVDs drains battery power something fast. Extend your playback time by copying DVDs to your hard drive using MacTheRipper 2.6.6 ( ; free; Geezerbuttz ). Netflix Freak 2.4.1 ( ; $15; The Little App Factory ) gives Netflix patrons a better interface than Netflix does for managing and searching for DVD rentals from the online service.
Note: When you purchase something after clicking links in our articles, we may earn a small commission. Read our affiliate link policy for more details.