Need to get more control over iTunes? Do you want to stream audio from any application across your wireless network? Or maybe you'd just like a way to get the music stored on your iPod back onto your Mac. The five iPod and iTunes helpers listed below offer all that and more. Plus, we've included a pair of podcasting aides for those of you looking to create audio content more easily.
iTunes enhancer: Synergy 2.9
Audio-networking tool: Airfoil 2.0.3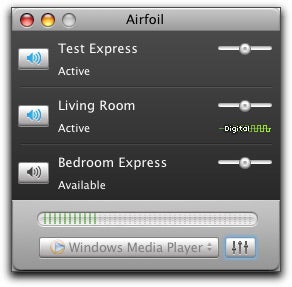 Simultaneous streaming Airfoil lets you broadcast any audio on your Mac to multiple AirPort Express base stations.
Although iTunes 6's AirTunes technology allows you to stream music playing in iTunes to multiple AirPort Express base stations, it can stream only music playing in iTunes. Airfoil 2.0.3 ( ) opens up AirTunes to let you stream any audio from any application on your Mac. A simple interface lets you choose the audio source—for example, Windows Media Player, Real Player, a Web browser, a Dashboard widget, connected audio devices (line/mic-in, digital-in, USB audio, and so on), or all audio playing on your Mac—and the destination AirPort Express base stations. You can control the volume level of each Express via Airfoil or, if you prefer, you can set Airfoil's preferences so that it links remote speaker levels to your Mac's volume control. ($25; Rogue Amoeba )
iPod-to-iTunes transfer tools: iPodDisk 1.3 and Senuti 0.33
Although Apple makes it difficult to get music from an iPod to a Mac, there are times when you may have a legitimate need to do so. For example, if your hard drive crashes and you don't have a backup, you would otherwise need to re-rip all your CDs and hope Apple lets you re-download your iTunes Music Store purchases. Thankfully, there are easier solutions: two of the best are iPodDisk 1.3 ( ) and Senuti 0.33 ( ). Both let you copy music and iTunes playlists from an iPod to a Mac; the difference is in how they do so. Senuti uses a familiar, iTunes-like interface, and even lets you preview tracks. iPodDisk mounts your iPod's hard drive in the Finder and lets you browse it by album, artist, genre, and playlist; you can copy files and folders from your iPod to your Mac via drag and drop. (iPodDisk: free; Isaac Huang; Senuti: free; Whitney Young )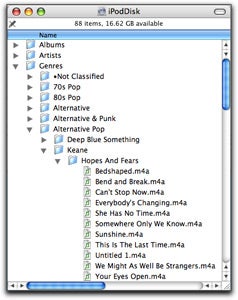 Music rescue iPodDisk lets you retrieve music from your iPod via the Finder.
Music-tag editor: Media Rage 2.5
When your music collection grows to tens—or hundreds—of gigabytes, organization becomes essential. Media Rage 2.5 ( ) makes it easy to add and edit the metadata for music file formats as varied as MP3, AAC, Apple Lossless, FLAC, and Ogg Vorbis, as well as tracks purchased from the iTunes Music Store. A suite of tools lets you quickly add missing info—including album art and lyrics—to multiple files at once. Media Rage's Quick Edit function lets you rapidly make both individual and universal changes to a folder of media files via the use of pins —markers that selectively change particular tag data in all the files in the folder you are editing. By setting a pin for certain fields, such as genre or artist name, you can make changes to those fields in all files in one fell swoop, while changing the rest of the fields individually. ($30; Chaotic Software )—MATHEW HONAN
Podcasting tools: Cast Easy 1.3.5 and Podcast Maker 1.2.6
(Since our Best of Gems feature went to press for the August 2006 issue of Macworld , Cast Easy (the company) has been reborn as Meddie Cat Software, and the application has been replaced by a new program called Cast Life. We'll take a look at this new app in a future installment of the Mac Gems Weblog.)
Both products help with the mundane parts of podcast publishing, such as putting in ID3 tags, uploading a podcast to a Web server, and making sure XML files are configured properly. My preference, though, is Podcast Maker. Its interface puts all your podcasting options at your fingertips and streamlines the creation process. More impressive, Podcast Maker makes it easy to create enhanced podcasts —podcasts recorded in Apple's AAC format with chapter breaks that the iPod will recognize. And for listeners with iPods that can display photos, Podcast Maker lets you link photos to various points within your podcast to enhance the finished product with visuals that illustrate what you're talking about.—CYRUS FARIVAR
[ Senior Editor Dan Frakes is Macworld 's Mac Gems columnist as well as the product review editor for Playlist. Other contributions to this section came from Senior News Editor Jonathan Seff, Assistant Editor Cyrus Farivar, and frequent Macworld contributor Mathew Honan. ]
Note: When you purchase something after clicking links in our articles, we may earn a small commission. Read our affiliate link policy for more details.